Immersing Ourselves in Prayer
April 17, 2008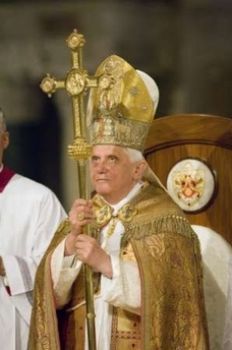 Last evening, in speaking to the bishops of the Church in the United States, the Holy Father called "the imitation of Christ in holiness of life" exactly what is needed in order for us to move forward. Concretely, what does this mean? "Cultivating the virtues," responds the Holy Father, "and immersing ourselves in prayer. Here are his words:
Holiness of Life
Indeed a clearer focus upon the imitation of Christ in holiness of life is exactly what is needed in order for us to move forward. We need to rediscover the joy of living a Christ-centred life, cultivating the virtues, and immersing ourselves in prayer. When the faithful know that their pastor is a man who prays and who dedicates his life to serving them, they respond with warmth and affection which nourishes and sustains the life of the whole community.
Eucharistic Adoration
Time spent in prayer is never wasted, however urgent the duties that press upon us from every side. Adoration of Christ our Lord in the Blessed Sacrament prolongs and intensifies the union with him that is established through the Eucharistic celebration (cf. Sacramentum Caritatis, 66).
Rosary and Liturgy of the Hours
Contemplation of the mysteries of the Rosary releases all their saving power and it conforms, unites and consecrates us to Jesus Christ (cf. Rosarium Virginis Mariae, 11, 15). Fidelity to the Liturgy of the Hours ensures that the whole of our day is sanctified and it continually reminds us of the need to remain focused on doing God's work, however many pressures and distractions may arise from the task at hand.
The Gifts We Need
Thus our devotion helps us to speak and act in persona Christi, to teach, govern and sanctify the faithful in the name of Jesus, to bring his reconciliation, his healing and his love to all his beloved brothers and sisters. This radical configuration to Christ, the Good Shepherd, lies at the heart of our pastoral ministry, and if we open ourselves through prayer to the power of the Spirit, he will give us the gifts we need to carry out our daunting task, so that we need never "be anxious how to speak or what to say" (Mt 10:19).