Our Lady's Hermit
December 8, 2006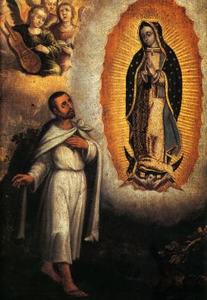 "Hear and let it penetrate into your heart, my dear little son: let nothing discourage you, nothing depress you: let nothing alter your heart or your countenance. Also do not fear any illness or vexation, anxiety or pain. Am I not here who am your Mother? Are you not under my shadow and protection? Am I not your fountain of life? Are you not in the folds of my mantle, in the crossing of my arms? Is there anything else that you need?" (Words of the Blessed Virgin Mary to Juan Diego)
Saint Juan Diego whom we remember on the day after the Solemnity of the Immaculate Conception is listed in the Martyrology not as a visionary but as a hermit. Graced with seeing the holy Mother of God in all her radiance, Juan Diego's vocation unfolded in a life of solitude, ceaseless prayer, and watchfulness.
The holiness of Saint Juan Diego was more in waiting than in seeing. In this, he is a model for all of us. Saint Juan Diego is an Advent saint. The Church sets him before us as a model of vigilance. To those who remain close to her, the Virgin Mother teaches perseverance in the prayer of watching and waiting. I think that this is why she so loves the Rosary and asks us to pray it.
The Rosary is the perfect Advent prayer, especially with the additional mysteries of Our Lady's life, all of which are either found in Sacred Scripture or celebrated in the Church's liturgical tradition: 1) The Immaculate Conception, 2) The Nativity of the Blessed Virgin Mary, 3) Her Presentation in the Temple, 4) Her Betrothal to Saint Joseph, 5) The Annunciation, 6) The Visitation, 7) The Blessed Expectancy of the Blessed Virgin Mary, 8) The Nativity of Jesus, 9) The Presentation in the Temple, 10) The Finding of Jesus in the Temple.