23 December, O EMMANUEL
December 22, 2006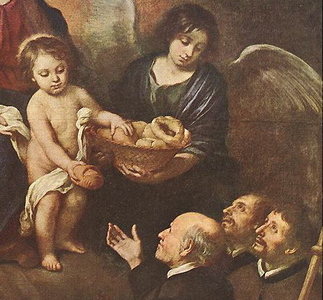 Murillo's painting of the Infant Christ distributing bread to pilgrims is an invitation to consider the mystery of the Eucharist, God–With–Us, the Child of Bethlehem, the House of Bread. An Angel assists the Infant Christ. Behind Him (not visible in this detail) is His Mother, her body forming a kind of Eucharistic throne, a variation on the Sedes Sapientiae motif. Perhaps the sequence of the Mass of Corpus Christi provided a subtext for this painting:
Ecce, panis Angelorum,
Factus cibus viatorum:
Vere panis filiorum.
Behold, the Bread of Angels sent
For pilgrims in their banishment,
The Bread for God's true children meant.
O Emmanuel (Is 7:14; 8:8),
our King and Lawgiver (Is 33:22),
the expectation of the nations and their Saviour (Gen 49:10):
Come and save us, O Lord our God.
The Last of the O Antiphons
On December 23rd we come today to the last of the Great O Antiphons. We are accustomed to seven, but, in other times and places, and even now, there are nine or even as many as twelve.
O Virgo Virginum
O Virgo Virginum, the last of the Great O Antiphons in the old English liturgy of Sarum , occurs on December 23rd. Its structure is quite different from all the other Great O Antiphons. The first part is a question addressed to the Virgin Mary; in the second part she replies with another question, and then, gives her answer.
"O Virgin of virgins, how shall this be?
For neither before thee was any like thee, nor shall there be after.
Daughters of Jerusalem, why marvel ye at me?
That which ye behold is a divine mystery."
It is touching that the Anglican Church, despite all the vicissitudes of her history, remains attached to this lovely Great O addressed to Our Lady.


O Emmanuel
In today's Roman liturgy the O Antiphon is, like the six that preceded it, addressed to our Lord Jesus Christ. It seems to me that, with each succeeding day, the O of our invocation, and the Veni of our supplication has grown more confident, more intense and, in a sense, more urgent.
Afraid Never Again
Mother Marie des Douleurs, writing in 1964, offers us a somewhat anguished meditation on today's Great O. It appears to come out of an experience of weakness, fear, and uncertainty. Some would dismiss it as deeply pessimistic and too gloomy for Advent. I sense something else in it: the prayer of woman wrestling with her inner demons, as we all do, and confident nonetheless in the mystery of God-with-us. This is what she wrote:

Emmanuel. Could we have found a name more sweet? God-with-us. That is to say that nothing in our difficulties, our misunderstandings, our sorrows, even in our agony, will find us alone. We will always have Someone with us, Someone present in our very heart to give the strength and light necessary in those moments.
Also, at the same time, our Beloved is always before us. He is the All-Powerful and He wants that we should be saints, all of us. Therefore, we never again need to be afraid. We can be certain that, should it be called for, even heroism is within our reach because our Companion on the road, our daily Food, is always there. We know that He is in us and we know what He asks of us. We know to what degree of detachment and to what gift of self He calls us. We know to what point we must be found holy at the moment of our death.
Pax Benedictina
The tone is sobering. One senses Mother's Benedictine soul. "To keep death daily before one's eyes" is the 47th instrument of good works. For all of this, she fights against the fear that troubles the soul in its depths. She knows that peace is the characteristic of the Benedictine soul. She goes on to say:
In what peace, in what serenity, in what an outpouring of joy should we live, just recalling this name of the Lord? What bad thing can befall us, or even what lesser good, since all is known by Him, all is willed, all is allowed by Him who has prepared our eternal happiness. He knows what He allows.
The Love That Casts Out Fear
Again, one hears the echo of Saint Benedict in Chapter Four of the Rule: "To rest one's hope in God (RB 4:41), and never to despair of God's mercy" (RB 4:74). Mother Marie des Douleurs goes on to castigate fear. Fear is the real enemy. Fear is what imprisons the soul. Fear offends the Lord Jesus because one who gives in to fear has not begun "to believe in Love." The fearful person seeks to control every thing, whereas the person who has come to believe in Love Incarnate knows that behind everything is the hand of Love, a hand moved by a Heart that is all Love. And so she concludes:
What a lack of awareness it is and what a hurt for the Heart of Jesus that we should have the slightest fear! Let us strive to be cured of this terrible ill by repeating often "God-with-us." Even now He can, and wills to triumph over all the hell within us.
God With Us, God For Us
"The hell within us" — I almost hesitated before translating this. But no one goes very far in the interior life before confronting the hell within, the dark place inhabited by fears, sinful passions, selfish impulses, and torments that defy explanation. But Mother is in touch with her own reality and with ours. "If God is for us, who is against us?" (Rom 8:31). The God who is "for us" is "God-with-us." This is truth that delivers from fear. "O Emmanuel . . . veni, veni."