A Holy Baptism
November 6, 2006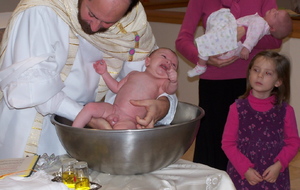 Yesterday I had the joy of baptizing Michael Mario Guidone, son of Michael and Kerry Guidone, Oblates of the Benedictine Monastery of the Glorious Cross in Branford, Connecticut. It is very unusual to celebrate the sacrament of Holy Baptism in a monastery. The baptism was recorded in the registers of the neighbouring parish church. Michael and Kerry, being Oblates, belong to the "extended monastic family" ; having the Baptism during the Sunday Conventual Mass allowed the nuns of the monastery and other Oblates and friends of the monastery to participate.
Little Michael Mario claims Saint Michael the Archangel and the Blessed Virgin Mary as his patrons. He was also named in memory of a much loved former pastor of Saint Anthony Church in New Haven, Father Mario Bordignon of the Missionary Society of Saint Charles (Scalabrinian Fathers).
The celebration opened in the narthex of the monastery church where the infant was named and signed with the cross; then the parents with Michael Mario, and his godparents took their places in the church. After the Liturgy of the Word, Sister Marie–Zita intoned the Litany of the Saints. The first anointing (with the Oil of Catechumens) followed. I sang the solemn blessing over the water of the font.
After the Renunciation of Sin and the Profession of Faith, little Michael Mario was carefully unwrapped and immersed in the holy bath of regeneration. The Second Anointing (with Sacred Chrism) followed. Mom and Dad clothed him in a splendid new white garment. Michael's godfather received the lighted candle; it had been beautifully prepared by Sister Elfriede, the sacristan.
Before the Ite, missa est, we went together to the image of the Blessed Virgin Mary to entrust Michael Mario to her loving protection. We ended with the Salve Regina.