An Act of Reparation to the Sacred Heart of Jesus
October 15, 2006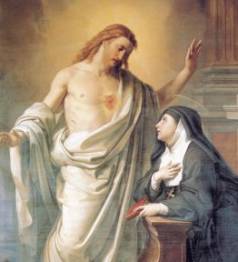 In honour of Saint Margaret Mary whose liturgical memorial occurs on October 16th, I want to offer this Act of Reparation to the Sacred Heart of Jesus. So few understand that reparation begins when we allow ourselves, shattered and deformed as we are by sin, to be "repaired," that is, restored to wholeness and beauty by the love of the Heart of Christ and by the virtue of His Precious Blood.
Lord Jesus, I desire today to open myself to the Love of Your Sacred Heart,
to the Love that others refuse or ignore.
By my attention to Your Heart,
I desire to make up for indifference to Your Love.
By my gratitude to Your Heart,
I desire to make up for ingratitude toward You
and toward the gifts of Your Heart,
especially that of the Most Holy Eucharist.
By my trust in Your Heart,
I desire to make up for those who do not trust You,
are afraid to trust You, or whose trust in Your Love
has been weakened by personal sin or by the sins of others.
By my hope in Your Heart, I desire to help, in some way,
those tempted to despair of Your Mercy.
Finally, in spite of my weakness and inconstancy,
I desire, by my love for Your Sacred Heart, to obtain for myself
and for all who yearn for the sweetness of divine friendship
something of what Your beloved disciple Saint John experienced
when he rested upon Your Heart at the Last Supper on the night before You suffered.
Let my desire to be open to the Love of Your Sacred Heart today
serve in some way to repair the brokenness
of the vulnerable, wounded, and fragile members of Your Mystical Body,
and, by the mysterious workings of Your Holy Spirit,
bring healing to those most in need of your mercy,
and especially to priests. Amen.