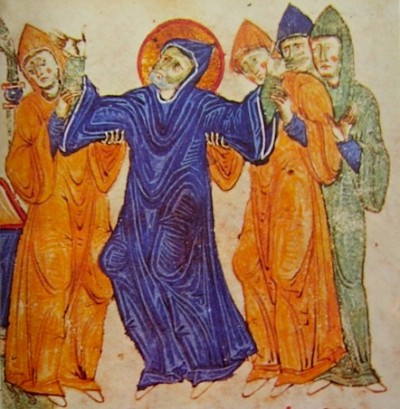 Death on Maundy Thursday
We shall celebrate tomorrow (March 21st) the feast of the Transitus of Our Blessed Father Saint Benedict. Blessed Schuster, in his Saint Benedict and His Times,  identifies Maundy Thursday as the day of Saint Benedict's death. Following the description given by Pope Saint Gregory the Great in the Second Book of the Dialogues, he explains that Saint Benedict would, in fact, have died at the close of the evening Mass of the Lord's Supper, after having received the Body and Blood of Christ. The fact that Saint Gregory specifically recounts that Saint Benedict received both the Body and Blood of Christ in viaticum, would indicate that this final Holy Communion took place during Mass, because the Blood of Christ was not reserved and, apart from Holy Mass, would not have been available.
Live the Way You Want to Die
Death is not improvised. One dies as one has lived. The Eucharistic death of Saint Benedict was the seal placed upon a long Eucharistic life. (Blessed Schuster says that Saint Benedict would have been about eighty years old at the time of his death.) One will die as one has lived. In Chapter 4 of the Holy Rule, Saint Benedict enjoins his monk to "keep death daily before his eyes"; this means, in effect, that a monk is to live each day in the very dispositions in which he wants to be found at the hour of his death.
To die loving, I must love always. To die praying, I must pray always. To die forgiving, I must forgive always. To die in a state of adoration, I must live in a state of adoration. To die gratefully, I must live in gratitude. To die peacefully, I must live in peace. To die humbly, I must live humbly. To die united to Jesus in His Passion, I must live united to Jesus in His Passion. To die facing the Eucharistic Face of Jesus, I must live facing the Eucharistic Face of Jesus.
With Desire Have I Desired
Did not Saint Benedict hear the words of Christ addressed to him: "With desire have I desired to eat this Pasch with thee"? Would not Christ have said to him, "I give Myself in viaticum to you, so that you may give yourself in death to me"?
Death Before the Altar
While physically at Monte Cassino, mystically Saint Benedict died in the Cenacle: it was Maundy Thursday, Holy Mass had been celebrated, and he was standing before the altar, sustained, in his weakness, by two of his sons supporting his uplifted arms. Christ had said to Saint Benedict, "Suscipe me: This is My Body." Saint Benedict assumed the very posture of his monastic profession, and said in response, "Suscipe me: Let it be done unto me according to Thy word." He died offering himself to the love of Christ; he died loving Christ who first loved him; he died adoring Christ, whose face he had recognized hidden beneath the veil of the Sacred Host before It was placed on his tongue. Might Saint Benedict not have prayed in words similar to those attributed to the virgin martyr Saint Agnes: "Behold, I come unto Thee whom I have loved, whom I have sought, whom I have ever desired"?
Death, A Moment of Adoration
For me it is clear: I want to die adoring Jesus Christ, therefore I must live adoring Him. Death can be another moment of perpetual adoration: the moment when the veil falls and one finds oneself face-to-face with Jesus Christ. Death can be the moment when, at last, a man sees the One whom he has desired; when he enters into possession of the One in whom he hoped; when is united forever, where sin is no longer possible, to the One whom he loved on earth, while falling and seeking to rise again and again.
School of Living and of Dying
I want my death, like that of Saint Benedict, to be a moment of recognition, a moment of adoration and of love. What might a son of Saint Benedict say in the hour of his death? "Behold, I come to Him who has so often come to me, lo, all these years, veiled in the appearances of bread and wine. Behold, He receives me into eternity, whom I have so often received in time." Benedictine life is a preparation for death. It is a school of living that, happily, becomes a school of dying. Today's feast of the Transitus of our Father Saint Benedict makes me profoundly grateful to be enrolled in such a school.