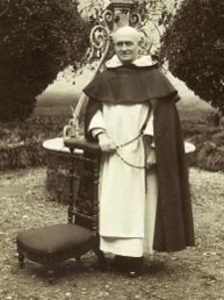 From a conference on the Verbum Crucis that I preached to Dominicans in 2015:
In my gallery of heavenly friends there is one Dominican — not the only Dominican in my gallery — who has taught me much about all of this. He was, at the age of twenty–four, shortly after beginning his life in the Order of Preachers, so struck down by illness that he became in the eyes of all a brother good–for–nothing, an embarrassment, a poor, sickly fellow incapable of study, incapable of preaching, incapable of writing, incapable of going to choir. Out of pity, more than anything else, he was admitted to solemn profession, and then ordained a simplex priest, ad missam. He was sent for six years to a convent where he thought he would die of boredom. Instead, he began, over time, to embrace his weakness and consent to the imprint of the Cross.
You know, I think, that I am speaking of your holy brother, Father Marie–Étienne Vayssière. In 1900, at thirty–seven years of age, he was sent to live in the solitude of La Sainte Baume, with one laybrother as his companion. The obedience to La Sainte Baume was, basically, a sentence of retirement. He would have been tempted to read his story as the cruel trick of a capricious God. What kind of God calls a man to the Order of Preachers and then renders him incapable of preaching? Père Vayssière did, in the circumstances, what most of us, I think, would be tempted to do. He began looking for the occasional comfortable compromise, the creaturely compensation that can somehow coexist with a profound desire for holiness and, even, with a certain acceptance of the imprint of the Cross.
Père Vayssière did nothing really shocking. He just went down every day to the place where pilgrims lodged to read the newspapers and chat a bit. One day, as he was making his way down from the hermitage where he lived with Frère Henri, he stopped at a turn in the path and found himself incapable of going on. He was given a light by which it was made to clear to him that he was wasting his time and pursuing pleasures that, while innocent enough, kept him from corresponding fully to God's plan for him. He corresponded to this actual grace, turned around, climbed back up to the hermitage and thereafter testified that never again suffered from loneliness, or boredom, or curiosity. 'From now on', he said to himself, 'you will live in the spirit of the [Magdalen's] cave, you will become a contemplative'. No longer was he dejected by his inability to live a proper Dominican life; quite the contrary, he found himself filled with joy, and he used to repeat to himself, 'You wanted to be a preacher, but the Good God wanted you to be a saint'. Père Vayssière referred to this as his second conversion. He remained in his hermitage for more than thirty years. 

You all probably know the rest of the story. Père Vayssière became a great incandescent contemplative by means of the rosary. He could not study, he could not preach, he could not write, he could not go to choir, but he could tell his beads. And tell his beads his did, until with Mary, and through Mary, the verbum crucis contemplated in the mysteries, so impressed itself in him that his whole being became a holy preaching. God did not leave Père Vayssière's light under a bushel; he placed it on a lampstand. In 1932, and again in 1936, he was elected Prior Provincial of the Province of Toulouse. Père Vayssière, the brother good–for–nothing, died on September 14, 1940, the feast of the Triumph of the Cross. The verbum crucis in the life and death of one Friar Preacher. Father Vayssière wrote:
Let us, then, be content to be nothing, to be capable of nothing, to feel our misery. I should count it a very great grace of the Divine Spirit were I to be given that knowledge of infirmity which, with the Apostle, would permit us to place our confidence and our support only therein, all the while repeating with him: When I am weak, then am I powerful.
The verbum crucis descends into one's soul by the sacramental graces of the sacred liturgy, or by the choral Office, or by the hearing, study, and meditation of the Word, or by suffering and infirmity, or by humiliation, and failure, and loss, and even, paradoxically, by the assaults of the powers of darkness. No sooner does the verbum crucis impress itself in the depths of the soul than it rebounds heavenward in prayer. This second expression of the verbum crucis is no feeble subjective prayer, circumscribed by human limitations; it is the very prayer of Christ Himself, his filial and priestly prayer to the Father uttered beyond the veil and, at the same time, communicated to the soul in the form of a very pure vertical flame enkindled by the Holy Spirit, an inextinguishable flame that stretches upward and burns ad Patrem. This is the fiery prayer of which Saint John Cassian speaks. It is apostolic prayer. By this, I mean that it is a participation in the prayer of Christ Himself communicated to the Apostles in order to hasten the advent of the Kingdom of God.