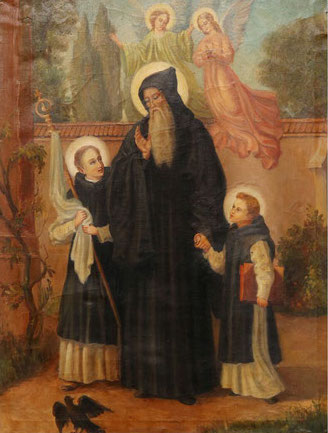 CHAPTER XXX. How the younger boys are to be corrected
7 Mar. 7 July. 6 Nov.
Every age and understanding should have its proper measure of discipline. As often, therefore, as boys or others under age, or unable to understand the greatness of the penalty of excommunication, commit faults, let them be punished by severe fasting or sharp stripes, in order that they may be cured.
We come today to the last of the eight chapters of Saint Benedict's penitentiale. When we began these chapters, I said that, In order to understand them rightly, we had to read them all in the light of the last phrase of today's Chapter XXX: ut sanentur, in order that they may be healed. Saint Benedict would have the abbot collaborate in all things with Our Lord Jesus Christ, the divine physician.
They that are whole, need not the physician: but they that are sick. I came not to call the just, but sinners to penance. (Luke 5:31–32)
One understands why Saint Aelred of Rievaulx, "the Bernard of the North" was wont to pray:
Grant me, Lord, through your grace that is beyond