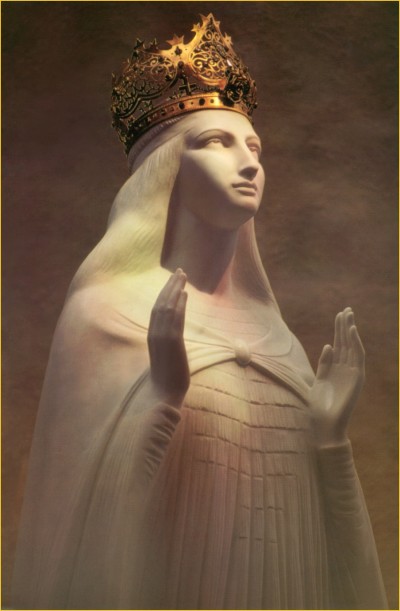 While the historical anniversary of the apparition at Knock is August 21st, the liturgical feast of Our Lady of Knock is now celebrated in Ireland on August 17th.  Even after one–hundred–thirty–eight years the immensity of what happened at Knock on the rainy evening of August 21, 1879 is not yet understood.  Knock was a true theophany, a manifestation of Our Lord Jesus Christ in the image of the immolated Lamb, surrounded by Angels, in the company His Virgin Mother, of Saint Joseph, and of Saint John the Evangelist.  The message of Knock is silence, and in that silence, a profound adoration.

Litany of the Lamb of God and of Our Lady of Knock
Glory be to Thee, O Lamb of God, who hast shown us Thy immolation and Thy triumph in the mysterious and joy–giving theophany of Knock.
Glory be to Thee, O Lamb of God, who didst appear in the company of Thy most holy Mother, of Saint Joseph, her noble and chaste spouse, and of Saint John, thy