To put one's hope in God (IV:2)
September 19, 2018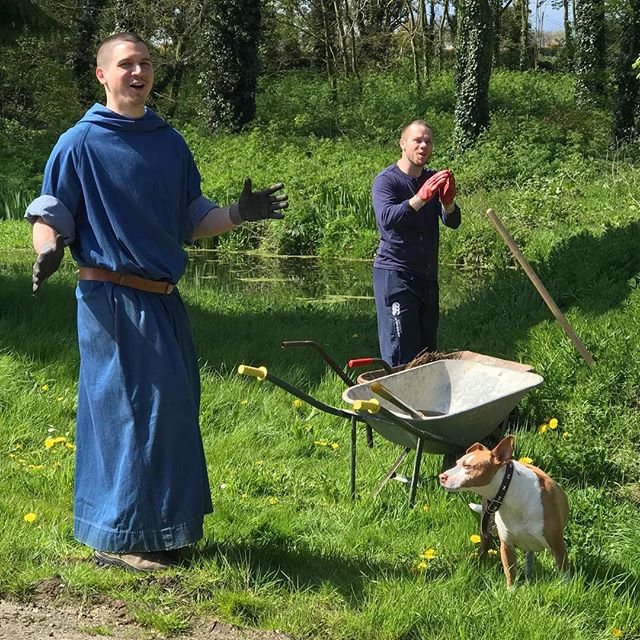 19 Jan. 20 May. 19 Sept.
22. Not to give way to anger.
23.  Not to harbour a desire of revenge.
24. Not to foster guile in one's heart.
25. Not to make a feigned peace.
26. Not to forsake charity.
27. Not to swear, lest perchance one forswear oneself.
28. To utter truth from heart and mouth.
29. Not to render evil for evil.
30. To do no wrong to anyone yea, to bear patiently wrong done to oneself.
31. To love one's enemies.
32. Not to render cursing for cursing, but rather blessing.
33. To bear persecution for justice's sake.
34. Not to be proud.
35. Not given to wine.
36. Not a glutton.
37. Not drowsy.
38. Not slothful.
39. Not a murmurer.
40. Not a detractor.
41. To put one's hope in God.
42. To attribute any good that one sees in oneself to God, and not to oneself.
43. But to recognise and always impute to oneself the evil that one doth.
The 22nd to the 34th Instruments of Good Works are a practical code for life together in peace.  The 34th Instrument — Non esse superbum. Not to be proud — comes at the end of twelve Instruments that treat of promoting and keeping the pax benedictina. Pride is the root of every sin against fraternal charity and against "the unity of the Spirit in the bond of peace."
Anger, more often than not, springs from a wounded pride. A desire for revenge also springs from pride. If a man fosters guile in his heart it is because his pride cannot suffer the light of truth. When does a man make a feigned peace if not when his pride will not suffer the humiliation of making a costly peace, that is, one that will oblige him to acknowledge his wrong and appear in the sight of all as a poor sinner?
A man forsakes charity when his pride keeps him from humbling himself again and again before the brother whom he finds offensive. Such a man keeps a mental inventory of his brother's faults, forgetting the verse of the psalm, "If thou, Lord, wilt keep record of our iniquities, Master, who has strength to bear it?" (Psalm 129:3). The proud man is quick to take an oath, if it means protecting his cherished image of an ideal self. He is accustomed to manipulating the truth in function of the dictates of his pride.
If the proud man is offended, he offends in return, or at least becomes defensive towards the one who offended him. His pride makes it difficult to bear patiently wrong done to him; he is easily outraged and takes an adversarial tone towards the one who contradicts him, or corrects him, or questions his behaviour.
Pride is the great obstacle to loving one's enemies. Pride says, "I would love him if . . . . I would love him but . . . . I will love him when . . . ." We sometime witness this kind of discourse in families. One hears of it among siblings, among cousins, or with regard to mothers–in–law, fathers–in–law, brothers–in–law, and sisters–in–law. There is no place for such a discourse in the monastic family.
The world, the flesh, and the devil incite men to render cursing for cursing. The Lord Christ, our true King, and the Prince of Peace moves us to bless when we are cursed, to bless when we are maligned, to bless when we are abused, rejected, and treated unjustly. Most of you are,  I think, familiar with the Prayer of Forgiveness and Reparation that we distribute. This prayer continues to be in great demand. It begins in this way:
Lord Jesus Christ,
Who revealed the infinite mercy of Your Sacred Heart
in saying: "Love your enemies
and pray for those who persecute you" (Mt 5:44)
and again, "Bless those who curse you,
pray for those who abuse you" (Lk 6:28),
give me, I beseech You,
grace to obey these commandments of yours,
and to persevere in praying daily
for those who, in any way,
have abused, cursed, hurt, or rejected me.
I pray for those who hate me,
for those who resent me
and for those who have spoken ill of me.
I beg you to bless them abundantly
and to pour into their hearts
such a profusion of healing mercies
that in them and around them
love will triumph over hatred,
friendship over resentment,
sweetness over bitterness,
meekness over anger,
and peace over enmity.
Today's Instruments of Good Works are, in some way, a complement to Saint Paul's instructions in Chapter 4 of the Epistle to the Ephesians:
Here, then, is one who wears chains in the Lord's service, pleading with you to live as befits men called to such a vocation as yours. You must be always humble, always gentle; patient, too, in bearing with one another's faults, as charity bids; eager to preserve that unity the Spirit gives you, whose bond is peace. Away with falsehood, then; let everyone speak out the truth to his neighbour; membership of the body binds us to one another. Do not let resentment lead you into sin; the sunset must not find you still angry. Do not give the devil his opportunity. The man who was a thief must be a thief no longer; let him work instead, and earn by his own labour the blessings he will be able to share with those who are in need. No base talk must cross your lips; only what will serve to build up the faith, and bring a grace to those who are listening; do not distress God's holy Spirit, whose seal you bear until the day of your redemption comes. There must be no trace of bitterness among you, of passion, resentment, quarrelling, insulting talk, or spite of any kind; be kind and tender to one another, each of you generous to all, as God in Christ has been generous to you. (Ephesians 4:1–3; 25–32)
The 35th to the 43rd Instruments are also related to pride. Why do men fall into addictive patterns of self–gratification? Saint Benedict speaks of the abuse of wine, of food, and of sleep, and of a kind of paralysing acedia. Such patterns are rooted in pride inasmuch as pride always moves a man to escape from the pain of accepting himself as he is and others as they are. The man who says, "I will not seek to escape from this humiliating truth; I will, rather accept it and bring it before God" opens himself to being repaired by grace. The humble man takes literally and for himself the words of Our Lord to Saint Paul: "My grace is enough for thee; my strength finds its full scope in thy weakness" (2 Corinthians 12:9).
Murmurers and detractors reason that by complaining about and denigrating others they will preserve their own illusions of superiority. Murmurers and detractors do untold harm in a monastery. Should I ever, which God forbid, hear echoes of murmuring and detraction among us, I shall not hesitate to punish the offending brother swiftly and severely.
The humble man puts his hope in God, not in himself, not in his good health, not in his strength of will, not in his intelligence, not in his encyclopedic knowledge of things, but in God alone. It sometimes pleases God to use a severe and tender mercy in order to strip a man of all those things in which he glories, and to reduce him to a state of utter poverty and dependence on others.  Such a man will begin to say from the heart the first verse of Psalm 30: In te, Domine, speravi; non confundar in æternum; "In thee, O Lord, have I hoped, let me never be confounded."
This series of the Instruments of Good Works closes with a resonance of the Magnificat, the canticle of the lowly Handmaid of the Lord, the most humble of Virgins, and the Queen of Heaven: "To attribute any good that one sees in oneself to God, and not to oneself."
My soul magnifies the Lord; my spirit has found joy in God, who is my Saviour, because he has looked graciously upon the lowliness of his handmaid. Behold, from this day forward all generations will count me blessed; because he who is mighty, he whose name is holy, has wrought for me his wonders. He has mercy upon those who fear him, from generation to generation (Luke 1:48–50)
The last of the series is a kind of caution: "But to recognise and always impute to oneself the evil that one doth." The humble man is quick to acknowledge when he is at fault. He vigorously rejects the temptation to pin blame on others. He will not adopt the faulty reasoning by which one ascribes blame to another. Such a man has learned the meaning of what we say day after day in the Confiteor: Mea culpa, mea culpa, mea maxima culpa. The confession of the evil one has done quickly turns to a confession of the mercy of God, and where the mercy of God enters in, there too enters a joy that the world cannot give.