That no one presume to strike another
August 28, 2017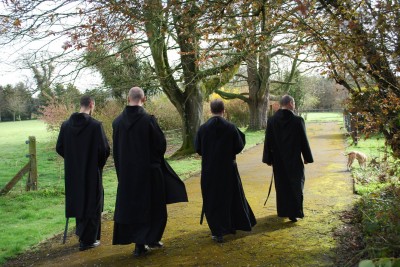 CHAPTER LXX. That no one presume to strike another
28 Apr. 28 Aug. 28 Dec.

Let every occasion of presumption be banished from the Monastery. We ordain, therefore, that no one be allowed to excommunicate or strike any of his brethren, unless authority to do so shall have been given him by the Abbot. Let such as offend herein be rebuked in the presence of all, that the rest may be struck with fear. With regard to the children, however, let them be kept by all under diligent and watchful discipline, until their fifteenth year: yet this, too, with measure and discretion. For if any one presume, without leave of the Abbot, to chastise such as are above that age, or shew undue severity even to the children, he shall be subjected to the discipline of the Rule, because it is written: "What thou wouldest not have done to thyself, do not thou to another."
We come today to the second of four chapters that treat of charity and unity in the monastic family. Charity makes for unity and out of unity springs supernatural fruitfulness. No man can be fruitful in isolation.  The monk who is one with God, with himself, and with his brethren will be fruitful, even as the psalmist says:
The just shall flourish like the palm tree: he shall grow up like the cedar of Libanus. They that are planted in the house of the Lord shall flourish in the courts of the house of our God. They shall still increase in a fruitful old age. (Psalm 91:13–15)
Saint Augustine, who feast we keep today, treats of the unity of monks in his commentary on Psalm 132, Ecce quam bonum. He explains that cenobites, though they be many in any one place, form one single body, because, being united in charity, they are like the early Christians described in the Acts of the Apostles: "And the multitude of believers had but one heart and one soul" (Acts 4:32).  Saint Augustine says:
Since the Psalm says, Behold, how good and how pleasant is it, that brethren should dwell together in one, why then should we not call Monks so? For Monos is one. Not one in any manner, for a man in a crowd is one, but though he can be called one along with others, he cannot be Monos, that is, alone, for Monos means one alone. They then who thus live together as to make one man, so that they really possess what is written, one mind and one heart, (Acts 4:32) many bodies, but not many minds; many bodies, but not many hearts; can rightly be called Monos, that is, one alone.
Charity fosters and protects unity. Charity demands that we bear with one another's infirmities and shortcomings, according to the injunctions of Saint Paul:
Brethren, and if a man be overtaken in any fault, you, who are spiritual, instruct such a one in the spirit of meekness, considering thyself, lest thou also be tempted. Bear ye one another's burdens; and so you shall fulfil the law of Christ. For if any man think himself to be some thing, whereas he is nothing, he deceiveth himself. But let every one prove his own work, and so he shall have glory in himself only, and not in another. For every one shall bear his own burden. (Galatians 6:1–5)
Our Declarations and Statutes interpret today's Chapter LXX for us. We read in the Declarations:
194. It is expressly forbidden that any monk take it upon himself to correct another. This is reserved to the Prior and, in his absence, to the Subprior. If there be any who, being offended in some way by another, have not the courage to make it the matter of a generous sacrifice, let them bring their complaints to the Prior and, in his presence, the matter will be brought to closure, without seeking further satisfaction, in submitting to what shall have been decided, and in making no more mention of it.
And in our Statutes we read:
194a. The monks will be on their guard against seeking to correct or reform brethren over whom they have no authority, whether it be in matters of the chant, or of the rubrics, or of the manner of working.
Once the prior has entrusted a particular charge or area of responsibility to a brother — the sacristy, library, kitchen, refectory, guesthouse, gardens, etc. — no one else may interfere in it or take it upon himself to correct the brother in this matter. The subprior may correct the brethren only in the absence of the prior. The brother charged with organising the work may correct the brethren working under his authority in any matter that pertains to the work at hand. Certain areas may overlap; this calls for loyal collaboration and mutual respect. At no time ought a brother take offense at an honest suggestion, or become imperious, or possessive of the area entrusted to him. Humility, charity, graciousness, and a sense of humour are always in order. The man who is quick to take offense or who magnifies the unintentional slight will never be at peace. Be ready, at all times, to forgive manifestations of impatience. We further read in our Declarations:
195. Following the Holy Gospel, the brethren may admonish one another charitably in order to hearten one another in the pursuit of perfection. If they have a true desire to advance, they shall have joy when the Prior takes note of their faults for the increase of humility and the downfall of the pride that one must vanquish at all times.
Fraternal admonition is an appropriate expression of charity, provided that it is done humbly, meekly, and in a place apart. The same may be said of the fraternal reconciliation that Saint Benedict prescribes in Chapter IV: "To make peace with an adversary before the setting of the sun". This corresponds to Our Lord's teaching:
But if thy brother shall offend against thee, go, and rebuke him between thee and him alone. If he shall hear thee, thou shalt gain thy brother. (Matthew 18:5)
The novices and juniors do not presume to admonish their seniors. Should a young brother remark something in a senior that needs to be redressed, he may mention it discreetly and humbly to the prior or subprior, without insisting on his point of view or making any kind of demands. This chapter of the Holy Rule will be rightly understood and practiced only if we hear it and live in the light of Our Lord's own words:
Come to me, all you that labor, and are burdened, and I will refresh you. Take up my yoke upon you, and learn of me, because I am meek, and humble of heart: and you shall find rest to your souls. For my yoke is sweet and my burden light. (Matthew 11:28–30)