Our miseries, and it was he who bore them (XXV)
July 2, 2020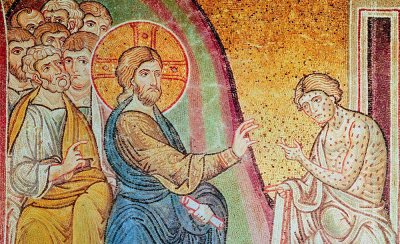 CHAPTER XXV. Of Graver Faults
2 Mar. 2 July. 1 Nov.

Let that brother who is found guilty of a more grievous offence be excluded both  from the table and from the Oratory, and let none of the brethren consort with him or speak to him. Let him be alone at the work enjoined him, and continue in penance and sorrow, remembering that dreadful sentence of the Apostle, "That such a one is delivered over to Satan for the destruction of the flesh, that his spirit may be saved in the day of the Lord." Let him take his portion of food alone, in the measure and at the time that the Abbot shall think best for him. Let none of those who pass by bless him, nor the food that is given him.
It is a great sorrow when a brother is found guilty of a more grievous offence: it is a sorrow for the brother, a sorrow for the abbot, and a sorrow for the whole monastic family. But we mustn't be surprised by such things; we are all frail, in some way broken, and in need of mercy every day. In the life of every man there comes a day when he opens the book of Lamentations and recognises in them his own story:
He hath turned aside my paths, and hath broken me in pieces, he hath made me desolate.
He hath bent his bow, and set me as a mark for his arrows.
He hath shot into my reins the daughters of his quiver.
I am made a derision to all my people, their song all the day long.
He hath filled me with bitterness, he hath inebriated me with wormwood.
And he hath broken my teeth one by one, he hath fed me with ashes.
And my soul is removed far off from peace, I have forgotten good things.
And I said: My end and my hope is perished from the Lord.
Remember my poverty, and transgression, the wormwood, and the gall.
I will be mindful and remember, and my soul shall languish within me.
These things I shall think over in my heart, therefore will I hope.
The mercies of the Lord that we are not consumed:
because his commiserations have not failed.
They are new every morning, great is thy faithfulness.
The Lord is my portion, said my soul: therefore will I wait for him.
The Lord is good to them that hope in him, to the soul that seeketh him.
It is good to wait with silence for the salvation of God. (Lamentations 3:11-26)
Saint Benedict prescribes that the brother guilty of a more grievous offence be excluded from the table and the Oratory, and he adds, "and let none of the brethren consort with him or speak to him." Even these harsh measures are taken with a view to the cure of the offending brother. Ut sanentur. "So that they may be healed" (Chapter XXX). Certain healings of the soul can only take place in solitude and in silence. Again, this is something that, if one lives long enough, one will come to understand. When sympathetic listening, conversations, pleadings, corrections, and every manner of therapy have been proven ineffectual, there remains the cure of solitude and silence. I do not mean any sort of solitude and silence, I mean the inhabited solitude of the presence of God and the silence that allows one to hear His voice. The isolation that Saint Benedict imposes in the most extreme cases may be the very thing needed to bring a brother to the stillness that will restore him to health. "For thus saith the Lord God the Holy One of Israel: If you return and be quiet, you shall be saved: in silence and in hope shall your strength be" (Isaias 30:15).
For us, Benedictine Monks of Perpetual Adoration, what healing there is in the solitude and in the silence of the Host! Certain deprivations and sufferings are salutary if they send us into the presence of Gesù Sacramentato, and cast us helpless and broken at His feet. The healing may happen in the twinkling of an eye or it may happen slowly and almost imperceptibly over a long time of perseverance in prayer. The brother in the grip of a malady of the soul must go before the Most Blessed Sacrament with the same attitude of hope and of expectation that he would bring to the clinic of the most renowned physician. Let Our Lord determine the length of the treatment. Be content to return to Him again and again until He utters the saving words, "Arise, go thy way; for thy faith hath made thee whole" (Luke 17:19).
Our Lord would have us go to Him as to the most skilled physician, trusting Him to make a diagnosis of the ill, and to treat it effectively. The prophecy of Isaias gives hope even to the sickest among us:
Our weakness, and it was he who carried the weight of it, our miseries, and it was he who bore them. A leper, so we thought of him, a man God had smitten and brought low; and all the while it was for our sins he was wounded, it was guilt of ours crushed him down; on him the punishment fell that brought us peace, by his bruises we were healed. (Isaias 53:4-5)
Saint Benedict understood that for certain healings to take place, a temporary break with one's fellows and even with the rhythm of daily life may be necessary. If the abbot, after consideration and prayer, judges, in line with Chapter XXV, that a temporary isolation, may be salutary for a suffering brother, that brother ought to accept the remedy prescribed and cooperate loyally with all that the abbot thinks best for him.