One safe place: the wound in Jesus' sacred side (IV:4)
May 22, 2020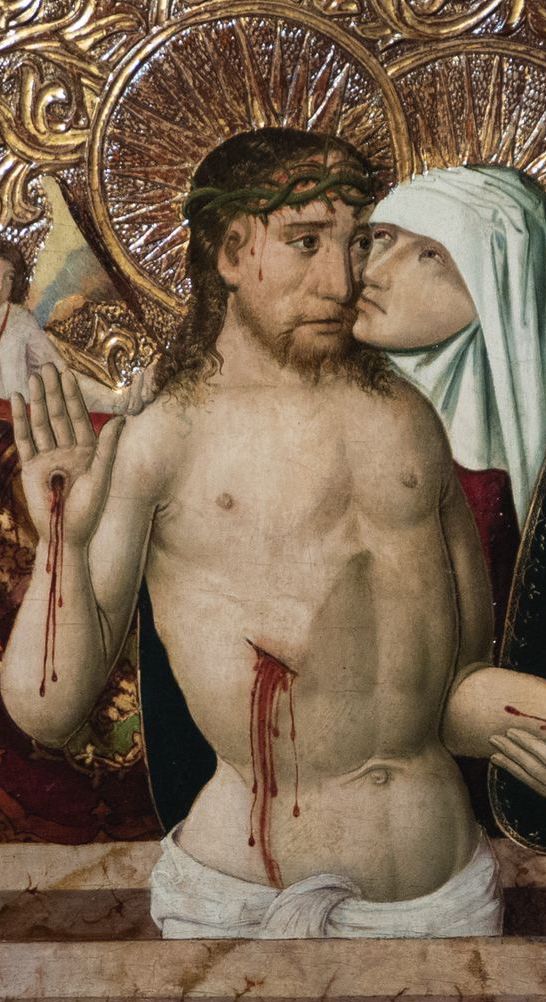 CHAPTER IV. What are the Instruments of Good Works
21 Jan. 22 May. 21 Sept.

62. Daily to fulfil by one's deeds the commandments of God.
63. To love chastity.
64. To hate no man.
65. Not to give way to jealousy and envy.
66. Not to love strife.
67. To fly from vainglory.
68. To reverence the Seniors.
69. To love the juniors.
70. To pray for one's enemies in the love of Christ.
71. To make peace with an adversary before the setting of the sun.
72. And never to despair of God's mercy.

Behold, these are the tools of the spiritual craft, which, if they be constantly employed day and night, and duly given back on the day of judgment, will gain for us from the Lord that reward which He Himself hath promised – "which eye hath not seen, nor ear heard; nor hath it entered into the heart of man to conceive what God hath prepared for them that love Him." And the workshop where we are to labour at all these things is the cloister of the monastery, and stability in the community.
Coming to the end of Chapter IV, we see that the passage appointed for today corresponds in more than one point to Chapter LXXII, Of the good zeal which Monks ought to have. The Holy Rule is itself the best commentary on the Holy Rule.
As there is an evil zeal of bitterness, which separateth from God, and leads to hell, so there is a good zeal, which keepeth us from vice, and leadeth to God and to life everlasting. Let monks, therefore, exert this zeal with most fervent love; that is, "in honour preferring one another." Let them most patiently endure one another's infirmities, whether of body or of mind. Let them vie with one another in obedience. Let no one follow what he thinketh good for himself, but rather what seemeth good for another. Let them cherish fraternal charity with chaste love, fear God, love their Abbot with sincere and humble affection, and prefer nothing whatever to Christ. And may He bring us all alike to life everlasting.
Saint Benedict enjoins us to put aside hatred, jealousy, envy, and strife. At no season or hour of his life is a monk preserved from temptations such as these. The remedy for hatred is an infusion of divine love. The remedy for jealousy and envy is continual thanksgiving. The remedy for strife is humble self-accusation and unconditional forgiveness. There are circumstances in which the practice of these things is truly heroic. Saint Rita of Cascia, the patroness of impossible causes and hopeless circumstances, whom we commemorate today, is a model in this regard. We are called to forgive even those offences that are or that seem to be unforgivable. The last three Instruments address this very thing:
70. To pray for one's enemies in the love of Christ.
71. To make peace with an adversary before the setting of the sun.
72. And never to despair of God's mercy.
Have we enemies? An enemy is anyone from whom we are withholding forgiveness, or anyone who is witholding forgveness from us. So long as a man stands over his brother as an accuser and judge, there will be enmity, but as soon as a man kneels before his brother, offering unconditional forgiveness and begging for unconditional forgiveness, enmity is vanquished and, in its place, charity triumphs.
A monk, and indeed every Christian, is called to make peace with his adversary before the setting of the sun. The time for making peace is short. The descent of darkness is inexorable. We must then make peace while there is still light.
The devil has an arsenal of arguments to deter us from hoping in the mercy of God. He never tires of pushing souls to despair of God's mercy. The Evil One's arguments can be, in a confusing and mendacious way, intelligent and compelling. Temptations to despair must be refuted by acts of confidence in the mercy of God revealed in the wounds of Christ. For the soul tracked by despair there is but one safe place: the wound in Jesus' sacred side. We contemplate this wound with the eyes of faith; we enter it by hope; we abide it in by charity. Pray then, that we may meet one another, and anyone whom we have wounded or by whom we have been wounded, in the sacred side of Jesus, lest anyone of us despair of the mercy of God.