O taste, and see that the Lord is sweet (Prologue 11)
May 13, 2020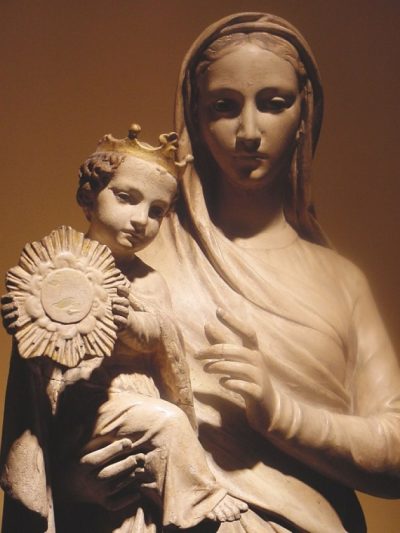 PROLOGUE OF OUR MOST HOLY FATHER SAINT BENEDICT TO HIS RULE
7 Jan. 8 May. 7 Sept.
We have, therefore, to establish a school of the Lord's service, in the setting forth of which we hope to order nothing that is harsh or rigorous. But if anything be somewhat strictly laid down, according to the dictates of sound reason, for the amendment of vices or the preservation of charity, do not therefore fly in dismay from the way of salvation, whose beginning cannot but be strait and difficult. But as we go forward in our life and in faith, we shall with hearts enlarged and unspeakable sweetness of love run in the way of God's commandments; so that never departing from His guidance, but persevering in His teaching in the monastery until death, we may by patience share in the sufferings of Christ, that we may deserve to be partakers of His kingdom. Amen.
Saint Benedict speaks of "going forward in our monastic life and in faith." The expression processu vero conversationis et fidei, "indeed, as we advance in our conversion and in faith," means "as we practice the monastic discipline and grow in faith." The practice of the monastic discipline—that is, of the observances—goes hand in hand with our growth in faith. This is in the logic of what Our Lord said in the Cenacle on the night before He suffered:
He that hath my commandments, and keepeth them; he it is that loveth me. And he that loveth me, shall be loved of my Father: and I will love him, and will manifest myself to him. (John 14:21)
Faith is what commands obedience, and obedience is manifested in deeds:
Not every one that saith to me, Lord, Lord, shall enter into the kingdom of heaven: but he that doth the will of my Father who is in heaven, he shall enter into the kingdom of heaven. (Matthew 7:21)
What does Saint James say?
Thus faith, if it has no deeds to shew for itself, has lost its own principle of life. We shall be inclined to say to him, Thou hast faith, but I have deeds to shew. Shew me this faith of thine without any deeds to prove it, and I am prepared, by my deeds, to prove my own faith. (James 2:17-18)
There is no lack of armchair monastics, that is, of good chaps who study the monastic life, who know its history, its literature, its ceremonial, and who are incapable of enduring the humble monastic quotidian for so much as a week. Monkish knowledge a monk does not make. I know of more than a few men who have gorgeous photo books of abbeys on the coffee table and shelves full of books about all things monastic. They listen to recordings of Gregorian Chant, keep up on the news from monasteries near and far, and yet . . . their love for all things Benedictine remains notional. I am reminded of the rich young man.
And Jesus looking on him, loved him, and said to him: One thing is wanting unto thee: go, sell whatsoever thou hast, and give to the poor, and thou shalt have treasure in heaven; and come, follow me. Who being struck sad at that saying, went away sorrowful: for he had great possessions. And Jesus looking round about, saith to his disciples: How hardly shall they that have riches, enter into the kingdom of God! And the disciples were astonished at his words. But Jesus again answering, saith to them: Children, how hard is it for them that trust in riches, to enter into the kingdom of God? It is easier for a camel to pass through the eye of a needle, than for a rich man to enter into the kingdom of God. Who wondered the more, saying among themselves: Who then can be saved? And Jesus looking on them, saith: With men it is impossible; but not with God: for all things are possible with God. (Mark 10:21-27)
How many potential monastic vocations have begun with a kind of fascination, an attraction, and ended with a man going away sorrowful? The monk is a man who puts his hand to the plow and goes forward, humbly and obediently, without looking back.
As they went on their journey, a man said to him, I will follow thee wherever thou art going. But Jesus told him, Foxes have holes, and the birds of the air their resting-places; the Son of Man has nowhere to lay his head. To another he said, Follow me, and he answered, Lord, give me leave to go home and bury my father first. But Jesus said to him, Leave the dead to bury their dead; it is for thee to go out and proclaim God's kingdom. And there was yet another who said, Lord, I will follow thee, but first let me take leave of my friends. To him Jesus said, No one who looks behind him, when he has once put his hand to the plough, is fitted for the kingdom of God. (Luke 9:57-62)
Every step forward in conversion of life is a step forward in faith. The effect of this is twofold: Dilatato corde inenarrabili dilectionis dulcedine curritur via mandatorum Dei. "We shall with hearts enlarged and unspeakable sweetness of love run in the way of God's commandments." The monastic observances, animated by faith and driven by faith, dilate the heart. There is nothing in Benedictine life that conspires to make a man small-minded, priggish, and pinched. Saint Benedict's monk goes forward with a dilated heart, that is to say, with a radical openness to the Holy Ghost, and with a capacity for engaging with life as it unfolds. "And we know that to them that love God, all things work together unto good, to such as, according to his purpose, are called to be saints"(Romans 8:28). The second part of this effect is that it opens a man to the sweetness of being loved by God and of loving Him. Gustate et videte quoniam suavis est Dominus; beatus vir qui sperat in eo. "O taste, and see that the Lord is sweet: blessed is the man that hopeth in him" (Psalm 33:9).
Inenarrabili dilectionis dulcedine curritur via mandatorum Dei. "We shall, with unspeakable sweetness of love, run in the way of God's commandments." One cannot encounter the word sweetness—dulcedo—in Sacred Scripture, in the Fathers, or in the liturgy without hearing its Eucharistic resonances. The Most Holy Eucharist is the sacramentum omnis dulcedinis, "the sacrament of all sweetness." The unspeakable sweetness of love that Saint Benedict promises is contained for us and communicated to us in the Most Holy Sacrament of the Altar. Our Benedictine John of Fécamp, writing in the early 11th century, expresses this in his Prayer Before Mass given in the Roman Missal:
Panis dulcissime, sana palatum cordis mei ut sentiam suavitatem amoris tui. Sana illud ab omni languore, ut nullam praeter te sentiam dulcedinem.
Sweetest Bread, heal the palate of my heart that I may taste the pleasant savor of Thy love. Heal it of all infirmities that I may find sweetness in nothing other than Thee.
One thing is certain, and Saint Benedict sets it forth clearly: a man cannot happily get through life without "the unspeakable sweetness of love." Without the sweetness of love, a man becomes aimless and weary. What is the sweetness of love that allows a monk to go forward, running in the way of the divine commandments? It is, as Blessed Marmion said, using an Italian expression, Gesù sacramentato, Jesus in the Most Blessed Sacrament. The monk who does not go to Our Lord for the sweetness without which life in the cloister becomes impossible, will look for sweetness elsewhere, and find that every created sweetness leaves him still hungering, unsatisfied, and often bitter. Gerard Manley Hopkins' translation of the Adoro Te Devote comes to mind:
O thou our reminder of Christ crucified,
Living Bread, the life of us for whom he died,
Lend this life to me then: feed and feast my mind,
There be thou the sweetness man was meant to find.
Many years ago, my dear friend Father Giles Dimock, O.P., in a memorable conference on the Most Holy Eucharist, spoke of the spiritual sweetness that is an effect of this sacrament. What he said surprised me and, at the same time, I remember thinking that it corresponded in some way to my own experience. If Father Giles did not quote Saint Thomas directly, he certainly referred to him. I have never forgotten it. This is what the Angelic Doctor says:
Dictum est enim quod effectus huius sacramenti non solum est adeptio habitualis gratiae vel caritatis, sed etiam quaedam actualis refectio spiritualis dulcedinis.

The effect of this sacrament is not only the obtaining of habitual grace or charity, but also a certain actual refreshment of spiritual sweetness: which is indeed hindered if anyone approach to this sacrament with mind distracted through venial sins; but the increase of habitual grace or of charity is not taken away. (III, q. 79, art. 8)
This sacrament confers grace spiritually together with the virtue of charity. Hence Damascene (De Fide Orth. iv) compares this sacrament to the burning coal which Isaias saw (Isaias 6:6): "For a live ember is not simply wood, but wood united to fire; so also the bread of communion is not simple bread but bread united with the Godhead." But as Gregory observes in a Homily for Pentecost, "God's love is never idle; for, wherever it is it does great works." And consequently through this sacrament, as far as its power is concerned, not only is the habit of grace and of virtue bestowed, but it is furthermore aroused to act, according to 2 Corinthians 5:14: "The charity of Christ presseth us."

Et inde est quod ex virtute huius sacramenti anima spiritualiter reficitur, per hoc quod anima delectatur, et quodammodo inebriatur dulcedine bonitatis divinae, secundum illud Cant. V, comedite, amici, et bibite; et inebriamini, carissimi.

Hence it is that the soul is spiritually nourished through the power of this sacrament, by being spiritually gladdened, and as it were inebriated with the sweetness of the Divine goodness, according to Canticles 5:1: "Eat, O friends, and drink, and be inebriated, my dearly beloved." (III, q. 79, art. 1)
The unspeakable sweetness of love is found nowhere save in the Sacred Host and in the Virgin Mother of the Host, vita, dulcedo, et spes nostra, "our life, our sweetness, and our hope." We Benedictine Monks of Perpetual Adoration have this extraordinary privilege and obligation: we are to remain close to the wellspring of the unspeakable sweetness of love by day and by night, tasting the sweetness of the Lord in Holy Communion each day, and allowing that same sweetness to seep into us and to penetrate us entirely until there is no bitterness left in us, no unforgiveness, and no resentment.
Where the unspeakable sweetness of love enters there is no room for anything else. Laments turn to praise. Recriminations turn to thanksgiving. Enmities turn to friendship. When this happens, what do we discover? We discover that the weight that oppressed us has been removed and that, as Saint Benedict says, we are free to "run in the way of God's commandments."
Lend this life to me then: feed and feast my mind,
There be thou the sweetness man was meant to find.
(Gerard Manley Hopkins, Adoro Te Devote)