This treasure in earthen vessels (LXI)
April 15, 2020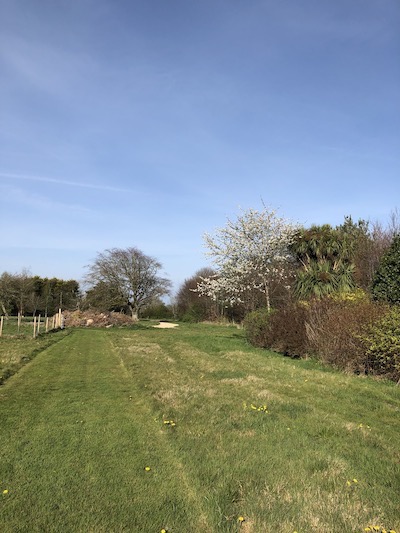 CHAPTER LXI. Of Stranger Monks, how they are to be received
15 Apr. 15 Aug. 15 Dec.
If any monk who is a stranger come from distant parts, and desire to dwell in the Monastery as a guest, and if he be content with the customs which he there findeth, and do not trouble the Monastery by any superfluous wants, but be satisfied with what he findeth, let him be received for as long a time as he will. And if reasonably and with humility he reprove and point out what is amiss, let the Abbot prudently mark his words, in case God perchance hath sent him for this very end. If afterwards he desire to bind himself to remain there, let not his wish be denied him, especially since during the time he was a guest his manner of life could well be ascertained.
Saint Benedict envisages four ways by which a monastic family may incorporate new members. He treats of the first of these—men who present themselves to become monks—in Chapter LVIII. He treats of the second—child oblates—in Chapter LIX. He treats of the third—priests and other clerics—in Chapter LX. And today, in Chapter LXI, he treats of the fourth—monks coming from other monasteries. In practice, our monastery and, I think, most monasteries grow in the way set forth in Chapters LVIII and LX. We do not receive child oblates— even if our secular oblates, and the possibility of one or more regular oblates—that is, oblates living at the monastery and sharing, to a certain degree, in our life and in our observances—grow out of Chapter LIX. The incorporation of monks coming from other monasteries is an altogether other matter.
Among the mendicants and in modern Institutes, it is expected that religious will pass from one house to another. Membership in the Order or Institute is not tied to a particular place nor to a particular family living under a father. With us, sons of Saint Benedict, bound by the vow of stability and the observance of enclosure, and careful to preserve our autonomy, the monastic family lives in one place. The family, while following the Holy Rule, expresses its own spirit in the Declarations, Statutes, Customs, and Ceremonial. Our monastery did not really begin to grow until we were led—and I believe that we were led by Divine Providence—to this place. In one way or another, the ancient pattern of salvation history, repeats itself in the history of every monastery:
And I will take you to myself for my people, I will be your God: and you shall know that I am the Lord your God, who brought you out from the work prison of the Egyptians. And brought you into the land, concerning which I lifted up my hand to give it to Abraham, Isaac, and Jacob: and I will give it you to possess, I am the Lord. (Exodus 6:7-8)
One of the reasons why I insist so strongly on the reading of monastic history and biographies in the refectory is because it gives us a context out of which we can begin to recognise how God has worked, and continues to work, in what we may rightly call the sacred history of our own monastery. Each of us, by grace and over time, will become amator loci et fratrum, a lover of the place and of the brethren. I say, over time, because this is my own experience. I have come to love Silverstream: its meadows, its woods, its stream, and our splendid view of the Irish Sea. I find myself thanking God for having given us this place. I looked out my window this morning and saw the sun shining on the field and, in the distance, glittering on the sea. This fills me with thanksgiving. The land that God has given us, He continues to fill with life. With the arrival of each new brother, with each vestition and each profession, I thank God. The father of the monastery is ever being stretched. He cannot say, "My fatherhood stops here. Enough. No more new life." Rather, he must receive from God all those sons whom God sends him, and this with a grateful heart, cherishing the first-born, welcoming the latest arrival, and loving all who are between.
It may happen that a monk professed for one monastery asks to transfer his stability to another. This is a very grave matter. The motives behind such a request must be scrutinized and tested. Even if the motives appear to be justified, such a transfer cannot be granted easily. It is not uncommon for monks to fall prey to temptations against the vow of stability. Most temptations against the vow of stability are directed against the place or the brethren. The devil is very astute: he may suggest that the place is too small, or too enclosed, or not enclosed enough; or that it is too remote, or not remote enough; or that it lacks a mountain, a river, an orchard, or sufficient forest land. He may suggest that the house is dilapidated, or the Oratory too small, or that one's cell is too hot or too cold, or lacking in a view from the window. He may insinuate that in another monastery the doctrine is purer, the observance stricter, the monks holier, and the abbot wiser. Or he may suggest that elsewhere the climate will be better, the food more wholesome, and the regime less taxing. Even more subtly, the devil may whisper to a monk that he is neither understood nor appreciated in his monastery of profession, but that in another abbey he will be understood, and appreciated, and allowed to pursue the things in which he excels.
Certain cases are relatively easy to recognise as coming from pride, or from wounded self–love, or from the deceptions of the devil. There is the monk who says, "I cannot develop my talents and interests here. I shall go to an abbey where I will be allowed to pursue the things that really interest me." Such a man is deluded by pride. If a man is fundamentally disobedient in one monastery, he will be so in another. There is also the monk who says, "The observance here is lax. The abbot is too soft. The monks are lacking in ascetical grit." Again, such a man makes himself the measure of what is right before God. More often than not, he will grow critical and dissatisfied elsewhere, once the novelty of another observance has worn off, and he begins to notice that the monks around him are fragile earthen vessels.
The Apostle says, "But we have this treasure in earthen vessels, that the excellency may be of the power of God, and not of us" (1 Corinthians 4:7). There sometimes arises the thought that our fathers and brothers should be less fragile, not breakable, shatter-proof. It pleases God to choose earthen vessels—not unbreakable plastic ones—and to fill them with His grace. In making us vessels of His grace, God takes a risk. Few of us will get through this life without being chipped, or cracked, or broken. Amatores fratrum. Lovers of the brethren: with their chips, their cracks, and their fractures. Each one is a vessel of grace.
But the foolish things of the world hath God chosen, that he may confound the wise; and the weak things of the world hath God chosen, that he may confound the strong. And the base things of the world, and the things that are contemptible, hath God chosen, and things that are not, that he might bring to nought things that are: that no flesh should glory in his sight. But of him are you in Christ Jesus, who of God is made unto us wisdom, and justice, and sanctification, and redemption: that, as it is written: He that glorieth, may glory in the Lord. (1 Corinthians 1:27-31)
All of this being said, what are we to make of visiting monks who may ask to remain among us? Saint Benedict gives reliable criteria for judging the character and motives of a visiting monk. Does he trouble the peace of the monastery? Is he satisfied with what he finds? Is he burdensome? Is he prone to vice? Such a monk must be bidden courteously to be on his way. Saint Benedict's own humility shines in this chapter. He is willing to admit that God may make use of a visiting monk to point to certain deficiencies in a community. If the visiting monk makes his point reasonably and humbly, the abbot is to heed his observations "in case God perchance hath sent him for this very end." The family of God may grow, not only by the arrival of new men—sons and brothers—in the noviciate, but also, however rarely, by adoption into the family.