Why I love Saint Joseph
March 19, 2020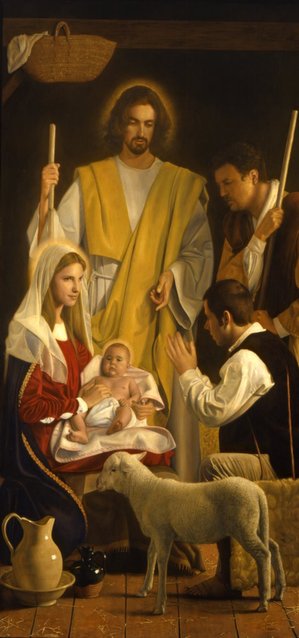 Saint Joseph, Model of Monks
Saint Joseph, espoused to the Virgin Mother of God and charged with the guardianship of the living Bread come down from heaven, is the model of monks, and of all who aspire to the monastic life. He is the living image of what it means to live by the three vows of the Benedictine profession: obedience, conversatio morum (conversion of the way one goes about living), and stability.
Obedience
First, with regard to obedience: Was there ever a man who so listened to the will of God and so allowed it to shape his life and destiny? "Joseph, Son of David, fear not to take unto thee Mary thy wife, for that which is conceived in her is of the Holy Ghost" (Mt 21:20); and again, "Arise, and take the child and his mother, and fly into Egypt: and be there until I shall tell thee" (Mt 2:13); and a third time, "Arise, and take the child and his mother, and go into the land of Israel. For they are dead that sought the life of the child" (Mt 2:20). When Jesus at the age of twelve, coming face to face with His Virgin Mother and with Saint Joseph in the temple, uttered the mysterious words, "Did you not know, that I must be about my father's business?" (Lk 2:49), Joseph bowed to the mystery of the Father from whom all fatherhood takes its name, and adoring His Will, accepted to be the earthly shadow of the invisible God, the Deus absconditus, whom no man has seen. The obedience of Saint Joseph lay in his readiness to embrace not only the mysteries revealed by Angels visiting him by night, but also the events willed and permitted by God: disconcerting events, events revealing the power of God in weakness, and the wisdom of God in folly. Such is the obedience of a monk.
Conversatio Morum
Then, with regard to conversatio morum: Was there ever a man who so readily accepted change, and humbly submitted to a strange and wonderful way of life? God called Saint Joseph to an ongoing change of manners: a change of expectations, a change of certainties, a change of plans. It is an unsettling thing to be asked by anyone to change, but when God asks one to change, the perspective can be terrifying.
Meeting Mary's Gaze
Where did Saint Joseph find the courage to change? I believe that he found it by gazing into the eyes of his bride full of grace. Would it have been at supper in the evening light, while partaking of the bread she had baked? Would it have been in the first light of morning, when she appeared to him lovelier than the dawn? Would it have been when she returned from the village well carrying a jar of water, with their little Jesus at her side? Of one thing I am certain: the courage to change comes sweetly and quickly to the man who, like Saint Joseph, meets the gaze of Mary.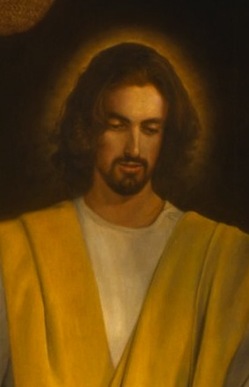 By making the vow of conversatio morum, usually translated as conversion of manners, Benedictine monks promise to change the very things that, for the old creature wedded to sin, have become habitual. The Immaculate, she who looks upon us with eyes of mercy, gives one the courage to change, to forsake old ways and to forswear the comfortable compromises that, in the end, bring nothing but unhappiness, in this life and in the next.
Stability
Finally, with regard to stability; the Introit of today's Mass (Justus ut palma) describes Saint Joseph as a flourishing palm tree and as a Lebanon cedar. That is to say that Saint Joseph was a man with deep roots. If there is anything that wreaks havoc in families and in society today, it is, I think, the instability of men: the inability or unwillingness to put down roots before presuming to spread one's branches.
Deeply rooted in the portion chosen for him by God, Saint Joseph was able to stretch heavenward, and to extend his branches rich in foliage and laden with fruits. The Son of God found protection and security in his shadow. Saint Joseph was sturdy, but supple. He was strong, but flexible. He was rooted, but able to bend. Thus was he able to weather the storms of adversity and the winds of temptation without breaking.
The vow of stability carries with it an extraordinary grace: it allows a man to grow into the full manhood that God intends for him. The complete man is like a tree, deeply rooted, stretching heavenward and, at the same time, providing protection, shade, and nesting places for all who find a home in its branches.
Any monk with experience of the "hard and arduous things by which one goes to God" (Rule of Saint Benedict, Chapter 58) knows that stability goes hand in hand with enclosure. They are, if you will, two sides of the same coin. The monk who wants to be deeply rooted will love the observance of enclosure; and the monk who loves the observance of enclosure will put down roots, and he will flourish.
Saint Joseph accepted to live within the enclosure of an ordinary existence with Mary, his virgin bride, and with Jesus, the Son of the Eternal Father. His was an apparently confining life. It was within the enclosure of his marriage and family that Saint Joseph put down roots reaching hidden streams of living water, and grew, stretching upward, to lay hold of the promises of God.
Not Just for Monks
What I am saying concerning Saint Joseph and the monk can be applied to other states of life as well. The monastic vocation is nothing other than an intensification of the ordinary Christian life. The priest labouring in the vineyard is called, no less than the monk in his cloister, to obedience, conversatio morum, and stability. Married couples, too, are called to obedience, to conversatio morum, and to stability. These are, in fact, necessary components in any happy and holy marriage.
There are, in every state in life, days and hours when one wants to cast aside the yoke of obedience, halt the process of conversion, and run off in search of a change of scenery. More than one monk of the ancient desert monasteries of Egypt escaped to Alexandria for a wild week-end, and returned repentant and humbled, begging to start over again. That being said, in the companionship of Saint Joseph, and under his protection, there is courage for the asking and comfort in abundance. And should one fall out of obedience, or regress in the path of conversion, or give in to the temptation to move out and move on, Saint Joseph's strong hand is but a prayer away. He will always be there to set things aright. That is why I love Saint Joseph.