Ferventissimo amore (XLVI, LXXI, LXXII)
March 28, 2020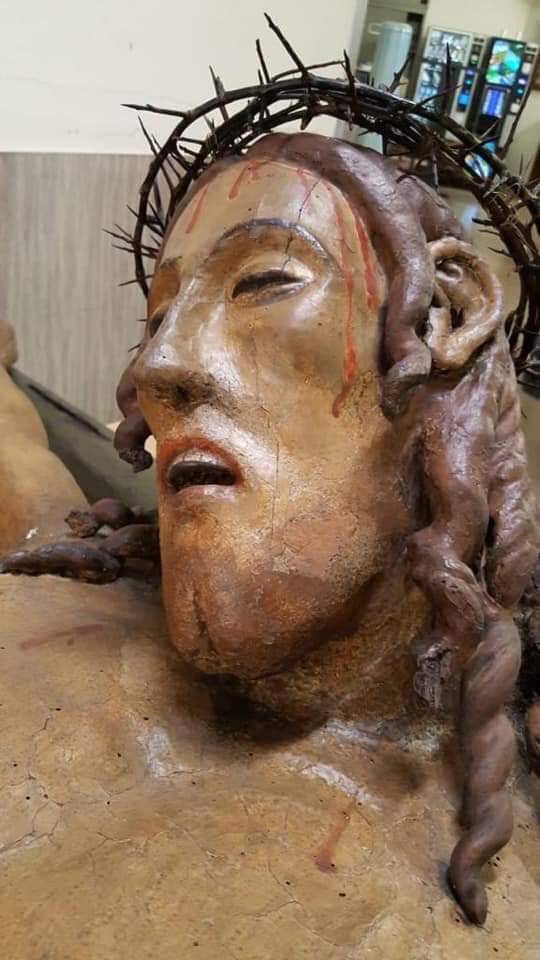 CHAPTER XLVI. Of those who offend in any other matters
26 Mar. 26 July. 25 Nov.
If any one, while at work in the kitchen or the cellar, in serving the brethren, in the bakehouse or the garden, or at any other occupation or in any place whatever, commit any fault, or break or lose anything, or transgress in any other way, and do not come immediately before the Abbot and community, and of himself confess and make satisfaction for his fault; if it is made known by another, he shall be subjected to more severe correction. If, however, the guilt of his offence be hidden in his own soul, let him manifest it to the Abbot only, or to his spiritual seniors, who know how to heal their own wounds, and will not disclose or publish those of others.
CHAPTER LXXI. That the Brethren be obedient one to the other
29 Apr. 29 Aug. 29 Dec.
Not only is the excellence of obedience to be shewn by all to the Abbot, but the brethren must also obey one another, knowing that by this path of obedience they shall come unto God. The commands, then, of the Abbot or the Superiors appointed by him (to which we allow no private orders to be preferred) having the first place, let all the younger brethren obey their elders with all charity and vigilance. And should any one be found refractory, let him be corrected. But if a brother be rebuked by the Abbot, or any of his Superiors, for the slightest cause, or if he perceive that the mind of any Superior is even slightly angered or moved against him, however little, let him at once, without delay, cast himself on the ground at his feet, and there remain doing penance until that feeling be appeased, and he giveth him the blessing. If any one should disdain to do this, let him either be subjected to corporal chastisement, or, if he remain obdurate, let him be expelled from the Monastery.
We shall enter this evening at Vespers into Passiontide. Blessed Abbot Marmion tells us that Passiontide is, in a certain sense, our entrance into the Holy of Holies. I ask that each of you take the time, over the next few days, to read or to re-read Chapter XIII of Blessed Abbot Marmion's Christ in His Mysteries. I recommend, in particular, the section of this chapter in which Blessed Abbot Marmion speaks, with such unction and wisdom of each man's participation in the Passion of Christ.
God, [he says] gives us too, a cross to carry, and each one thinks that is own is the heaviest. We ought to accept the one given to us without reasoning, without saying: "God might have changed such and such a circumstance in my life." Our Lord tells us: "If any man will come after Me, let him . . . take up his cross and follow Me" (Matthew 16:24).
In this generous acceptation of our cross, we shall find union with Christ. For in bearing our cross, we truly bear our share in that of Jesus. . . . Our Lord says to us: "Accept this share of My sufferings which, in My Divine foreknowledge, on the day of My Passion, I reserved for you."
How shall we refuse to accept, from Christ's hands, this sorrow, this trial, this contradiction, this adversity? To drink some drops from the chalice which He Himself offers to us and from which He drank the first? Let us then say: "Yes, Divine Master, I accept this share, with all my heart, because it comes from You." Let us take it, as Christ took His Cross, out of love for Him and in union with Him. We shall sometimes feel ready to sink beneath the burden. Saint Paul confesses that certain hours of his life were so full of weariness and disappointment that he was "weary even of life": Ut tæderet nos etiam vivere (2 Corinthians 1:8). But, like the great Apostle, let us look upon Him Who loved us so much as to deliver Himself up for us; let us unite ourselves to Christ with yet more love at those hours when the body is tortured, or the soul is crushed, or the mind is in darkness, or the deep action of the Spirit in His purifying operations is making itself felt. Then the virtue and unction of His Cross will be communicated to us, and we shall find peace in it as well as strength, and that innermost joy which knows how to smile in the midst of suffering: Superabundo gaudio in omni tribulatione nostra (2 Corinthians 7:4).
There is no doubt that we, as a community, and as individuals, are living through a moment of suffering. We, together with the whole Church, are in Passiontide, not only liturgically, but existentially. This was represented for us very dramatically—I want to say iconically—in the prayer of the Holy Father and in the extraordinary Urbi et Orbi blessing that was televised last evening from Rome. We shall never forget those poignant images: the emptiness of Saint Peter's Square; the rain that fell from the darkling heavens like a kind of weeping; the manifest fatigue and weakness of Pope Francis; the blessing from the doors of Saint Peter's with the very Body of Christ raised aloft in the monstrance and presented thus to the eyes of the world.
Know this: the devil never desists from his infernal machinations. He seeks, by every means, to bring us down, to precipitate us into chaos, rebellion, and despair. He has but one goal: to bring every soul to the point of saying after him, Non serviam, that is, "I will not adore; I will not submit; I will not lower myself; I will not ask pardon for my sins; I will not cast myself before God in utter ennothingment and unconditional obedience to all that His Providence decrees, causes, or allows to befall me".
The devil, who always makes the most of situations of crisis, is precipitating nations and individuals into what I would call a practical atheism. The practical atheist—or the practically atheistic government—judges that one's first allegiance is to the policies dictated according to criteria that, effectively, make abstraction of God. Thus, certain decisions that would suggest that churches, prayer, and the sacraments ought to be placed in the same category as restaurants, physical fitness centres, and leisure activities, are an insidious and pernicious way of pushing God into the margins of life. Do not assume that because we wear the monastic habit and continue to live our observances within the enclosure of the monastery, we will not be affected by the mentality of practical atheism. While we are bound, according to reason and prudent judgment, to take every precaution against the Corona Virus, we cannot do this outside of the supernatural perspective of faith.
I have often spoken to you of charity, unity, and fruitfulness. Today, I would remind you that the foundation of these three realities is humility. The correct order of things is: humility, charity, unity, and fruitfulness. Concretely, I am asking that each brother practice humility and charity with greater generosity during this Passiontide—during this time of crisis—so as to assure that we will remain, throughout it and afterwards, united and fruitful. One of the exigencies of humility is mutual obedience. I invite each of you to make use of every opportunity that comes his way to let go of attachment to self-will and to defer to the preferences of his fathers and brothers. Saint Benedict sets this before us clearly: "The brethren must also obey one another, knowing that by this path of obedience they shall come unto God" (Chapter LXXI).
I invite each of you to re-read and to practice to the letter Chapters LXXI and LXXII of the Holy Rule. Never lose sight of the good zeal that we monks are bound to practice ferventissimo amore, "with most fervent love". You know how this is done in daily life:
Let them most patiently endure one another's infirmities, whether of body or of mind. Let them vie with one another in obedience. Let no one follow what he thinketh good for himself, but rather what seemeth good for another. Let them cherish fraternal charity with chaste love, fear God, love their Abbot with sincere and humble affection, and prefer nothing whatever to Christ. (Chapter LXXII)