Renounce, adore, and submit (VII:5)
January 29, 2020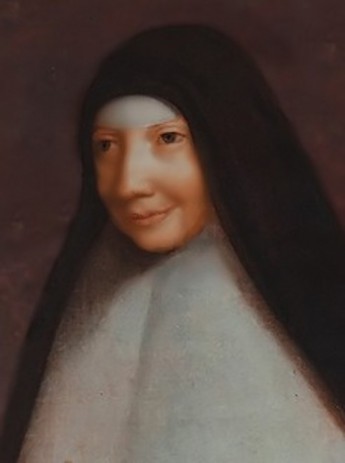 29 Jan. 30 May. 29 Sept.
Let us be on our guard, then, against evil desires, since death hath its seat close to the entrance of delight; wherefore the Scripture commandeth us, saying: ""Go not after thy concupiscences." Since, therefore, "The eyes of the Lord behold the good and the evil," and "The Lord is ever looking down from heaven upon the children of men, to see who hath understanding or is seeking God, and since the works of our hands are reported to Him day and night by the angels appointed to watch over us; we must be always on the watch, brethren, lest, as the prophet saith in the psalm, God should see us at any time declining to evil and become unprofitable; and lest, though He spare us now, because He is merciful and expecteth our conversion, He should say to us hereafter: "These things thou didst and I held my peace."
Saint Benedict warns his monk to be on guard against evil desires because, he says, "death hath its seat close to the entrance of delight." With all his fatherly wisdom and authority, Saint Benedict addresses his monk: "Go not after thy concupiscences." The whole tenor of this portion of the First Degree of Humility resounds with what Saint John says his First Epistle:
I call you little children; have not your sins been forgiven in his name? I call you fathers; have you not knowledge of one who was from the first? I call you young men; have you not gained victory over the evil one? I call you sons; you have learned to recognize the Father. I call you young men; you are strong, with God's word dwelling in you always; you have gained your victory over the evil one. Do not bestow your love on the world, and what the world has to offer; the lover of this world has no love of the Father in him. What does the world offer? Only gratification of corrupt nature, gratification of the eye, the empty pomp of living; these things take their being from the world, not from the Father. The world and its gratifications pass away; the man who does God's will outlives them, for ever. (1 John 2:12–17)
How easily we are tricked into believing that the gratification of this or that desire will be the solution to all our troubles. We look at men of our own age living in the world and we compare our lot with theirs. Ecce ipsi peccatores, et abundantes in sæculo obtinuerunt divitias. "Behold these are sinners; and yet abounding in the world they have obtained riches" (Psalm 72:12). Even if the worldlings of our acquaintance are not libertines and profligates, they have access to certain honest pleasures and avenues of escape that we, living in the cloister, have renounced: the relaxing dinner in a lovely restaurant; the long walk on the beach; the holiday in a sunny place; the excitement of the football match; the evening at the theatre in the company of friends; the afternoon spent browsing in used book stores. Who among us has never thought, "If only I could do this one thing, at least from time to time, all the rest would be bearable?" Who among us has never known the troubling thoughts expressed in Psalm 72? This morning at Matins we prayed:
Look at these sinners, how they live at peace, how they rise to greatness! Why then, thought I, it is to no purpose that I have kept my heart true, and washed my hands clean in pureness of living; still, all the while, I am plagued for it, and no morning comes but my scourging is renewed. Was I to share their thoughts? Nay, that were to put the whole company of thy children in the wrong. I set myself to read the riddle, but it proved a hard search . . . .
There follows the key phrase that is the turning point of the whole psalm: donec intrem in sanctuarium Dei, "until I betook myself to God's sanctuary" or, in another translation, "until I go into the sanctuary of God."
Until I betook myself to God's sanctuary, and considered, there, what becomes of such men at last. (Psalm 72:17)
The psalmist, beset as he is by troubling thoughts and incapable of quieting the conflicting impulses that rise and fall within him, does the one thing that will allow him to find peace of heart. He betakes himself to the sanctuary. He goes to the place where he is certain of finding God. What does Jeremias say? Effunde sicut aquam cor tuum ante conspectum Domini. "Pour out thy heart like water before the face of the Lord" (Lamentations 2:19). There, in the presence of the Lord, he waits for his thoughts to settle, like sand in the bottom of a pool. And then he begins to see clearly.
The truth is, thou art making a slippery path for their feet, ready to plunge them in ruin; in a moment they are fallen, in a storm of terrors vanished and gone. And thou, Lord, dost rise up and brush aside all their imaginings, as a waking man his dream. (Psalm 72:18-20)
Finally, after the disquieting thoughts give way to stillness in the presence of the Lord, one begins to see clearly and to think rightly:
For my heart hath been inflamed, and my reins have been changed: and I am brought to nothing, and I knew not. I am become as a beast before thee: and I am always with thee. Thou hast held me by my right hand; and by thy will thou hast conducted me, and with thy glory thou hast received me. For what have I in heaven? and besides thee what do I desire upon earth? For thee my flesh and my heart hath fainted away: thou art the God of my heart, and the God that is my portion for ever. (Psalm 72:21-26)
I often speak to you of the terrible "what ifs" and of the terrible "if onlys." Saint Benedict unmasks these deceptions by inviting us to submit to what is. It is only by accepting the present moment, the present circumstances, the reality of my life such as it is here and now, and the grace that it holds for me, that I can place myself quietly as a disciple at the feet of Christ, and as a trusting son beneath the loving gaze of the Father. There the illusions and deceits of the "what ifs" and of the "if onlys" are dispelled. Mother Mectilde writes:
I keep in sight only the present moment. The one which follows it I leave to God and I take care not to concern myself with it. The reason is that I would lose not only the grace which is contained in the present moment, not making any use of it, but would expose myself to a thousand worries, confusions, and troubles of mind that the sight of so many matters would cause me, and then, I would act only according to the spirit of human nature, and this would be a great misfortune. It is not that I do not have distractions about what I have to do, but I turn nimbly away from them and slide very gently away, just a person withdraws from a great crowd. And leaving to God all such matters, I see them in Him and leave them to Him to arrange according to His will. It is a great secret in the spiritual life to act this way since, doing otherwise, we lose our peace, and the grace contained in the moment we have and in the action we are doing. And, then, to put it briefly, we do nothing worthwhile. (n. 1021, Diversités spirituelles)
Only in the sacrament of the present moment is a man open to the love that flows eternally from the bosom of the Father, through the Heart of the Son, carried along by the Holy Ghost. The man who indulges memories and regrets of the past cannot connect to the present moment in which God waits for him. The man who runs after the unreal future of his imaginings is, in effect, running from the grace that is offered him in the present moment. The teaching of Mother Mectilde is, in many points, in direct continuity with that of Barsanuphius of Palestine. The Great Old Man writes to the monk Andrew:
If you truly believe that it is actually God who brought you to this place, then entrust Him with your cares and cast on Him all your concerns; and He will dispose your affairs as He wills. However, if you hold back from Him in any matter, whether about some bodily illness or the passions of the soul, then you are obliged to deal with these, as you know . . . . The man who gives himself to God must do so unto death and with his whole heart. God knows, far more than we do, what is good for our soul and body. (Letters from the Desert, Barsanuphius and John, p. 76)
It sometimes happens that brothers fall into all sorts of morbid complications in their thoughts. Did God actually bring me here? Was duped, or tricked, or constrained by some delusion? What one may always say is this: "I am here. I have reason to believe that God wills me to be here because I am here. Whatsover God does not will directly, He permits, and what is permitted by God will not be the undoing of one who trusts in Him and abandons himself to Him. I can stand on the word of the Apostle: 'We know that to them that love God, all things work together unto good, to such as, according to his purpose, are called to be saints' (Romans 8:28).
Rumination on the sufferings one has endured, or on the sufferings one is enduring, or fear of sufferings yet to come, may cause one to want to flee. Mother Mectilde was not spared these temptations. She was, at a certain hour of her life, thinking of withdrawing completely from what seemed to her an impossible situation. She seriously considered running away to the south of France to live as a hermit in the mountainous wilds of Sainte-Baume, the region that, according to tradition, was the place of Saint Mary Magdalene's long solitary penitence. Then, on Easter night 1651, an interior voice spoke to Mother Mectilde, saying, "Renounce, adore, and submit to my designs". In the grace of this word, she gave up her project of living as a hermit and, in pure faith, embraced the mysterious plan of God.
I cannot help but compare this word spoken to Mother Mectilde with a similar word given to Abba Arsenius: Fuge, tace, quiesce, "Flee, be silent, be at rest." Mectilde is told to flee from her own projects, desires, and fears. She is told to adore God, perfect and loving in all His designs. Finally, she is told to submit, that is, to bow low beneath the Hand of God, cleaving to His Will with an unconditional and irrevocable "Yes". The three words that Mother Mectilde heard spoken in her soul contain all that is necessary for one to be happy in this life and in the next. Would that I had the wisdom to repeat them to myself every time I experience temptation, fear, disappointment, or darkness: "Renounce, adore, and submit." These three words, in effect, go to the heart of the First Degree of Humility, and to the heart of what has been called the Mectildian-Benedictine charism.