All one in Christ (II:4)
January 12, 2020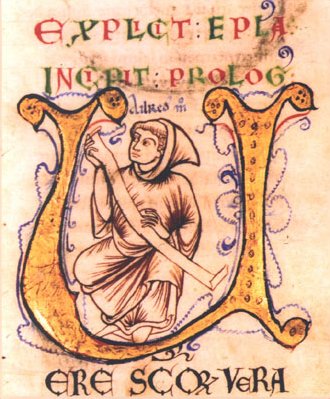 CHAPTER II. What kind of man the Abbot ought to be
12 Jan. 13 May. 12 Sept.
Let him make no distinction of persons in the monastery. Let not one be loved more than another, unless he be found to excel in good works or in obedience. Let not one of noble birth be put before him that was formerly a slave, unless some other reasonable cause exist for it. But if upon just consideration it should so seem good to the Abbot, let him arrange as he please concerning the place of any one whomsoever; but, otherwise, let them keep their own places; because, whether bond or free, we are all one in Christ, and bear an equal rank in the service of one Lord, "For with God there is no respecting of persons." Only for one reason are we preferred in His sight, if we be found to surpass others in good works and in humility. Let the Abbot, then, shew equal love to all, and let the same discipline be imposed upon all according to their deserts.
The abbot, in his relations with his monks, must not be swayed by worldly standards of judgment. It seems to me that Saint Benedict is making his own the teaching of Saint James, and applying it to the monastery:
My brethren, have not the faith of our Lord Jesus Christ of glory with respect of persons. For if there shall come into your assembly a man having a golden ring, in fine apparel, and there shall come in also a poor man in mean attire, and you have respect to him that is clothed with the fine apparel, and shall say to him: Sit thou here well; but say to the poor man: Stand thou there, or sit under my footstool: do you not judge within yourselves, and are become judges of unjust thoughts? Hearken, my dearest brethren: hath not God chosen the poor in this world, rich in faith, and heirs of the kingdom which God hath promised to them that love him?  (James 2:1-5)
Those of you who have read the biography of Blessed Joseph Benedict Dusmet know that it has happened in the not so distant past that a great deal was made of a novice's social rank, of his family's pedigree, and of the wealth and prestige that his profession would bring to the monastery. Even today there may be examples of the special treatment given to monks who, by their ancestry, or their education, or their exceptional talents, bring lustre or lucre to their monastery. Such is not the way of Saint Benedict, nor is it the way of the Gospel.
Saint Benedict uses the verb amare, which can mean to display a preference or to show friendship, He also uses the verb discernere, which means to single out or to select. The abbot may not single out a brother for preferment, nor treat a brother with special distinction unless it is because the brother "be found to excel in good works or in obedience." Preferments in the monastery are not made on the basis of the abbot's natural affection towards a brother (or the lack thereof) but, rather, on whether or not the brother can be said to "excel in good works or in obedience."
Saint Benedict addresses the question of preferments or, if you will, of promotions to a higher rank in the monastery, with great freedom. He quotes Saint Paul who, in Monsignor Knox's translation, says: "There are no human preferences with God" (Romans 2:11). Preferment, when it is indicated for the good order and peace of the monastery, comes to the monk whom the abbot finds "to surpass others in good works and in humility." For the rest, the abbot may not govern with different weights and measures according to his subjective affinities and antipathies. Saint Benedict says, "Let the same discipline be imposed upon all according to their deserts." This principle in no way contradicts that other over-arching principle of the Holy Rule, the pia consideratio shown to the infirm and the weak. It is for the abbot to balance both principles by governing wisely, by dependence on the seven gifts of the Holy Ghost, and by taking counsel of trusted Fathers who are themselves objective and not swayed by personal affinities and antipathies.
Saint Benedict, quoting the Apostle, says that we are all one in Christ, omnes enim vos unum estis in Christo Jesu (Galatians 3:28). The abbot is the guardian of the unity of his monastic family. Saint Aelred, whom we remember today, understood this and prayed for it:
Thou knowest, Lord,
I do not want to rule them harshly or self-assertively,
but to help them in charity, rather than command,
and to be subject to them in humility,
while being always one of them in sympathy.

Hear me, therefore, hear me, O Lord my God,
and let Thine eyes be open on them day and night.
Spread Thou Thy wings, most loving Lord, and shield them;
stretch forth Thy holy right hand, Lord, and bless them;
and pour into their hearts Thy Holy Spirit,
that He may keep them in unity of spirit and the bond of peace,
chaste in their bodies, lowly in their minds.

May He be there to help them when they pray,
and fill them with the unction and the riches of Thy love.
May He renew their minds with sweet compunction,
enlighten their hearts with the light of Thy grace,
cheer them with hope, and humble them with fear,
and kind them with love.

May it be He Who prompts them to such prayers
as Thou wilt gladly hear.
May He, Thy same sweet Spirit, be in them,
when they make meditation;
so that, by Him enlightened, they may know Thee,
and ever cherish in their hearts the thought of Him;
so that in trouble they will call on Him,
and turn to Him in all perplexity.

May the same loving Comforter, when they are being tempted,
come swiftly to their aid;
and may He help their weakness in all the
straits and troubles of this life.
By the same Spirit make them, Lord, to be
alike within themselves, with one another, and towards myself,
peaceable and equable and kind,
obedient, serviceable, helpful to each other.
May they be fervent in spirit, rejoicing in hope,
enduring steadfastly
through poverty and fasting, toils and vigils, silence and repose.

Drive far from them, O Lord, the spirit
of pride and of vain glory,
of envy and of gloom,
of accidie and slander,
of distrust and despair,
of fornication and uncleanness,
of discord and presumption.

Be in their midst, according to Thy faithful promise;
and, since Thou knowest what each of them needs,
I pray Thee, strengthen what is weak in them,
spurn not their frailty, heal that which is diseased,
give joy for sorrow, kindle what is lukewarm,
establish what is insecure in them, that each of them may know
he does not lack Thy grace in any of his trials and temptations.