Our Lady of the Miraculous Medal
November 27, 2019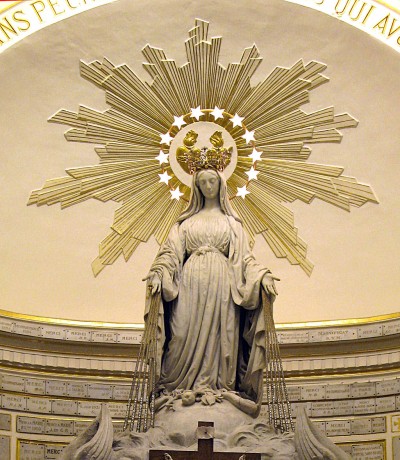 O Mary Conceived Without Sin
In Paris today it is the feast of Our Lady of the Miraculous Medal of the rue du Bac. I am especially fond of the rue du Bac. Never have visited there and gone away empty. Our Lady is present in the chapel of the rue du Bac in a way that is simple and disarming, powerful and gentle. She is a Mother who welcomes all who turn into her house in search of comfort, light, peace, and strength. And the Daughters of Charity are there always praying, beads in hand, ministering to the poorest of the poor by carrying their needs and sorrows  before the Mother of God and by making themselves advocates with the sweet Advocate who stands above the altar, dispensing graces with outstretched hands.
Love Chastity
Anyone who would follow the injunction of Saint Benedict to love chastity — castitatem amare — must seek the intercession of the Blessed Virgin, all–holy, all–pure, all–beautiful. It is the Blessed Virgin's joy to keep those who trust in her beneath her virginal mantle and to plant deep within their hearts the love of chastity.
Towards Following the Lamb
There is great comfort in the frequent repetition of the invocation given to Saint Catherine Labouré: "O Mary conceived without sin, pray for us who have recourse to thee." One who prays thus can always go forward in hope, even if he stumbles and falls along the way, for all who call on the Immaculate Virgin Mary will most assuredly find themselves one day in the company of those who follow the Lamb wherever he goes.