Simple Profession of Brother Thomas Aquinas Borders
August 18, 2019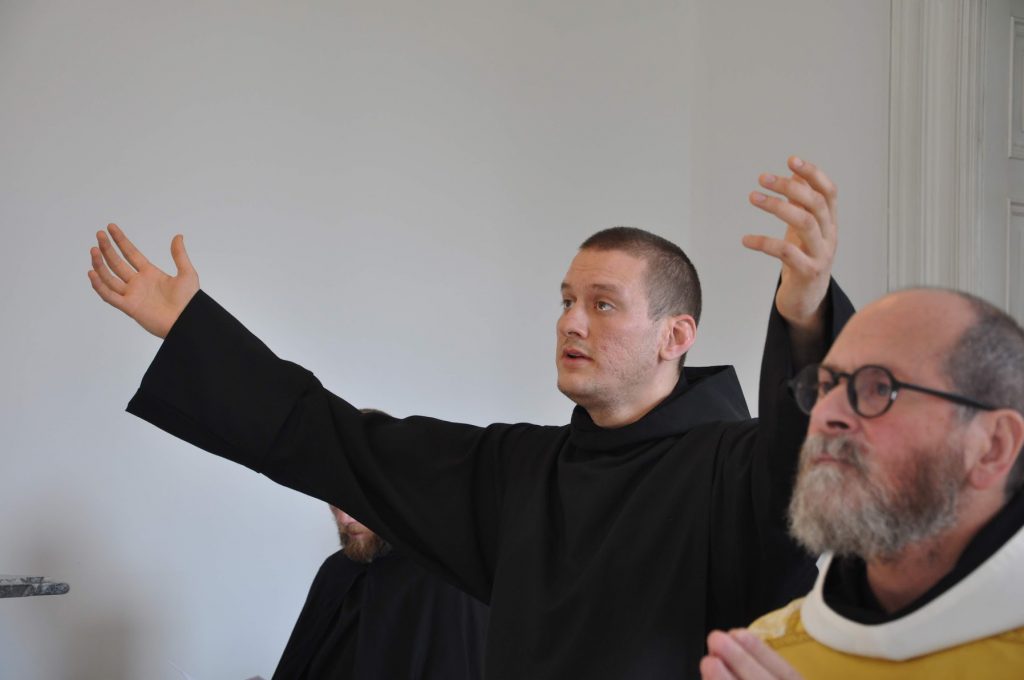 15 August 2019
Feast of the Assumption of the Blessed Virgin Mary
Simple Profession of Dom Thomas Aquinas Maria Borders
My dear son, Brother Thomas Aquinas, last evening as we chanted Matins, you were very much in my heart and in my prayer. One of the things that you will have learned here thus far is, I think, that the Opus Dei is more about listening to the Word of God than about producing sound. It is not that the sound produced is negligible; it is, rather, that the hearing and the receiving of the Word of God is the inestimable grace, that by which the heart is purified, and healed, and sanctified, and lifted up, even into the heavenly places "where Christ is sitting at the right hand of God" (Colossians 3:1). "Hidden away now with Christ in God" (Colossians 3:3) is His Most Holy Mother, all glorious in the mystery of her Assumption. Did not you hear in yesterday's Gospel of the Vigil of the Assumption, "Yea rather, blessed are they who hear the word of God, and keep it" (Luke 11:28)?
In Psalm 8 we heard this: "What is man, that thou art mindful of him? or the son of man that thou visitest him?" Know this, dear son, and never doubt it: Our Lord is mindful of you. You are never forgotten, never far from the radiance of His Face. At every moment you are the object of His Heart's attention. Know too, that He visits you by day and by night. You may not always recognise the guise under which He visits you, but visit you He does, to lift you when you fall, to console you in sorrow, to correct you when you stray, to feed you and give you drink when you hunger and thirst for the sustenance that only He can give, even the mysteries of His adorable Body and Blood.
In Psalm 18 we heard this: "The testimony of the Lord is faithful, giving wisdom to little ones." You have spent your retreat in the company of Saint Thérèse. I rather suspect that from her you will have learned something about choosing littleness over greatness, weakness over strength, and confidence over fear.
In Psalm 23 we heard this: "This is the generation of them that seek him, of them that seek the face of the God of Jacob." By making your monastic profession today, you take your place in the generation of those who, as Saint Benedict says in Chapter 58, "truly seek God." The single great unifying desire of your life is to see the face of God. And the Psalm says, "the face of the God of Jacob." Is this not a reference to that mysterious utterance of Jacob after seeing in a dream the ladder that united heaven to earth and earth to heaven? "Indeed the Lord is in this place, and I knew it not. . . . How terrible is this place! This is no other but the house of God, and the gate of heaven" (Genesis 28:16–17).
Psalm 44 began with an irrepressible cry of jubilation: "My heart hath uttered a good word: I speak my works to the king." Does not this "good word" go to the heart of what it means to be a son of Saint Benedict? Benedicere. Allow Our Lord to fill the storehouse of your heart with His own utterances, and you will never be at a loss for words of blessing: for the blessing of God at all times, for the blessing of your fathers and brothers in the humble quotidian of our life, and for the blessing of those entrusted to your intercession.
In Psalm 45 we heard this: "Be still and see that I am God." You were drawn, dear son, to our monastery by adoration of the Most Blessed Sacrament. Something deep inside you quickened at the prospect of stillness in the presence of the hidden Jesus. Learn to say, more and more, with your patron, Saint Thomas Aquinas, Adoro te devote, latens Deitas. "Yearning, I adore you, wondrous hidden God."
In Psalm 47 we heard this: "We have received thy mercy, O God, in the midst of thy temple." By your monastic profession today, dear son, you take your place among those whom the Holy Ghost has brought together to abide semper in templo, laudantes et benedicentes Deum, "always in the temple, praising and blessing God" (Luke 24:53). The enclosure of the monastery becomes for you the place wherein mercy is always at hand, the place wherein the praise of God draws you seven times a day and once in the night upward and out of yourself into the joy of Our Lady's Assumption, and this without removing you from a humble and ordinary life in the midst of the fathers and brothers whom God has given you.
In Psalm 84 we heard this: "I will hear what the Lord God will speak in me." This is the grace of Mary of Bethany; it is also, and most sublimely, the grace of the Mother of God in the repose of the Assumption, where her Son is seated on a throne amidst the stars. Dear son, there is not a moment of the day or night when you are cannot go to Our Lord who waits for you in the Sacrament of His Love, or turn to Him who, by His grace, abides in the secret of your heart, and say, "I will hear what the Lord God will speak in me." For the monk who does this, there can be no loneliness, no emptiness, no alienation. His is the best part, which shall not be taken away from him.
In Psalm 86 we heard this: "Glorious things are spoke of thee." As you grow, dear Brother Thomas Aquinas, in the grace of your monastic profession, you will see ever more clearly the glorious things that the Word of God and the witness of the saints speak concerning the Mother of God, Mary Most Holy. Never say, "I have learned, and seen, and repeated all that can be learned, and seen, and repeated concerning the Mother of God." For every monk there is an inexhaustible spring of joy in the contemplation of the Blessed Virgin Mary.
In Psalm 95 we heard this: "Adore ye the Lord in His holy place." It is this, dear son, that brought you to Silverstream Priory, drawn on, as it were, by the leading-bands of love. Remain faithful to this first grace, to this first love, and you will not be disappointed in the hope that is yours.
In Psalm 96 we heard this: "There shall go a fire before Him, and burn up His foes on every side." The cloister can be a fiery furnace. Like the three young men, remain steadfast in the midst of the flames—they are the purifying flames of love—and sing the praises of Him who, in plunging you into fire, prepares your soul for union with Himself. Raise your hands heavenward and consent to become, even as Abba Joseph said to Abba Lot, "all flame."
In Psalm 97 we heard this: "And His arm is holy." The God for whose sake you left your family, and your country, and your job, and so many things dear and familiar; the God whom you have come here to seek, and to praise, and to serve, and to love with all your heart, is holy in all that He does. "And His arm is holy." This means that so often as God acts in your life, He moves to purify you, to heal you, and draw you to Himself. Whenever you are tempted to doubt the action of God, or to fear it, or to flee from it, repeat this to yourself: "And His arm is holy.
And, finally in Psalm 98 we heard this: "He spake to them out of the cloudy pillar." The cloudy pillar was that mysterious sign by which God at once concealed His presence and revealed His presence to Moses, to Aaron, and to the children of Israel. For you, dear son, and for all us, there is more than the pillar of cloud; there is the Sacred Host hiding the presence of God and revealing it, silent and, yet, speaking to those who are content to tarry in Its presence. Fix your gaze on the Host, even as the Chosen People fixed their gaze upon the pillar of cloud, and have no doubt that He who spoke once to Moses and to Aaron, will speak to you "face to face as a man is wont to speak to his friend" (Exodis 33:11).
It was, as I said, last night during Matins, that this catena aurea of verses began to emerge from the Psalms we were singing in praise of the Most Holy Virgin assumed into heaven. I offer it to you, dear son, in this hour of your first Monastic Profession. Hold fast to it in the three years that lie before. These three years of Simple Profession will pass quickly, bringing you to the day and to the hour when, by Our Lord's all-sufficent grace and the unfailing intercession of the Mother of God, I pray that we will say amidst great rejoicing, "Dom Thomas Aquinas hath chosen for himself the best part: which shall not be taken from him." Maria optimam partem elegit, quæ non auferetur ab ea (Luke 10:42).