I will be to him a father (LXIV:1)
August 20, 2019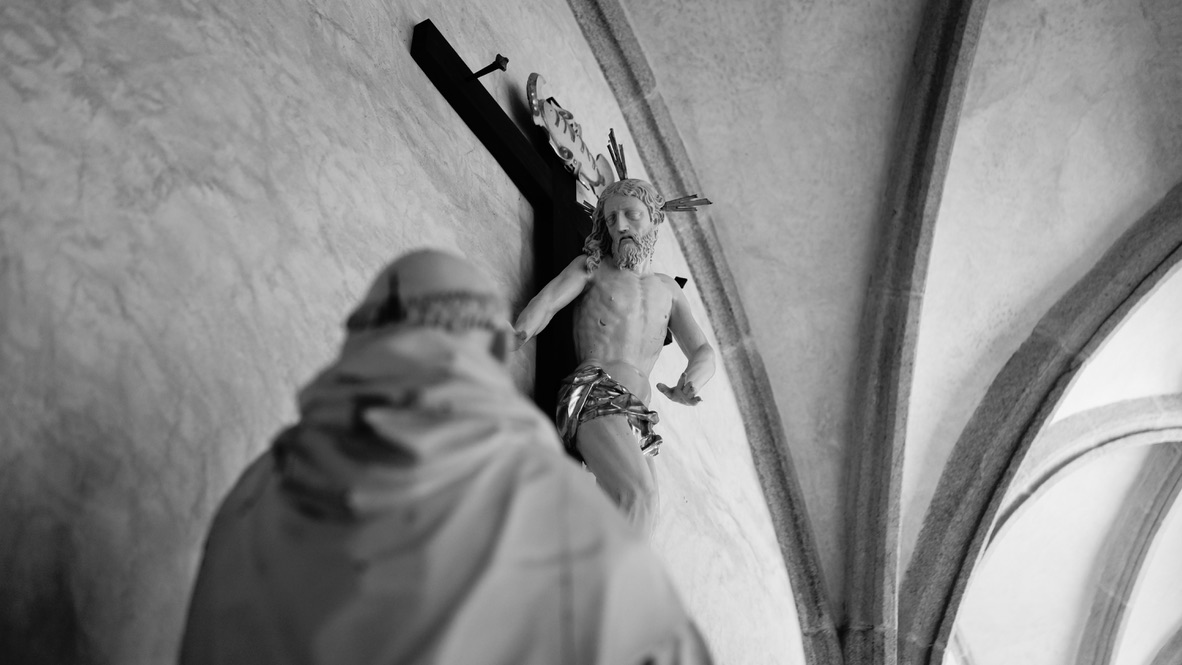 CHAPTER LXIV. Of the Appointment of the Abbot
20 Apr. 20 Aug. 20 Dec.
In the appointing of an Abbot, let this principle always be observed, that he be made Abbot whom all the brethren with one consent in the fear of God, or even a small part of the community with more wholesome counsel, shall elect. Let him who is to be appointed be chosen for the merit of his life and the wisdom of his doctrine, even though he should be the last in order in the community. But if all the brethren with one accord (which God forbid) should elect a man willing to acquiesce in their evil habits, and these in some way come to the knowledge of the Bishop to whose diocese that place belongs, or of the Abbots or neighbouring Christians, let them not suffer the consent of these wicked men to prevail, but appoint a worthy steward over the house of God, knowing that for this they shall receive a good reward, if they do it with a pure intention and for the love of God, as, on the other hand, they will sin if they neglect it.
We read the first part of Chapter LXIV, On the Appointment of the Abbot, on the feast of Saint Bernard. If ever an abbot corresponded to our father Saint Benedict's portrait of the abbot in Chapter II and in Chapter LXIV, it is Saint Bernard and with him, I would hasten to include, Saint Aelred, known as "the Bernard of the North." Among the letters of Saint Bernard are several written to one Rainald, sometime abbot of Foigny. Rainald was Saint Bernard's secretary and companion. Foigny was founded from Clairvaux in 1121. Saint Bernard sent Rainald to be the abbot of Foigny, but Rainald appears to have lacked the maturity and strength to assume the office with serenity. Rainald wrote Saint Bernard a series of letters complaining of his hardships, trials, and frustrations as abbot. Saint Bernard tells him, in so many words, to "man up," to stop complaining, and to imitate Christ "who came not to be ministered unto, but to minister." Here is an excerpt from one of Saint Bernard's letters to Abbot Rainald:
Although charity obliged me to send you, yet not being able to see you where you have been sent, I mourn you as if lost to me. When, then, besides this, you who ought to be the staff of my support, be labour me as it were with the rod of your faintheartedness, you heap sorrow upon sorrow, and torment upon torment; and if it is a mark of your filial affection towards me that you do not hide any of your difficulties from me, yet it is hard to add fresh trouble to one already burdened. Why is it needful to occupy with fresh anxieties one already more than anxious enough, and to torture with sharper pains the bosom of a father, already wounded by the absence of his son? I have shared with you my weight of cares, as a son, as an intimate friend, as a trusty assistant; but how do you help to bear your father's burden, if, instead of relieving me, you burden me still more? You, indeed, are loaded, but I am not lightened of my load. For this burden is that of sick and weak souls.
Saint Bernard thought that, in sending Rainald to Foigny, he was putting Foigny into good hands and would be relieved of preoccupations with it. Instead, Rainald becomes depressed, anxious, fearful, and burdened. In the end, Saint Bernard had to recall Rainald to Clairvaux, but not before telling him what it means to be an abbot:
Those who are in health do not need to be carried, and are not, therefore, a burden. Whomsoever, then, of your brethren you shall find sad,mean-spirited, discontented, remember well that it is of these and for their sakes, you are father and abbot. In consoling, in exhorting, in reproving, you do your duty, you bear your burden; and those whom you bear in order to cure, you will cure by bearing. But if any one is in such spiritual health that he rather helps you than is helped by you, recognize that to him you are not father and abbot, but equal and friend. Do not complain if you find more trials than consolations from those among whom you are. You were sent to sustain and console others, because you are spiritually stronger and better able to bear than they, and because with the grace of God you are able to aid and sustain all without needing yourself to be aided and sustained by any. Finally, if the burden is great, so also is the reward; but, on the other hand, the more assistance you receive, the more your own reward is diminished. Choose, therefore; if you prefer those who are for you a burden, your merit will be the greater; but if, on the contrary, you prefer those who console you, you have no merit at all. The former are the source whence it arises for you; the second as the abyss in which it is swallowed up; for it is not doubtful that those who are partakers of the labour, will be also sharers of the reward. Knowing, then, that you were sent to help, not to be helped, bear in mind that you are the vicar of Him who came not to be ministered unto, but to minister.(Letter XVII, To Abbot Rainald of Foigny)
There is another passage in Saint Bernard's letters that I have always found helpful and almost endearing. A lad named Geoffrey, to his parents great dismay, entered the monastery. Geoffrey's parents are opposed to their son's monastic vocation. They fear for his health and are concerned for his happiness. Saint Bernard writes to Geoffrey's parents:
Reassure yourselves, and be comforted. I will be to him a father, and he shall be to me a son, until the Father of mercies and the God of all consolation (cf. Rom. xv. 5) receive him from my hands. So do not mourn; do not weep. For your Geoffrey is hastening to joy and not to grief. I will be to him father, mother, brother, and sister. I will make the crooked straight for him and the rough way smooth (cf. S. Luke iii. 5). I will so order and arrange everything for him that his soul shall profit and his body not suffer loss. Moreover, he shall serve the Lord in joy and gladness, and shall sing in the ways of the Lord that great is the glory of the Lord (Ps. cxxxviii. 5).(Letter XLIII, To the Parents of Geoffrey)
Saint Bernard shone brightly as an incomparable abbot, not only among his own White Monks, but also among the Black Monks who, all differences of opinion over observance aside, recognised in him not only a man of passionate convictions, but also a beacon of monastic holiness. In the 17th century, Dom Mabillon and the monks of the Congregation of Saint Maur cultivated a singular devotion to Saint Bernard and to his writings. In the 19th century Benedictine revivals as well, Saint Bernard held a place of choice, being for all time a model of Saint Benedict's own portrait of the abbot in the Holy Rule.