Every age and understanding (XXX)
July 7, 2019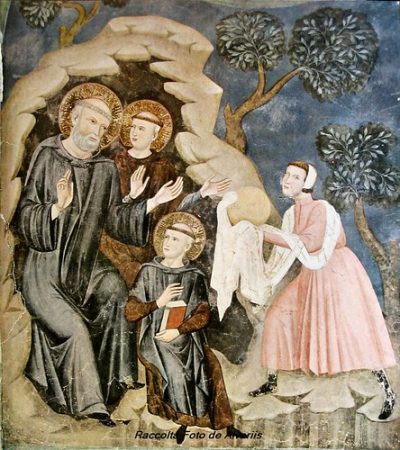 CHAPTER XXX. How the younger boys are to be corrected
7 Mar. 7 July. 6 Nov.
Every age and understanding should have its proper measure of discipline. As often, therefore, as boys or others under age, or unable to understand the greatness of the penalty of excommunication, commit faults, let them be punished by severe fasting or sharp stripes, in order that they may be cured.
We do not have boys in the monastery as in the time of Saint Benedict., but we do have brothers who, for one reason or another, are marked by affective and social immaturity. Immaturity can be a cruel word, bandied about irresponsibly and making men feel damaged and inadequate. We must, all the same, understand that the various components of a well-integrated personality do not always develop in perfect synchronisation.
A man may well have a superbly developed intellect, making him an outstanding achiever in academics or in the practical sciences, and, at the same time, suffer from an affective deficit, that is, an emotional under-development, that makes him act, in certain circumstances, like an eight year old boy.
Another man may have suffered from an abnormal sexual development, either by growing up in a puritanical environment where he was taught to fear the body and kept in ignorance of its functions; or raised in a permissive environment in which he was exposed to inappropriate expressions of sexuality or to pornography.
Another man's childhood may have been damaged by his parents' violent fits of anger, or he may have been physically assaulted. Such a man may find that he needs to live "under the radar." For him survival means the avoidance of conflict. He will live in fear of criticism, of conflict of any sort, always dreading sudden outbreaks of verbal or physical violence.
Another man may have found solace in piety and sought God in prayer from an early age. Such a man may find that his spiritual development outstripped his intellectual and social development, making him an anomaly among his peers, and causing him to feel isolated and disconnected.
Still another man, especially if he was a fragile child, may have been protected by a fearful and anxious mother, and kept by her from the rough and tumble side of early socialisation. Such a man may experience anxiety whenever he is expected to function in a group of his male peers.
An abbot is obliged to take all of these things into account. Even in a monastery where all the brethren are chronologically above eighteen years age, there may be brethren who emotionally, socially, and functionally are eight, ten, or twelve years old. Saint Benedict says that "every age and understanding should have its proper measure of discipline." This means that the abbot must know not only the chronological age of his monks, but also their emotional, intellectual, social, professional, and spiritual age. In the same monk there may be a gaping disparity among these various areas of human development. This does not make the abbot's task easy. Brother X. may be emotionally at eight years of age; intellectually at forty; socially at sixteen; professionally at thirty-five, and spiritually at thirty. The abbot must attend to the needs of the eight year old while recognising in the same man the accomplishments of the forty year old. Increasingly, we are going to find this sort of disparity in human development in the men who come to be monks. 
I
If the above-average, intelligent, strong, healthy, athletic, studious, pious, sociable, sexually untainted, well-rounded, emotionally mature man with an impeccable family background, wise and saintly parents, no blemishes on his past life, flawless credentials, and no records of childhood trauma, exists anywhere, he has not yet knocked at the door of Silverstream Priory. The abbot and his collaborators must not shrink from helping a man to harmonize and synthesize the various aspects of his personality, so as to foster the growth of a man who is unified within himself as a man, and unified as a monk in the offering of himself to God.