With humility and reverence (XX)
June 27, 2019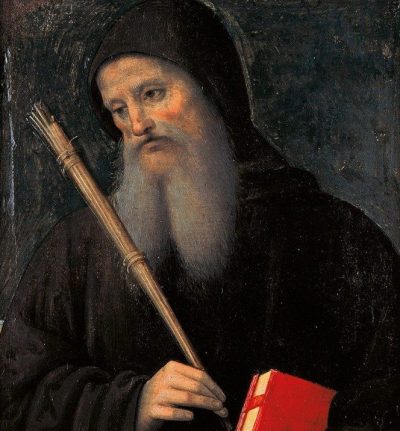 CHAPTER XX. Of Reverence at Prayer
25 Feb. 27 June. 27 Oct.
If, when we wish to make any request to men in power, we presume not to do so except with humility and reverence; how much more ought we with all lowliness and purity of devotion to offer our supplications to the Lord God of all things? And let us remember that not for our much speaking, but for our purity of heart and tears of compunction shall we be heard. Our prayer, therefore, ought to be short and pure, except it be perchance prolonged by the inspiration of Divine Grace. But let prayer made in common always be short: and at the signal given by the Superior, let all rise together.
Saint Benedict teaches his monks how to pray in Chapters VIII through XX. The last chapter fittingly treats of the secret prayer that flows out of the Opus Dei and that prolongs it. This secret prayer of a monk has all the characteristics of his liturgical prayer: humility and reverence, lowliness and purity of devotion. Our choral prayer—made up of the Word of God and of divinely inspired praises and supplications— is carried aloft on the wings of the chant, according to the words of the Apostle:
Be ye filled with the holy Spirit, speaking to yourselves in psalms, and hymns, and spiritual canticles, singing and making melody in your hearts to the Lord. (Ephesians 5:18–19)
Our secret prayer is not made up of much speaking. It is a yearning for God in purity of heart and with tears of compunction. It is submission to the operations of God in the soul, and it is a cleaving to God in adoration. Actual physical tears are not given to everyone, although when tears do flow, it can be a grace of inward cleansing and of healing. It is not wrong to ask for tears. The Church provides us in the Missal with special orations "For the Gift of Years." These prayers may also be used fittingly in one's private prayer. There are some brothers who have not wept in a very long time; others have not wept since they were small boys. There is no virtue in not weeping. Jesus wept. God created man with the ability to weep and then invested human tears with a spiritual value. One might say that Our Lord "sacramentalised" human tears by making use of them to cleanse and heal the heart.
Secret prayer need not be long. What is long prayer for one brother may be very short for another. What one brother thinks insignificant in terms of the investment of time in prayer may be for another brother a real sacrifice. What does matter are the perseverance and regularity of one's secret prayer. The brother who prays only when he feels like praying will, in the end, not pray at all. The indispensable thing is to go to prayer at the appointed hour even and especially when one doesn't feel like praying, and to remain in prayer until the end of the appointed time. Monks frequently suffer from the temptation to cut short their time of prayer. It is an old story. You know what Saint Gregory recounts in the Second Book of the Dialogues:
In one of the monasteries which he had built in those parts, a monk there was, which could not continue at prayers; for when the other monks knelt down to serve God, his manner was to go forth, and there with wandering mind to busy himself about some earthly and transitory things. And when he had been often by his Abbot admonished of this fault without any amendment, at length he was sent to the man of God, who did likewise very much rebuke him for his folly; yet notwithstanding, returning back again, he did scarce two days follow the holy man's admonition; for, upon the third day, he fell again to his old custom, and would not abide within at the time of prayer: word whereof being once more sent to the man of God, by the father of the Abbey whom he had there appointed, he returned him answer that he would come himself, and reform what was amiss, which he did accordingly: and it fell so out, that when the singing of psalms was ended, and the hour come in which the monks betook themselves to prayer, the holy man perceived that the monk, which used at that time to go forth, was by a little black boy drawn out by the skirt of his garment; upon which sight, he spake secretly to Pompeianus, father of the Abbey, and also to Maurus saying Do you not see who it is, that draweth this monk from his prayers?" and they answered him, that they did not. "Then let us pray," quoth he, "unto God, that you also may behold whom this monk doth follow": and after two days Maurus did see him, but Pompeianus could not.
Upon another day, when the man of God had ended his devotions, he went out of the oratory, where he found the foresaid monk standing idle, whom for the blindness of his heart he strake with a little wand, and from that day forward he was so freed from all allurement of the little black boy, that he remained quietly at his prayers, as other of the monks did: for the old enemy was so terrified, that he durst not any more suggest any such cogitations: as though by that blow, not the monk, but himself had been strooken.
Saint Benedict effectively worked an exorcism to make it possible for this poor monk to stay at prayer. Making use of a little stick, Saint Benedict dealt the demon a blow that sent him away. Madre Paola related in the course of her last visit that the famous Roman exorcist, Padre Amorth, said that Saint Benedict was the greatest exorcist in the Church. Saint Gregory recounts many examples of Saint Benedict freeing souls from demonic oppression and vexations. In some way, the Saint Benedict Medal continues and prolongs Saint Benedict's powerful exorcistical intercession.
The devil has a keen interest in keeping monks from praying, or in getting monks to foreshorten their time of prayer, or in suggesting to monks every manner of thing requiring urgent attention at the time of prayer. In fact, I believe, that the chief task of the demons deployed in monasteries is to keep monks from praying. Why do I say this? A monk is, by definition, a man who prays. The monk who cannot pray will soon suffer from a painful emptiness. The demons will prompt him to say to himself, "What's the use of staying in the monastery? You are a failure at prayer. It's not real. Give it up. Go out and do something useful and rewarding with your life." When a monk stops praying, the devil has only to give him a little flick of the finger to push him over the precipice into an abyss of despair. Heed the words of Saint James:
Stand firm against the devil, and he will run away from you, come close to God, and he will come close to you.(James 4:7–8)