Let thy heart be comforted, and wait for the Lord (VII:8)
June 2, 2019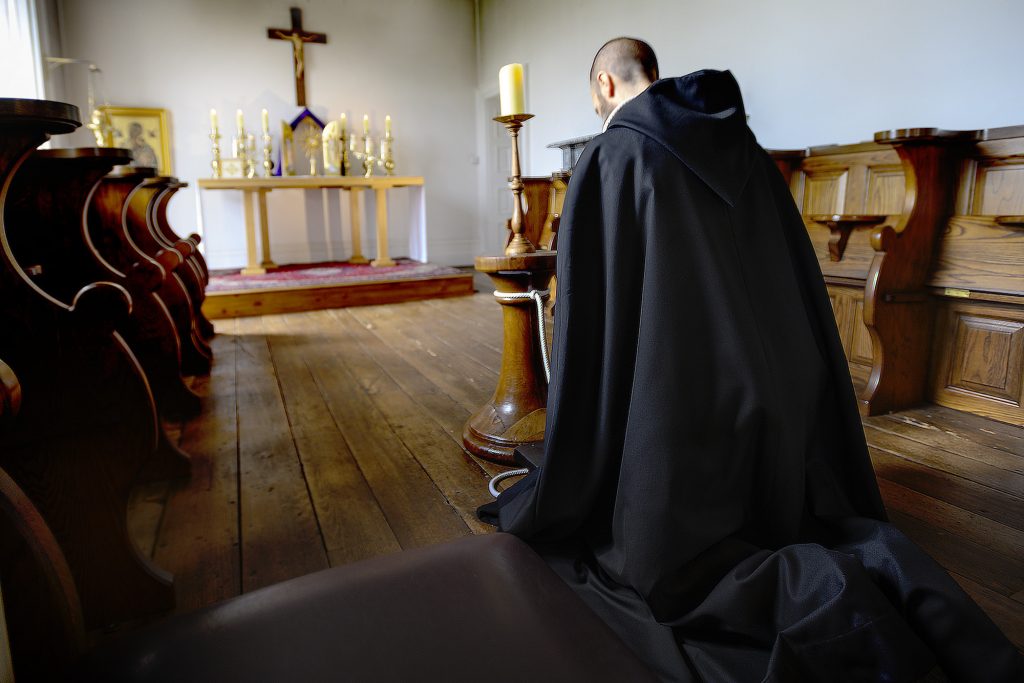 1 Feb. 2 June. 2 Oct.
The fourth degree of humility is, that if in this very obedience hard and contrary things, nay even injuries, are done to him, he should embrace them patiently with a quiet conscience, and not grow weary or give in, as the Scripture saith: "He that shall persevere to the end shall be saved" (Matthew 24:13). And again: "Let thy heart be comforted, and wait for the Lord" (Psalm 26:14). And shewing how the faithful man ought to bear all things, however contrary, for the Lord, it saith in the person of the afflicted: "For Thee we suffer death all the day long; we are esteemed as sheep for the slaughter" (Psalm 43:22). And secure in their hope of the divine reward, they go on with joy, saying: "But in all these things we overcome, through Him Who hath loved us" (Romans 8:37). And so in another place Scripture saith: "Thou hast proved us, O God; Thou hast tried us as silver is tried by fire; Thou hast led us into the snare, and hast laid tribulation on our backs" (Psalm 65:9–10). And in order to shew that we ought to be under a superior, it goes on to say: "Thou hast placed men over our heads" (Psalm 65:10). Moreover, fulfilling the precept of the Lord by patience in adversities and injuries, they who are struck on one cheek offer the other: to him who taketh away their coat they leave also their cloak; and being forced to walk one mile, they go two (Matthew 5:39–42). With Paul the Apostle, they bear with false brethren, and bless those that curse them (2 Corinthians 11:26; 1 Corinthians 4:12).
The fourth degree of humility is heroic obedience. Do not think for a moment that a son of Saint Benedict may be content with an easy obedience only, that is, obedience up to a certain point, beyond which things are so hard and contrary that one is justified in casting off the yoke. Saint Benedict even envisages the possibility of a monk feeling that he is the object of a superior's unjust recriminations or reproaches. Does not even this dispense a monk from obedience? It does not. Saint Benedict says that a monk should embrace such things patiently with a quiet conscience, and not grow weary or give in. He supports this injunction with Our Lord's words: "But he that shall persevere to the end, he shall be saved" (Matthew 24:13). This saying is taken from Our Lord's discourse on the destruction of the Temple and the tribulations of the end times:
And you shall hear of wars and rumours of wars. See that ye be not troubled. For these things must come to pass, but the end is not yet. For nation shall rise against nation, and kingdom against kingdom; and there shall be pestilences, and famines, and earthquakes in places: Now all these are the beginnings of sorrows. Then shall they deliver you up to be afflicted, and shall put you to death: and you shall be hated by all nations for my name's sake. And then shall many be scandalized: and shall betray one another: and shall hate one another. And many false prophets shall rise, and shall seduce many. And because iniquity hath abounded, the charity of many shall grow cold. But he that shall persevere to the end, he shall be saved. (Matthew 24:6–13)
Our Lord says, Videte ne turbemini, "See that ye be not troubled" (Matthew 24: 6). Saint Benedict says, Tacite conscientia patientiam amplectatur, "Hold fast to patience with a quiet conscience." The man who is not resolved to persevere in obedience will find a hundred reasons to justify his disobedience: the times are bad; it is not the right moment; the superior is surely misinformed, or not qualified in this matter, or fails to see the consequences of what he asks, or thinks too highly of me, or thinks too little of me, or has not taken the measure of my abilities, or exaggerates my incompetence. Saint Benedict says, "Enough! Silence the noise of all such reasonings and imaginings, embrace patience, and obey."
Saint Benedict adds this consoling final verse from Psalm 26: Confortetur cor tuum et sustine Dominum, "Let thy heart take courage, and wait thou for the Lord" (Psalm 26:14). The strength to obey is a grace given to those who wait to receive it from Our Lord. Saint Benedict does not say, "Pull yourself together and get on with it." He says rather, "Let thy heart take courage, and wait thou for the Lord." Here, as in so many other passages of the Holy Rule, we find Saint Benedict's utter reliance on grace. Here, as in so many other passages of the Holy Rule, the teaching of Saint Benedict resonates with the word that Our Lord addressed to the Apostle: Sufficit tibi gratia mea, "My grace is sufficient for thee: for power is made perfect in infirmity" (2 Corinthians 12:9).
Just as in the liturgy, a single verse of a psalm may be used as a kind of indicator of the whole psalm, so too does Saint Benedict here give us the last verse of Psalm 26 as an indicator, and as an invitation to rehearse the rest of the psalm and to take it to heart. It is the psalm best suited to the needs of the monk who is struggling to obey in the face of things that he judges hard and contrary.
The Lord is my light and my deliverance; whom have I to fear? The Lord watches over my life; whom shall I hold in dread? Vainly the malicious close about me, as if they would tear me in pieces, vainly my enemies threaten me; all at once they stumble and fall. Though a whole host were arrayed against me, my heart would be undaunted; though an armed onset should threaten me, still I would not lose my confidence. One request I have ever made of the Lord, let me claim it still, to dwell in the Lord's house my whole life long, resting content in the Lord's goodness, gazing at his temple. In his royal tent he hides me, in the inmost recess of his royal tent, safe from peril. On a rock fastness he lifts me high up; my head rises high above the enemies that encompass me. I will make an offering of triumphant music in this tabernacle of his, singing and praising the Lord. Listen to my voice, Lord, when I cry to thee; hear and spare. True to my heart's promise, I have eyes only for thee; I long, Lord, for thy presence. Do not hide thy face, do not turn away from thy servant in anger, but give me still thy aid; do not forsake me, do not neglect me, O God, my defender. Father and mother may neglect me, but the Lord takes me into his care. Lord, shew me the way thou hast chosen for me, guide me along the sure path, beset as I am with enemies; do not give me over to the will of my oppressors, when false witnesses stand up to accuse me, breathe out threats against me. My faith is, I will yet live to see the Lord's mercies. Wait patiently for the Lord to help thee; be brave, and let thy heart take comfort; wait patiently for the Lord.
"God resisteth the proud, but to the humble he giveth grace" (1 Peter 5:5). It is Saint Peter who says this; clearly, it is something he himself had to learn by passing through the searing humiliation of his three–fold denial of Our Lord. "He hath put down the mighty from their seat, and hath exalted the humble" (Luke 1:52). It is the Mother of God who says this, she who pleased God by her littleness, and because she was so little, and powerless, and utterly reliant on God, found grace to say, "Behold the handmaid of the Lord; be it done to me according to thy word" (Luke 1:38). To the man who thinks he wants to be a monk. Saint Benedict would have the Father Master of Novices put plainly "all the hard and the rough things through which lies the way to God." There is no molly–coddling here. At the same time, concerning these same "hard and the rough things", nearly all of which come to a monk by way of obedience, Saint Benedict offers this word of the Apostle: "But in all these things we overcome, through Him Who hath loved us" (Romans 8:37).