Not to give way to anger (IV:2)
May 20, 2019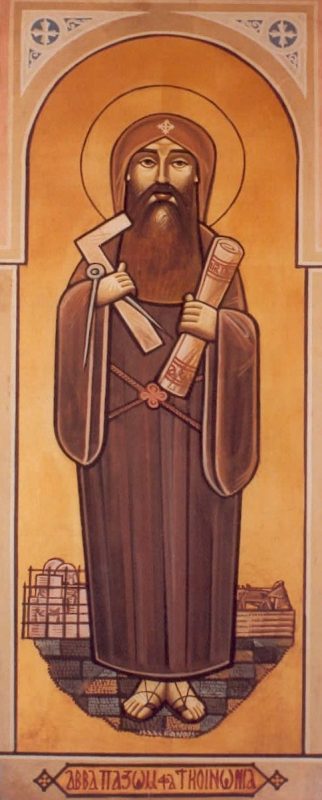 19 Jan. 20 May. 19 Sept.
22. Not to give way to anger.
23.  Not to harbour a desire of revenge.
24. Not to foster guile in one's heart.
25. Not to make a feigned peace.
26. Not to forsake charity.
27. Not to swear, lest perchance one forswear oneself.
28. To utter truth from heart and mouth.
29. Not to render evil for evil.
30. To do no wrong to anyone yea, to bear patiently wrong done to oneself.
31. To love one's enemies.
32. Not to render cursing for cursing, but rather blessing.
33. To bear persecution for justice's sake.
34. Not to be proud.
35. Not given to wine.
36. Not a glutton.
37. Not drowsy.
38. Not slothful.
39. Not a murmurer.
40. Not a detractor.
41. To put one's hope in God.
42. To attribute any good that one sees in oneself to God, and not to oneself.
43. But to recognise and always impute to oneself the evil that one doth.
The second section of Chapter IV begins with this instrument: "Not to give way to anger." Eleven related instruments follow; all of them treat in some way of the roots or offshoots of the vice of anger. Every novice, and indeed every monk, even after many years in the cloister, must study and review Book VIII of the Institutes of Saint John Cassian: Of the Spirit of Anger. So long as a monk holds on to anger, says Saint John Cassian, it keeps him from praying everywhere and without ceasing:
How can we think that the Lord would have anger retained even for an instant, since He does not permit us to offer the spiritual sacrifices of our prayers, if we are aware that another has any bitterness against us: saying, "If then thou bringest thy gift to the altar and there rememberest that thy brother hath aught against thee, leave there thy gift at the altar and go thy way; first be reconciled to thy brother, and then come and offer thy gift." How then may we retain displeasure against our brother, I will not say for several days, but even till the going down of the sun, if we are not allowed to offer our prayers to God while he has anything against us? And yet we are commanded by the Apostle: "Pray without ceasing;" and "in every place lifting up holy hands without wrath and disputing." It remains then either that we never pray at all, retaining this poison in our hearts, and become guilty in regard of this apostolic or evangelic charge, in which we are bidden to pray everywhere and without ceasing; or else if, deceiving ourselves, we venture to pour forth our prayers, contrary to His command, we must know that we are offering to God no prayer, but an obstinate temper with a rebellious spirit.
Having celebrated the feast of Saint Pachomius last week, I thought we might also look to an episode in his life that relates his own struggle against the vice of anger:
Pachomius' own brother, John, came to join him, having heard about everything he was doing. This gave Pachomius the greatest possible joy, for out of all those baptised Christians who had chosen the solitary life, he had up till then not found anyone from his own family. So John, Pachomius' true brother, followed in his footsteps and stayed with him, following the same rule, united with him in the same love for God.

During this time Pachomius was given more divine guidance about the Rule which was to be observed by those who because of him would put their trust in the Lord. He began to make additions to the building in which he and his brother lived, and he constructed other buildings as well in order to accommodate all those who would undoubtedly be renouncing the world and coming to serve Christ. He constructed enough accommodation for a great number of people. But while the holy Pachomius had been widening the area over which the monastery extended, as we have said, and increasing the number of buildings, his brother had been thinking about solitude and the life of an anchorite. He loved the smallness of his dwelling place. He was the elder of the two, and had no hesitation in making his views known to Pachomius."You should give up this idea," he said. "Why are you doing all this unnecessary work? It's stupid to extend yourself like this." Pachomius took this reproach hard; he wasn't used to being criticised, but nevertheless said nothing in reply, kept calm and continued with what he was doing. But next night he went into the smallest room of a house that he had built himself, prostrated himself in prayer and wept bitterly.
What follows is an account of the prayer of Saint Pachomius. It is always profitable to "eavesdrop" on the secret prayer the saints.
"Woe is me!" he cried. "For fleshly prudence has bought itself a foothold in me! I am still walking according to the flesh, as I have just discovered. For I have taken on all this activity, and it is not right that sometimes it makes me impatient, sometimes gloomy, sometimes furious, even though I might have cause to be angry.
Saint Pachomius is an astute observer of his own emotional reactions: "sometimes it makes me impatient, sometimes gloomy, sometimes furious." He sees that when he allows the vice of anger to dominate him, he becomes a slave of its demands. Saint Pachomius himself looks to the example of the saints who went before him.
Have mercy on me, O Lord, lest I perish, lest I succumb to the deceits of the devil. For if your grace has deserted me, and the enemy has discovered in me some share in his own evil deeds, then I must have become a slave to his own demands, as it is written, 'You are designated a slave of whomsoever it is that overpowers you' (2 Peter 2.19). And again it is written, 'If someone who is bound to fulfil the whole law offends in only one particular he is guilty of the whole' (James 2.10). "I believe, O Lord, that your mercies are without number. They support me and help me for no merit of mine. Enlightened by you I shall walk in the way of your saints, and 'looking towards what is before I shall forget what is behind' (Philippians 3.13). It is thus that the company of your servants who have pleased you from the beginning, protected by your help, have evaded the attacks of the devil and have shone resplendent far and wide for the salvation of the many.
He acknowledges that a man still in bondage to anger and to the other passions of the flesh, is not suited to training others in the monastic life, and so he throws himself before Christ in a magnificent act of trust:
But how should I, O Lord, presume to train in the monastic life others whom you might send to me, when I have not yet conquered the passions of the flesh myself, nor kept your commandments with a spotless mind? And yet I put my trust in you, O Christ, that your power may come to my aid in everything that happens, so that what I do may be pleasing in your sight. O most merciful God, forgive, forgive I pray, all my sins, and purify my heart by your visitation."

He persevered all night with tears and weeping in this prayer to the Lord. He poured out so many tears and so much sweat (for it was summer time) that the floor on which he was praying became so wet that you would think it had had water poured out all over it. When he stood in prayer he was accustomed to stretching out his hands for several hours without lowering them while keeping his body still as if fixed to the cross, and by keeping this up for long periods at a time he spurred on his soul to be vigilant in prayer. And although he was powerfully endowed with all kinds of virtue, he showed incredible humility and the greatest gentleness in the way he lived with his brother, whom he supported always without fail.