It beseemeth the disciple to be silent and to listen (VI)
May 25, 2019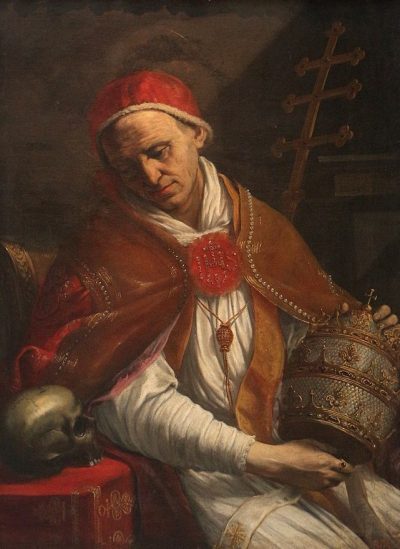 CHAPTER VI. Of the Practice of Silence
24 Jan. 25 May. 24 Sept.
Let us do as saith the prophet: "I said,  I will take heed to my ways, that I sin not with my tongue, I have placed a watch over my mouth; I became dumb and was silent, and held my peace even from good things." Here the prophet sheweth that if we ought at times to refrain even from good words for the sake of silence, how much more ought we to abstain from evil words, on account of the punishment due to sin.

Therefore, on account of the importance of silence, let leave to speak be seldom granted even to perfect disciples,* although their conversation be good and holy and tending to edification; because it is written: "In much speaking thou shalt not avoid sin"; and elsewhere: "Death and life are in the power of the tongue." For it becometh the master to speak and to teach, but it beseemeth the disciple to be silent and to listen. And therefore, if anything has to be asked of the Superior, let it be done with all humility and subjection of reverence. But as for buffoonery or idle words, such as move to laughter, we utterly condemn them in every place, nor do we allow the disciple to open his mouth in such discourse.
Chapter VI of the Holy Rule, De taciturnitate, is very brief. We read it in a single day, but it takes a lifetime to live it. I do not often refer to contemporary books in commenting on the Holy Rule, but today I would make an exception. There is one book, published in English in 2017, that I would ask each one of you to read and take to heart, even in the noviciate. The book is Robert Cardinal Sarah's The Power of Silence. His Eminence, Cardinal Sarah, is a lover of silence and for this reason, I think, a friend of the monastic life. In these two things, he is like Pope Benedict XVI who, in fact, wrote the Afterword to his book. Pope Benedict XVI has referred to himself as a "cloistered monk". His silent and hidden life is a great gift to the Church. Like Pope Benedict XVI, and like Pope Saint Peter Celestine V before him, ours it is to leave all behind, to enter with Christ the Priest into the silence of the inner sanctuary of His oblation to the Father. A monastery of adoration and reparation is characterized by silence, and by hiddenness, and by disappearance into the inner sanctuary beyond the veil.
For Saint Benedict, silence is, first of all, a way of avoiding sin. The tongue is a veritable engine of wickedness. You know the teaching of Saint James:
If any man think himself to be religious, not bridling his tongue, but deceiving his own heart, this man's religion is vain. (James 1:26)
And again,
If any man offend not in word, the same is a perfect man. He is able also with a bridle to lead about the whole body. For if we put bits into the mouths of horses, that they may obey us, and we turn about their whole body. Behold also ships, whereas they are great, and are driven by strong winds, yet are they turned about with a small helm, whithersoever the force of the governor willeth. Even so the tongue is indeed a little member, and boasteth great things. Behold how small a fire kindleth a great wood. And the tongue is a fire, a world of iniquity. The tongue is placed among our members, which defileth the whole body, and inflameth the wheel of our nativity, being set on fire by hell. For every nature of beasts and of birds, and of serpents, and of the rest, is tamed, and hath been tamed, by the nature of man: But the tongue no man can tame, an unquiet evil, full of deadly poison. (James 3:2–8)
The man who speaks much risks sin. Occasionally, I surprise one brother speaking with another or, at least, speaking to another, in a corner of the monastery where, normally, we do not stop to speak, or at an unsuitable time. I may gently indicate to the brother that he should not be speaking in that place or at that time. And the brother may rise to his own defense by declaring, "But, Father Prior, I was saying nothing wrong! I was just saying this thing or asking about this other thing!" Ah, the poor brother! He has not learned what Saint Benedict teaches in Chapter VI. It is not enough for a monk to keep himself from saying harmful things; he must also learn not to say, at certain hours and in certain places, even good things, innocent things, and sometimes pious things!
Saint Arsenius said that he often regretted having spoken, but never regretted having kept silence. What did Abba Pambo say when the brethren asked him to say something to a visiting archbishop?
Abba Theophilus, the archbishop, came to Scetis one day. The brethren who were assembled said to Abba Pambo, "Say something to the archbishop, so that he may be edified." The old man said to them, "If he is not edified by my silence, he will not be edified by my speech."
There are three sayings of Abba Poemen that form a little catechism of silence. The first saying is this:
Abba Poemen said, "A brother who lived with some other brothers asked Abba Bessarion, 'What ought I to do?' The old man said to him, 'Keep silence and do not always be comparing yourself with others.'"
The brother who is always comparing himself to others will never be at rest. He will fall into the vice of curiosity. What does Brother Philemon really think of me? I cannot work like Brother Leo; he must think me as useless as a fly. I cannot sing like Brother Romanus; everyone must notice this. I cannot teach like Brother Felix; he must think me a dolt. Or else: I am much smarter than Brother Winnibald; he hasn't the intellectual culture I have. I can work faster and more efficiently than Brother Sighard; he's such a clumsy oaf. I have more knowledge of the arts and better taste than anyone else in this community; they are a tiring lot of dullards. What are these reflections in one's own head if not empty chatter and a pollution of noise?
Abba Poemen also said, "A man may seem to be silent, but if his heart is condemning others he is babbling ceaselessly. But there may be another who talks from morning till night and yet he is truly silent; that is, he says nothing that is not profitable." I have known monks who, by reason of their office, are obliged to speak with brothers, as Abba Poemen says, "from morning till night." The same monks may be men of profound silence. Even when speaking for hours on end, there is silence in the secret of their heart, and God in them is never left alone. There is a kind of perpetual adoration going on in the heart.
Abba Poemen said on another occasion, "If you are silent, you will have peace wherever you live." The noisy man, the man who lets the world fill his eyes, the man who opens his ears to the din of demons and the claptrap of worldlings, the man who feels that he must have something to say, anything to say, and nothing to keep to himself will never be at peace. Very often men talk because they fear what may befall them in silence or because they want to keep certain dark thoughts or painful sensations at bay.
Père Vayssière's great grace came to him after deciding not to descend from his mountain hermitage into the local village to read the newspaper. He turned back and climbed up to his hermitage at La Sainte Baume; this was the beginning of his contemplative life. The grace of ceaseless prayer came to Père Vayssière because he deliberately chose silence over chatter and his rosary beads over the newspaper. In my own life I have often remarked that a single choice for silence sets in motion a whole cascade of graces, graces that would have been lost to me had I not chosen silence.
Cardinal Sarah says: "There is nothing littler, meeker, or more silent than Christ present in the Host." Ultimately, in our monastery at least, the silence of the Sacred Host will draw us in, if only we allow ourselves to be drawn in. It is an act of God. One must allow oneself to sink into the silence of the Host. This takes time, and this is why we want our adoration to be perpetual. There cannot be perpetual adoration without silence; but where there is silence there will also be, sooner or later, perpetual adoration. Silence generates adoration. And adoration generates silence. The man who allows himself to sink into the silence of the Host discovers that He has everything to learn, that he has One to adore, and that he has nothing to say. And this is why the chapter of the Holy Rule on silence comes just before Chapter VII, On Humility.