Avoid all forgetfulness (VII:2)
May 27, 2019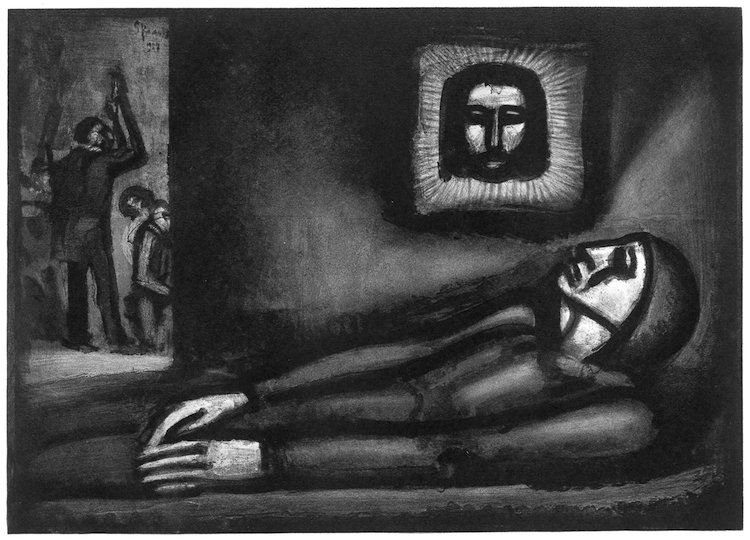 26 Jan. 27 May. 26 Sept.
The first degree of humility, then, is that a man, always keeping the fear of God before his eyes, avoid all forgetfulness; and that he be ever mindful of all that God hath commanded, bethinking himself that those who despise God will be consumed in hell for their sins, and that life everlasting is prepared for them that fear Him. And keeping himself at all times from sin and vice, whether of the thoughts, the tongue, the hands, the feet, or his own will, let him thus hasten to cut off the desires of the flesh.
27 Jan. 28 May. 27 Sept.
Let him consider that he is always beheld from heaven by God, and that his actions are everywhere seen by the eye of the Divine Majesty, and are every hour reported to Him by His angels. This the prophet telleth us, when he sheweth how God is ever present in our thoughts, saying: "God searcheth the heart and the reins." And again "The Lord knoweth the thoughts of men." And he also saith: "Thou hast understood my thoughts afar off"; and "The thought of man shall confess to Thee." In order, therefore, that he may be on his guard against evil thoughts, let the humble brother say ever in his heart: "Then shall I be unspotted before Him, if I shall have kept me from mine iniquity."
Why does Saint Benedict say that a man, at the first degree of humility, is to "avoid all forgetfulness"? Oblivionem omnino fugiat. The vice of pride begins as soon as man lapses into forgetfulness. A man is forgetful when he neglects to inform who he is by what he was; where he is by where he was; and what he is doing by what he has done. Saint Benedict says in Chapter IV, that a monk is to "confess each day his past sins to God with tears and sighs, and amend them for the time to come." The grace of compunction arises from the remembrance of past sins, and this not in a morbid introspective way, but with godly sorrow and with real hatred of every sin committed in the past. It is normal that a man should feel more sorrow for a sin committed twenty years ago than he did a week after committing the sin. Why do I say this? I say it because with each passing day and with the passing years, a man comes more and more to know the merciful love of God. The psalmist says, "Thou hast set our iniquities before thy eyes: our life in the light of thy countenance," Posuisti iniquitates nostras in conspectu tuo; sæculum nostrum in illuminatione vultus tui. Here is a saying about dear Abba Poemen:
A brother questioned Abba Poemen in this way, 'My thoughts trouble me, making me put my sins aside, and concern myself with my brother's faults'. The old man told him the following story about Abba Dioscorus (the monk), 'In his cell he wept over himself, while his disciple was sitting in another cell. When the latter came to see the old man he asked him, "Father, why are you weeping?" "I am weeping over my sins," the old man answered him. Then his disciple said, "You do not have any sins, Father." The old man replied, "Truly, my child, if I were allowed to see my sins, three or four men would not be enough to weep for them."
One cannot grow in knowledge of the love of God without, at the same time, growing in sorrow for sin. The man who forgets his past sins may begin to think himself immune from further falls and more advanced than he actually is. He may become complacent and heedless. The older a man is the more he sees the horror of his past sins. This ought not drive him into despair; it ought rather move him to thanksgiving for the mercy shown him, and to love for the God who shows such mercy to sinners. I understand the psalmist when he prays:
Forget not, Lord, thy pity, thy mercies of long ago. Give heed no more to the sins and frailties of my youth, but think mercifully of me, as thou, Lord, art ever gracious. How gracious is the Lord, how faithful, guiding our strayed feet back to the path! (Psalm 24:6–8)
Even more dangerous than forgetfulness of past sins is forgetfulness of the mercies of the Lord and of the great things He has done. Read Psalm 105. It rehearses the history of the Chosen People and repeats that the cause of all their woes was that, time and time again, they "they forgot God, who saved them" (Psalm 105:21).
Obliti sunt Deum qui salvavit eos; qui fecit magnalia in Ægypto, mirabilia in terra Cham, terribilia in mari Rubro
They forgot God, who saved them, who had done great things in Egypt, wondrous works in the land of Cham: terrible things in the Red Sea. (Psalm 105:21–22)
The man who remembers his past sins while forgetting the merciful love of God for him risks falling into despondency. And the man who remembers the merciful love of God for him while forgetting his past sins risks falling into presumption. I love the daily repetition of Psalm 50 (the Miserere) at Lauds; it is at once a confession of sin and a confession of the mercy of God. Every novice ought to read the Confessions of Saint Augustine; it is from beginning to end the work of a man who could not forget, who would not forget, neither his own sins nor the mercy of God by which he was lifted out of his sins, and made clean, and whole.
I will now call to mind my past foulness, and the carnal corruptions of my soul; not because I love them, but that I may love Thee, O my God. For love of Thy love I do it; reviewing my most wicked ways in the very bitterness of my remembrance, that Thou mayest grow sweet unto me (Thou sweetness never failing, Thou blissful and assured sweetness); and gathering me again out of that my dissipation, wherein I was torn piecemeal, while turned from Thee, the One Good, I lost myself among a multiplicity of things. For I even burnt in my youth heretofore, to be satiated in things below; and I dared to grow wild again, with these various and shadowy loves: my beauty consumed away, and I stank in Thine eyes; pleasing myself, and desirous to please in the eyes of men. (Book 2:1.1
What shall I render unto the Lord, that, whilst my memory recalls these things, my soul is not affrighted at them? I will love Thee, O Lord, and thank Thee, and confess unto Thy name; because Thou hast forgiven me these so great and heinous deeds of mine. To Thy grace I ascribe it, and to Thy mercy, that Thou hast melted away my sins as it were ice. To Thy grace I ascribe also whatsoever I have not done of evil; for what might I not have done, who even loved a sin for its own sake? Yea, all I confess to have been forgiven me; both what evils I committed by my own wilfulness, and what by Thy guidance I committed not. (Book 2:7.15)
I do not encourage any brother to muck about in the remembrance of past sins in a way that causes anxiety and keeps one lying awake at night with remorse. There is a certain kind of scrupulosity, a real neurosis, that consists in endless worrying over past sins — sometimes sexual sins — with repeated confessions, and more repeated confessions, and still multiple confessions to any priest who will listen. A spiritual father must be very firm with the scrupulous penitent who is never satisfied that he has confessed his sin rightly, or in sufficient detail, or that the confessor has really understood the sin for what it was. Scrupulosity is, at bottom, another manifestation of pride. The scrupulous man's fundamental torture is that he is not in absolute control. This is a most pernicious sort of spiritual pride. I wish to be clear with regard to this. We are nonetheless to recall our past sins, not with a morose recollection of the attendant ugly details, but with thankfulness for the abundant mercy by which God forgave them and blotted them out. What does the psalmist say?
While I kept my own secret, evermore I went sighing, so wasted my frame away, bowed down day and night by thy chastisement; still my strength ebbed, faint as in mid-summer heat. At last I made my transgression known to thee, and hid my sin no longer; Fault of mine, said I, I here confess to the Lord; and with that, thou didst remit the guilt of my sin. Let every devout soul, then, turn to thee in prayer when hard times befall; rise the floods never so high, they shall have no power to reach it. Thou art my hiding-place, when I am sore bestead; songs of triumph are all about me, and thou my deliverer.(Psalm 31:3–7)
And, even while weeping over past sins, a man must rejoice in the word of the Lord through His prophet:
He will turn again, and have mercy on us: he will put away our iniquities: and he will cast all our sins into the bottom of the sea. (Micheas 7:19)