Let the fiftieth Psalm be said (XIII)
February 14, 2019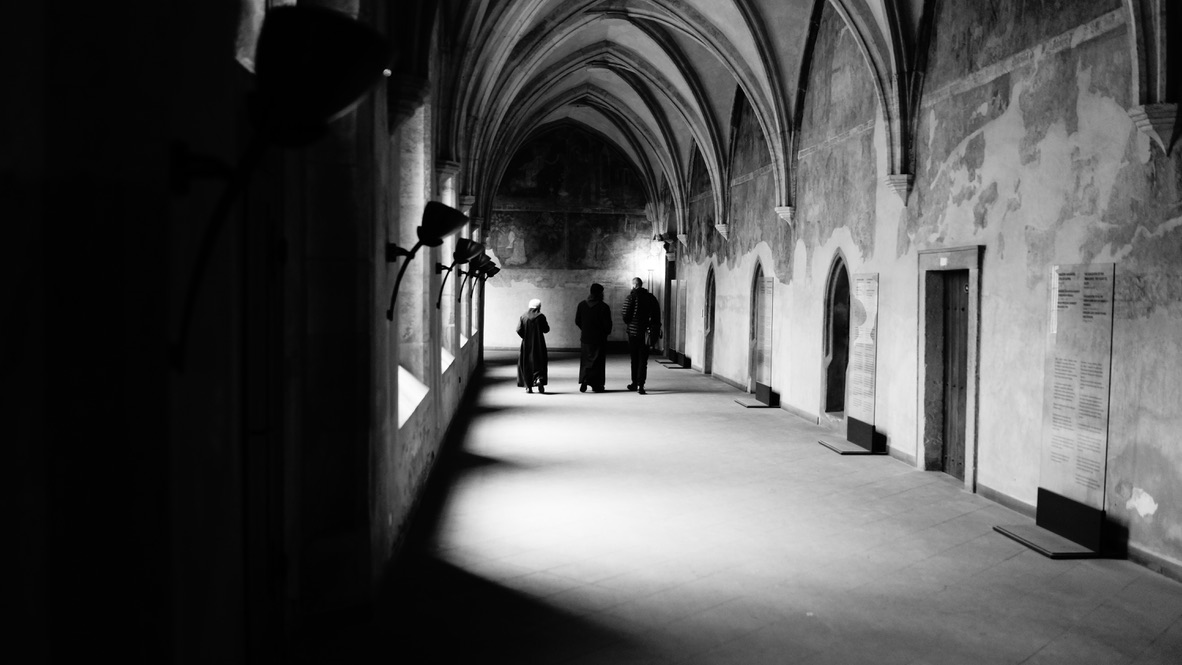 CHAPTER XII. How the Solemn Office of Lauds is to be said
14 Feb. 15 June. 15 Oct.
At Lauds on Sunday let the sixty-sixth Psalm first be said straight on without an antiphon. After this let the fiftieth Psalm be said, with an Alleluia, and then the hundred and seventeenth and the sixty-second. Then the Benedicite and Psalms of praise, a lesson from the Apocalypse, said by heart, a responsory, a hymn, a versicle, a canticle out of the Gospel, and the Litany, and so end.
Psalm 50, the Miserere, occurs at Lauds every Sunday and weekday. John Mason Neale calls it, "the Psalm of all Psalms; that which of all inspired compositions has, with the one exception of the Lord's Prayer, been repeated oftenest by the Church." Saint Thomas says that in the numbering of the Psalms, this Psalm is the fiftieth and this is the number of jubilee as is described in Leviticus 27 in which a remission of all debts was made, whence this number agrees with this Psalm in which he treats of full remission of sins. Psalm 50 is, then, a psalm of jubilee, that is of the remission of all past debts and the beginning of a new life. One sees the significance of Psalm 50 at the beginning of the day.
There are brothers who drag after them, day after day, the burden of an accumulation of offenses. Each day brings with it new offenses; there is no no man who gets through the day without offending, scandalising, or hurting others, and there is no man who gets through the day without, in some way, being offended, scandalised, or hurt by words or deeds of impatience, irritability, pride, self–centredness, and pettiness. Saint Benedict will speak of this in Chapter XIII:
The Office of Lauds and Vespers, however, must never conclude without the Lord's Prayer being said aloud by the Superior, so that all may hear it, on account of the thorns of scandal* which are wont to arise; so that the brethren, by the covenant which they make in that prayer when they say "Forgive us as we forgive," may cleanse themselves of such faults.
In Chapter IV, Saint Benedict said that we are:
68. To reverence the Seniors.
69. To love the juniors.
70. To pray for one's enemies in the love of Christ.
71. To make peace with an adversary before the setting of the sun.
72. And never to despair of God's mercy.
For the brother who does not follow to the letter these injunctions of our holy Father and Lawgiver, the monastic life can become an intolerable burden, and this because such a brother drags after him the weight of an accumulation of offenses. There are people who go through life doing just this: not a single offense is forgotten and few are really forgiven. Instead, there is the cultivation of a detailed archive of offenses ready at hand, frequently consulted, reviewed, and cited.
There is in the Twelve Steps used by Alcoholics Anonymous a practical human wisdom that is in no way foreign to what Saint Benedict sets forth for us in the Holy Rule. The Twelve Steps are easily adapted to the monastic life and I readily recommend them to anyone struggling with deeply rooted patterns of sin, with recurrent conflict, and with the repetition of acts detrimental to himself and to those around him. Some of the priests and religious whom I have, over the years, come most to respect and esteem, are those who have emerged from devastating addictions by perseverance in Alcoholics Anonymous or other Twelve Step programs.
There is a saying in Alcoholics Anonymous that goes like this: "Keep coming back, it works if you work it." The same thing may be said of the fresh beginning offered us every morning in Psalm 50, and of the Holy Rule itself: "Keep coming back, it works if you work it." Yes, the Holy Rule works if you work it. Yes, Chapter IV and Chapter VII work if you work them! This is not a rehashing of so many modern pelagian self–improvement slogans because the Holy Rule—from beginning to end— is underwritten by faith in the grace of Our Lord Jesus Christ. "It works by grace if by grace you work it." We pray in the Collect of the Fifth Sunday after Epiphany: in sola spe gratiae caelestis innititur, "leaning only upon the hope of heavenly grace." The last sentence of Chapter LXXIII says it: "Fulfil by the help of Christ this least of Rules which we have written for beginners; and then at length thou shalt arrive, under God's protection."
At the heart of the Twelve Steps is a searching and fearless inventory of one's wrong thinking, vices, and sins. One learns to say sincerely and from the heart: Mea culpa, mea culpa, mea maxima culpa. This does not come easily to one who has, over the years, learned to repeat, perhaps from parents or from figures that loomed large in one's childhood: it is his fault, it is their fault, it is your fault. Psalm 50 teaches one to say unconditionally:
Quoniam iniquitatem meam ego cognosco, et peccatum meum contra me est semper.
For I know my iniquity, and my sin is always before me. (Psalm 50:5)
The prayer of David is very different from that of the man who repeats, "For I know his iniquity, or their iniquity, and his sin, or their sin, is always before me." I have known monks who, after forty, fifty, and sixty years of reciting Psalm 50 every morning, never lay hold of the grace of jubilee that is offered them with each new day. They can recount slights, offenses, and grievances dating back decades. Sadly, I have also known monks who, even in the hour of death, held on to old slights, offenses, and grievances. Death is not improvised. The man who goes through life dragging after him the burden of an accumulation of offenses, will drag them into eternity with him. There we can only hope that they will be purged away in the fire of God's mercy.
Yesterday, Dom Elijah shared with me a passage from Monsignor Nicola Bux's book, No Trifling Matter, Taking the Sacraments Seriously. The passage in question pertains to the priesthood, but I shall adapt it to the mission of the abbot:
To make family members out of strangers: that means a "spiritual" family, that is to say a mode of belonging that is more vital than relation by blood because it is in communion with Christ (cf. Jn 1:13) — a continual reconstruction, a place for the meeting with Christ, a place for learning the virtues of the monastic tradition. The abbot must lead men and keep them in the communion of the monastery, even though by origin, upbringing, temperament, and living conditions they are strangers to each other. He must render men capable of reconciling, forgiving, and forgetting offenses, and of being generous. He must help them to bear with one another in their diversity and have mutual patience; to know how to cultivate in the proper measure, trust and wisdom, discretion, sincerity, and many other virtues. He must above all be able to assist men in their physical suffering, as well as in their disappointments, in humiliations, and fears, which are spared no one. The abbot must, in the first place, have the capacity to accept pain and overcome it — an essential condition for human fulfilment; otherwise shipwreck of one's existence is inevitable. These things are learned together. And since irritation against everyone and everything corrupts the foundation of the soul, reducing it to a dead land, it is necessary to train oneself in the art of renunciation, of overcoming oneself, of internal freedom from our appetites. (Adapted from No Trifling Matter, p. 160)
The place of Psalm 50 at the beginning of the day is an occasion of grace that no one of us, at any stage of the monastic journey, can allow to pass by. I hope to be able to pray on the last day of my monastic life what I prayed on the first:
Sprinkle me with a wand of hyssop, and I shall be clean; washed, I shall be whiter than snow; tidings send me of good news and rejoicing, and the body that lies in the dust shall thrill with pride. Turn thy eyes away from my sins, blot out the record of my guilt; my God, bring a clean heart to birth within me; breathe new life, true life, into my being. Do not banish me from thy presence, do not take thy holy spirit away from me; give me back the comfort of thy saving power, and strengthen me in generous resolve. (Psalm 50:9–14)