Simple Profession of Brother Chrysostom M. Gryniewicz
January 8, 2019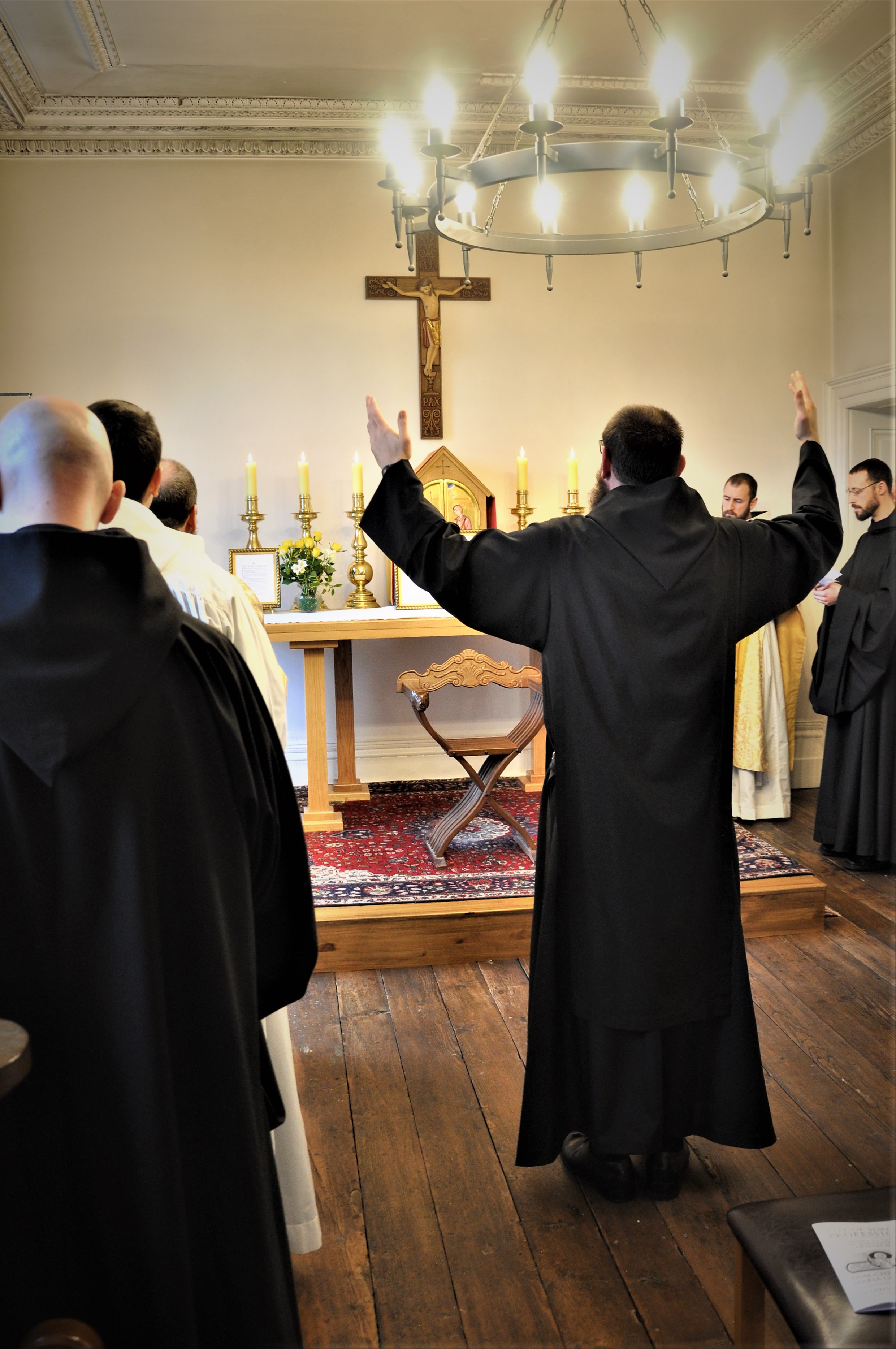 Brother Chrysostom M. Gryniewicz, a native of Ann Arbor, Michigan, U.S.A., made Simple Monastic Profession for Silverstream Priory on the feast of the Epiphany, 6 January 2019. The ceremony took place during the Conventual High Mass celebrated by Father Prior, in the presence of His Lordship, Dr Tom Deenihan, Bishop of Meath. Dom Chrysostom's parents, Tom and Ellen Gryniewicz, were present, as were his friends, the Abbé Marcelo de Oliveira, I.C.K.S.P., and Robert Horning. Also in attendance were Mother Kathleen of Jesus, L.S.P., two other Little Sisters of the Poor, Oblates of Silverstream Priory, and other neighbours and friends.  Father Prior addressed the following homily to Dom Chrysostom:
My dear son, Brother Chrysostom, you know well what our father Saint Benedict says concerning the admission of men to the monastery: "To him that newly cometh to change his life, let not an easy entrance be granted, but, as the Apostle saith, 'Try the spirits if they be of God.'" Shortly after you first knocked at the door of Silverstream, I wrote you an honest and hard–hitting letter. Do you remember it? I wrote:
Men coming to Silverstream to be monks must not expect to find the tranquility of an established abbey with gleaming cloisters, spacious precincts, and well–established routines. A vocation to Silverstream is more than an ordinary monastic vocation; it is a call to enter generously into the hardships and sacrifices of living as monastic pioneers. Men who cling obstinately to their own conceptions of what Benedictine life «ought» to be will not do well at Silverstream. The will of God comes to us not in «what ought to be», but in «what is». Holiness, for us, here and now, lies in trusting abandonment to all that Divine Providence wills or permits. Men who are looking for the calm and security of a well–ordered life in which there are no surprises, no setbacks, and no interruptions, should not think of entering at Silverstream.
You, dear son, were not daunted by what I wrote you. Quite the contrary. You replied to me:
Regarding your precautions about life at Silverstream, my own sense is that the generosity and sacrifice of entering into the charism of founding is precisely what I need. My intention is set more firmly than it has been on anything to persevere in this path until death or until I am sent away.  I would not take a more established monastic life, because that is not to where God has led me. I am undissuaded by the material poverty of Silverstream: the lack of gleaming cloisters or spacious precincts, because it is not any of those things that have attracted me, but ability to do the one thing I have always longed to do, to give myself entirely to God, in complete union with the Host.
I wanted to make certain that you were not deluded about what Silverstream had to offer you. And so, I wrote to you:
We are poor at Silverstream, even as the Sacred Host is poor. We are fragile at Silverstream, even as the Sacred Host is fragile. We choose to be hidden at Silverstream, even as the Sacred Host is hidden. We try to be silent at Silverstrean, even as the Sacred Host is silent. Our Benedictine life is to be offered and immolated, even as the Sacred Host is offered and immolated. The offering is joyful, and the immolation is a sacrifice of praise.
Still you were not daunted, Brother Chrysostom. Your treasure and your heart were in the same place. This is, of course, the beginning of the making of a monk: the letting go of one's most cherished attachments and accessories, and the unification of a man around The One Thing Necessary. You replied to me on 20 August 2016:
You say that the host is poor, fragile, hidden, silent, offered, and immolated: I would be those things as well. If I could [I would] be hidden in the rock with Moses or immolated with Saint Ignatius, becoming God's pure wheat, ground by the teeth of beasts.  If God permits, I would be all these things, because I have never known success in mediocrity, half-heartedness, or lukewarmness, and I have only ever found joy in giving without limits. . . I trust that God has not lead me this far in vain. Whatever the sacred agony of testing and whatever the crosses of this way of life, I hope that God will permit me the grace of persevering and winning whatever crown He has prepared for me, together with my brothers and fathers.
Today, three years later, Brother Chrysostom, after having been tested, and after having shared our life, you are here, ready to sing what generations of monks have sung before you: Suscipe me, Domine, secundum eloquium tuum et vivam; Take Thou me unto Thyself, O Lord, and I shall live. Et non confundas me ab expectatione mea; And let me not be confounded in my expectation (Psalm 118:116). Last evening, dear son, you came to me after Vespers — missal in hand — to share an extraordinary discovery. What you had to share left me grateful and amazed. It was striking evidence of what we like to call "the liturgical providence of God." You reminded me that you arrived here in Ireland and crossed the threshold of Silverstream on 31 May 2017. It was the feast of Mary, Mediatrix of All Graces. You walked into the oratory during the celebration of Holy Mass. The Alleluia Verse of that particular Mass was the very same passage that we heard just a few moments ago in the Lesson from Isaias given us for this feast of the Epiphany:
Lift up thy eyes round about, and see: all these are gathered together, they are come to thee: thy sons shall come from afar, and thy daughters shall rise up at thy side." (Isaias 60:4)
No amount of human planning or foresight could have made this happen. If ever a confirmation you needed of the providence of God guiding your steps and bringing you to the place where He wants you to be, I think you have it. And, as is always the case, when God speaks to us through the sacred liturgy, He does so not merely by means of a text, but also by means of the context.
The prophet is singing of the restoration of Jerusalem, of the re-peopling of the Holy City, once forsaken, but called by God to a great rejuvenation. "Lift up thy eyes round about, and see: all these are gathered together, they are come to thee" (Isaias 60:4). The Church, singing these words in the light of the Epiphany, knows that they are mystically addressed to the Virgin Mother who, like a living monstrance, holds her Son and shows him to all whom come to adore Him. "And entering into the house, they found the child with Mary his mother, and falling down they adored him" (Matthew 2:11).
The same words are addressed to the Church herself: the Church one, holy, catholic, and apostolic here in Silverstream in the Diocese of Meath, and in every place in the world, because all that the liturgy says to Mary or sings concerning her may be equally addressed to the Church and sung of her. The Epiphany prophecy of Isaias is a message of immense hope for the Church, a promise of light, a pledge of rejuvenation. "Thy sons shall come from afar, and thy daughters shall rise up at thy side." With the showing of Christ and the adoration of the Magi, a great liturgical procession is set in motion, one in which all the nations of the earth, and even "the isles afar off" (Jeremias 31:10) will play their part.
Isaac of Stella, the 12th century Cistercian Abbot, whom the Fathers of the Second Vatican Council saw fit to cite in Chapter VIII of Lumen Gentium, tells us that what is said of the Blessed Virgin Mary in a special way may be said of the Church in a universal way, and that what is said of the Church in a universal way may be said in a particular sense of the individual Christian. The Abbot of Stella concludes: "Christ dwelt for nine months in the tabernacle of Mary's womb. He dwells until the end of the ages in the tabernacle of the Church's faith. He will dwell for ever in the knowledge and love of each faithful soul." There is a sense, then, dear son, in which the words that you heard on the very day of your arrival here — 31 May 2017 — and that you hear again today on the day of your monastic profession are addressed to you.
Lift up thy eyes round about, and see: all these are gathered together, they are come to thee: thy sons shall come from afar, and thy daughters shall rise up at thy side." (Isaias 60:4)
You will, by Our Lord's grace — and this is my prayer for you today — grow as a man and as a monk into a spiritual fatherhood that, although it be hidden, and silent, and lowly, like the Host on the corporal and in the tabernacle, will be nonetheless generative, that is, mysteriously life–giving for the Church. "Thy sons shall come from afar." Already, there are brothers who have come after you. Each one has his part to play in the Church's procession towards the glory of the Lord. I shall say nothing, for the moment, concerning the other half of the verse: "And thy daughters shall rise up at thy side" — for "no word shall be impossible with God" (Luke 1: 37).
You are ready, dear son, to make your offering. Give Christ the gold of your heart's love. Give him the frankincense of your liturgical prayer, of your faithful presence in choir to sing His praises, of your silent adoration in the radiance of His Eucharistic Face. Give Him the myrrh of all that, in your monastic life, may prove bitter, or hard, or costly because it involves a death to the old man. "Arise and be enlightened, for the glory of the Lord has risen upon thee" (Isaias 60:1).