Believed to hold the place of Christ in the monastery (II:1–2)
January 10, 2019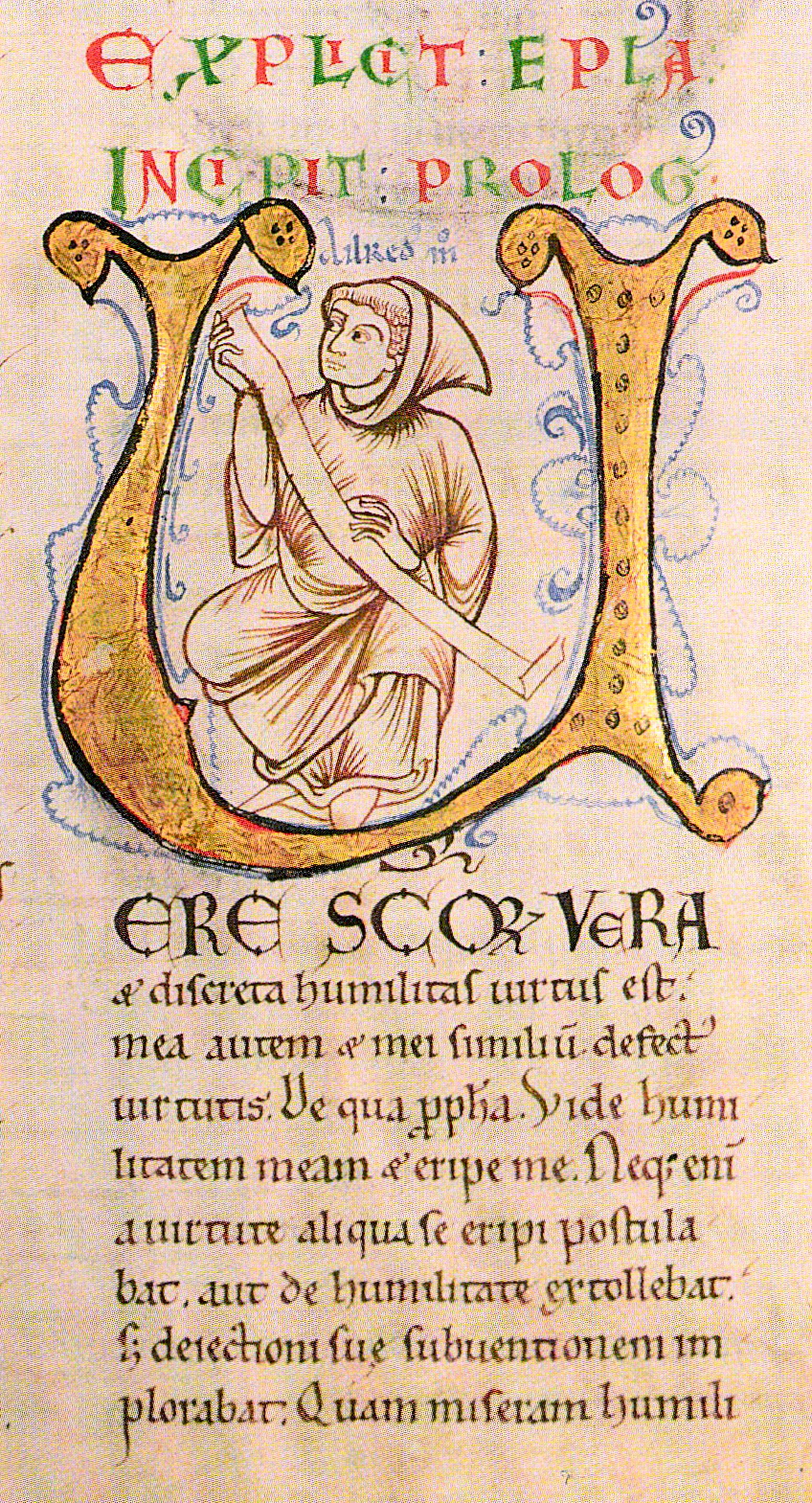 CHAPTER II. What kind of man the Abbot ought to be
9 Jan. 10 May. 9 Sept.
An Abbot who is worthy to rule over the monastery ought always to remember what he is called, and correspond to his name of superior by his deeds. For he is believed to hold the place of Christ in the monastery, since he is called by His name, as the Apostle saith: "Ye have received the spirit of the adoption of children, in which we cry Abba, Father." And, therefore, the Abbot ought not (God forbid) to teach, or ordain, or command anything contrary to the law of the Lord; but let his bidding and his doctrine be infused into the minds of his disciples like the leaven of divine justice.
10 Jan. 11 May. 10 Sept.
Let the Abbot be ever mindful that at the dreadful judgment of God an account will have to be given both of his own teaching and of the obedience of his disciples. And let him know that to the fault of the shepherd shall be imputed any lack of profit which the father of the household may find in his sheep. Only then shall he be acquitted, if he shall have bestowed all pastoral diligence on his unquiet and disobedient flock, and employed all his care to amend their corrupt manner of life: then shall he be absolved in the judgment of the Lord, and may say to the Lord with the Prophet: "I have not hidden Thy justice in my heart, I have declared Thy truth and Thy salvation, but they contemned and despised me." And then at length the punishment of death shall be inflicted on the disobedient sheep.
All the fathers in Sacred Scripture, from Adam to Saint Joseph, point to Christ. Adam is the father of mankind. Noah is the second father of mankind. Abraham is the father of all believers and the first of the patriarchs. The Jews give the name of father to Abraham, Isaac, and Jacob. In her Magnificat, the Blessed Virgin Mary sings:
He has protected his servant Israel, keeping his merciful design in remembrance, according to the promise which he made to our forefathers, Abraham and his posterity for evermore. (Luke 1:54–55)
Saint Joseph, the spouse of the Blessed Virgin Mary was prepared by God to be the foster-father of Our Lord. The Father from whom all fatherhood in heaven and on earth takes its name (Ephesians 3:15) filled Saint Joseph with all the gifts of nature and grace necessary to his mission. The fatherhood of God shone upon the face of Saint Joseph. Jesus, in looking upon Saint Joseph, rejoiced to see in him the reflection of His heavenly Father.
And so the child grew and came to his strength, full of wisdom; and the grace of God rested upon him.  (Luke 2:40)
After the call of the apostles, the paternal qualities of Our Lord's Sacred Humanity emerged in all their perfection. Thus did the apostles begin to relate to Our Lord not only as disciples to a master, but also as sons to their father.
Philip saith to him: Lord, shew us the Father, and it is enough for us. Jesus saith to him: Have I been so long a time with you; and have you not known me? Philip, he that seeth me seeth the Father also. How sayest thou, Shew us the Father? Do you not believe, that I am in the Father, and the Father in me? The words that I speak to you, I speak not of myself. But the Father who abideth in me, he doth the works. (John 14:8–10)
Our Lord Jesus Christ was, in effect, a father to the apostles. He was a father to all whom He drew to Himself, giving them life by His word and, when His hour came, nourishing them with His adorable Body and Blood. The abbot participates in the fatherhood of Christ by gathering his sons together in unity, by nourishing them with his teaching, and by spending his life for them in unstinting service. Saint Paul describes the cost of his own spiritual fatherhood:
Ego autem libentissime impendam, et super impendar ipse pro animabus vestris: licet plus vos diligens, minus diligar.
For my own part, I will gladly spend and be spent on your souls' behalf, though you should love me too little for loving you too well. (2 Corinthians 12:15)
Names in the Holy Rule are significant and, in some way, sacramental:
An Abbot who is worthy to rule over the monastery ought always to remember what he is called, and correspond to his name of superior by his deeds. (Chapter II)
Let the Oratory be what it is called, a place of prayer: and let nothing else be done, or kept there. (Chapter LII)
In calling each other by name, let none address another by his simple name; but let the elders call the younger brethren Brothers, and the younger call their elders Reverend Fathers, by which is implied the reverence due to a father. But let the Abbot, since he is considered to represent the person of Christ, be called Lord and Abbot, not that he hath taken it upon himself, but out of reverence and love for Christ. (Chapter LXIII)
Saint Benedict compares the abbot's work of teaching to kneading a lump of dough. Kneading is a repetitive gesture requiring both hands; it is something that bread-makers have been practicing for thousands of years. So familiar was the work of kneading in ancient times that both Our Lord and Saint Paul refer to it.
And he told them still another parable, The kingdom of heaven is like leaven, that a woman has taken and buried away in three measures of meal, enough to leaven the whole batch. (Matthew 13:33)
Have you never been told that a little leaven is enough to leaven the whole batch? (1 Corinthians 5:6)
The abbot is responsible not only for the instruction of his monks; he is also responsible for their obedience to it. Saint Benedict says:
Let the Abbot be ever mindful that at the dreadful judgment of God an account will have to be given both of his own teaching and of the obedience of his disciples. And let him know that to the fault of the shepherd shall be imputed any lack of profit which the father of the household may find in his sheep.
How, you may ask, can Saint Benedict hold the abbot responsible for the failures of his sons? Is there not here a question of free will. The prophet Ezechiel says:
The soul that sinneth, the same shall die: the son shall not bear the iniquity of the father, and the father shall not bear the iniquity of the son: the justice of the just shall be upon him, and the wickedness of the wicked shall be upon him.(Ezechiel 18:20)
In what way, then, can the abbot be held accountable for the sins of his sons? The abbot is not only the shepherd and teacher of his monks; he is also their pontiff, that is, the priestly mediator charged with intercession on their behalf. The abbot who dispenses a sound teaching, and then thinks himself quit of his obligations, neglects an essential duty of his office, that of intercession for his sons. God so ordains His supernatural economy that graces are freely given in response to prayer: either prayer for oneself or prayer for others. If an abbot sees that his sons are not heeding his teaching, if he sees them straying into pastures of their own choosing, he must ask himself if he has, effectively, sought for his sons the grace that makes obedience to his teaching possible. Saint Aelred, whose feast will occur in a few days, understood that intercessory prayer for his flock was, in every way, as important as his teaching. And so, he prayed:
Hear me yet further, God most merciful,
for those for whom I am compelled and drawn to pray to Thee
both by my duty and by my heart's love.
Remembering Thy kindness, I am bold;
for Thou, sweet Lord, knowest how much I love them,
how I yearn over them, and how my heart goes out to them.
Thou knowest, Lord,
I do not want to rule them harshly or self-assertively,
but to help them in charity, rather than command,
and to be subject to them in humility,
while being always one of them in sympathy.
Hear me, therefore, hear me, O Lord my God,
and let Thine eyes be open on them day and night.
Spread Thou Thy wings, most loving Lord, and shield them;
stretch forth Thy holy right hand, Lord, and bless them;
and pour into their hearts Thy Holy Spirit,
that He may keep them in unity of spirit and the bond of peace,
chaste in their bodies, lowly in their minds.
May He be there to help them when they pray,
and fill them with the unction and the riches of Thy love.
May He renew their minds with sweet compunction,
enlighten their hearts with the light of Thy grace,
cheer them with hope, and humble them with fear,
and kindle them with love.
May it be He Who prompts them to such prayers
as Thou wilt gladly hear.
May He, Thy same sweet Spirit, be in them,
when they make meditation;
so that, by Him enlightened, they may know Thee,
and ever cherish in their hearts the thought of Him;
so that in trouble they will call on Him,
and turn to Him in all perplexity.
May the same loving Comforter, when they are being tempted,
come swiftly to their aid;
and may He help their weakness in all the straits and troubles of this life.
By the same Spirit make them, Lord, to be
alike within themselves, with one another, and towards myself,
peaceable and equable and kind,
obedient, serviceable, helpful to each other.
May they be fervent in spirit, rejoicing in hope,
enduring steadfastly
through poverty and fasting, toils and vigils, silence and repose.
Drive far from them, O Lord, the spirit
of pride and of vain glory,
of envy and of gloom,
of accidie and slander,
of distrust and despair,
of fornication and uncleanness,
of discord and presumption.
Be in their midst, according to Thy faithful promise;
and, since Thou knowest what each of them needs,
I pray Thee, strengthen what is weak in them,
spurn not their frailty, heal that which is diseased,
give joy for sorrow, kindle what is lukewarm,
establish what is insecure in them, that each of them may know
he does not lack Thy grace in any of his trials and temptations.
(Saint Aelred, The Pastoral Prayer)