A Wellspring of Pure Light
December 8, 2018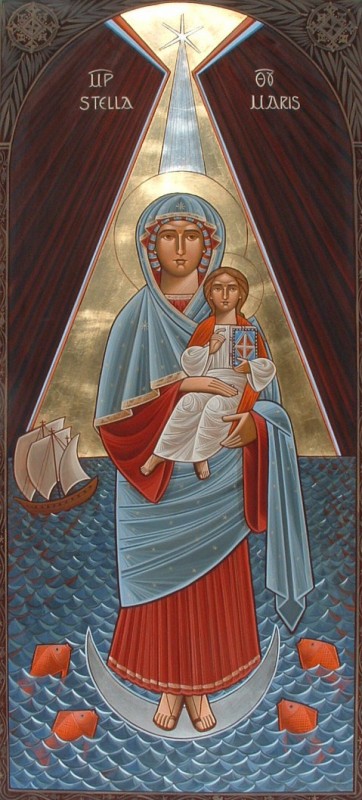 These are days of grace for the Church and for the world because the mystery of my Mother's Immaculate Conception is a wellspring of pure light for all who dwell in the shadows of this earthly exile where the Church, my Church, my precious Bride, makes her way as a pilgrim amidst great sorrows, persecutions, and attacks from below.
All who fix their gaze on my Mother, the all–lovely, the Immaculate, will find themselves inwardly illumined and warmed. My Mother communicates something of the fulness of grace that is hers to all who call upon her name, and even to those who do no more than glance at her image with affection and with hope.
My Mother is present to my Church in this world. Her glorious Assumption has not set her at a distance from my Church; it has, on the contrary, made it possible for her to be wherever the suffering members of my Mystical Body are most in need of her ministrations and of her simple comsoling presence. It is my Mother who makes even the darkest nights bright with the radiance of her beauty and, in so doing, she comforts souls who see nought but darkness all about them and she leads them on securely and in a great inner peace.
Souls who look to my Mother as to their star shining in the night will never go astray and will never lose sight of the path that leads to me and to the glory of my kingdom. There is no safer way of coming to me than through my Mother and under the mantle of her protection. Those who think they can journey through this life without my Mother's companionship and intercession are blinded by a terrible pride and they sin against my dispositions made from the Cross — « Woman, behold thy son. Behold thy mother ». It is my positive will that all souls should learn of my Mother and live in her company. It is my positive will that souls should so abandon themselves into my Mother's keeping that they will be like little children held tightly against her Immaculate Heart.
Who will speak to souls of my Mother? Who will tell them that they need not fear the darkness of the night so long as my Mother is near? Who will tell them that souls entrusted to my Mother are protected, and guided, and led along the path that I have laid out for each one. There is no better way of fulfilling one's mission in this life than by giving oneself over to my Mother in an act of irrevocable and total consecration.
Those who have made such an act know of what I speak. My Mother honours every consecration made to her sorrowful and immaculate Heart and, even if one should forget that one has uttered such a prayer, my Mother does not forget it. She remains faithful to her own children even when these are distracted by the world and turn away from her brightness shining like a star over the stormy seas of life.
My Mother waits for souls to remember her and to return to her maternal Heart, and when they return to her she welcomes them with an immense tenderness and joy. Never does she pronounce a word of reproach to the child who returns to her, who keeps watch at her gate, who seeks to meet her loving gaze. My Mother is the Queen of Mercy. She is the Refuge of Sinners. She is the safe hiding place of those who live in fear of being attacked, or harmed by the powers of darkness, or wounded in spiritual combat.
All of this must be announced to souls, but it must be lived first of all by my priests, for my priests are Mary's privileged sons, the children for whom her Heart has a predilection that I placed there when I gave her my beloved friend, my disciple Saint John, from the Cross. In that hour I gave my Mother an abiding tenderness for all priests, and it is an inexhaustible tenderness that she exercices in favour of all my priests now and until the end of the age.
(From In Sinu Iesu, The Journal of a Priest)