Simple Profession of Brother John Baptist
November 3, 2018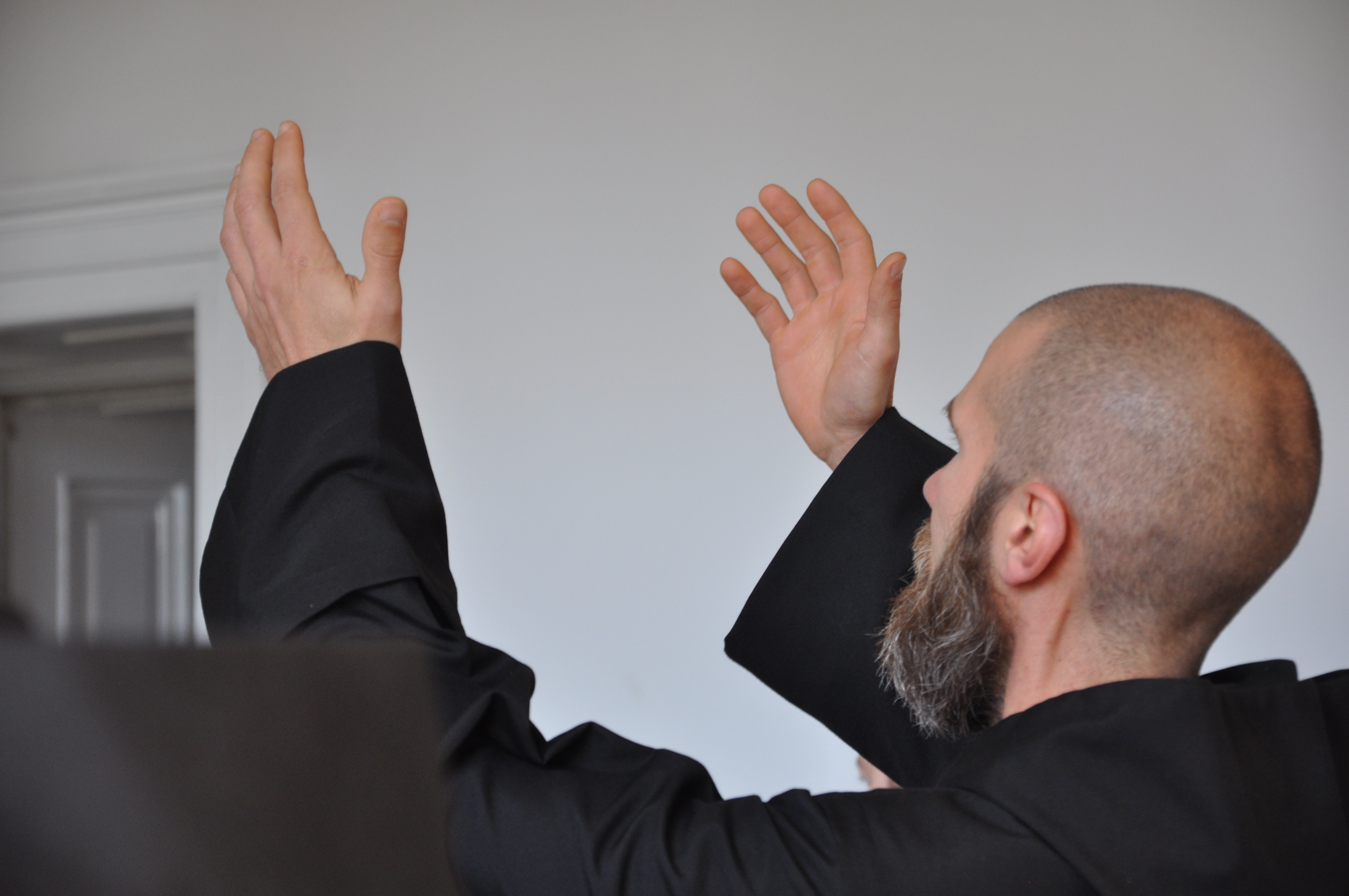 On Thursday morning, 1 November 2018, the feast of All Saints, Brother John Baptist DeCant, a native of Oregon, Ohio, pronounced his First Vows as a monk of Silverstream Priory. Born Joseph Peter DeCant, Dom John Baptist is the son of Helen Mary DeCant, of Oregon Ohio, and of the late Raymond R. DeCant. He is the brother of Janette Root, and uncle to Janette's three children. Dom John Baptist attended Holy Rosary School in Toledo, Ohio, and Cardinal Stritch High School in Oregon, Ohio. The newly professed monk holds a B.S. in Environmental Sciences from Allegheny College and an M.S. in Ecology from Colorado State University; he is also a certified Medical Emergency Technician. Prior to entering Silverstream Priory, Dom John Baptist worked for the Environmental Protection Agency in Arlington, Virginia. Apart from serving as the monastic infirmarian, Dom John Baptist supplies the monastic table with an abundance of fresh greens and vegetables from the monastery two polytunnels. He is also in charge of the monastery's poultry and has successfully raised various breeds of chickens from the indoor stage of incubation to the free–range production of eggs.
The Simple Profession of Dom John Baptist DeCant, O.S.B.
Silverstream Priory
All Saints' Day
1 November 2018
My dear son, more than two years ago — it was in June 2016 — you wrote to me of your heart's desire for a life of perpetual adoration and of your search for a place and a monastic family in which you could at least begin to move towards the realisation of what Jesus Himself had caused you to desire. Our Lord caused you to desire what He, in His infinite mercy and wisdom, desired to give you. Saint Thérèse, the twenty–four year old Doctor of the Church, who, still today, astonishes us with her insights, said it well: "More than ever, I understand that the smallest events of our life are conducted by God; He is the One Who makes us desire and Who grants our desires."
You are here today, dear son, because Our Lord has fixed His gaze upon you, saying: "If thou wilt be perfect, go sell what thou hast, and give to the poor, and thou shalt have treasure in heaven: and come follow Me" (Matthew 19:21). Jesus, having looked upon you and loved you, has drawn you out of the world to abide in this His house, close to the altar where, truly present, He veils the splendour of His Face beneath the sacramental veils. In what appears to be a morsel of bread, He contains the blazing conflagration of His Heart.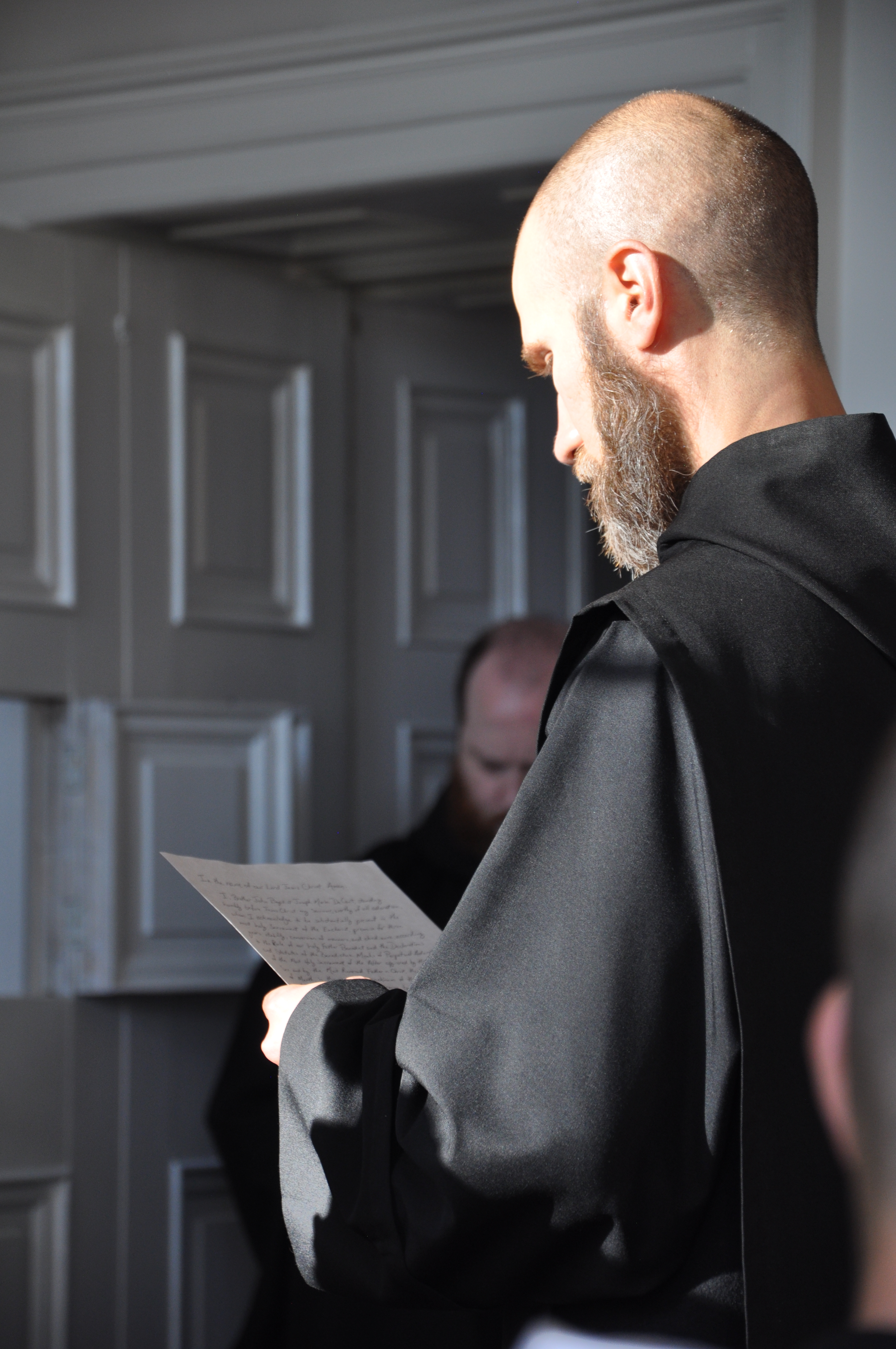 Your life, dear son, has been magnetised by the Most Blessed Sacrament, pulled towards Our Lord by a mysterious attraction of grace. In the sixth chapter of Saint John, the discourse on the Bread of Life, Our Lord says: "Nobody can come to Me without being attracted towards Me by the Father Who sent Me" (John 6:44). This was the work of the Father in the secret of your soul: the grace of an attraction to the Son. And the Son Himself says to you: "Yes, if only I am lifted up from the earth, I will attract all men to Myself" (John 12:32). Lifted up He was, first in the arms of His Virgin Mother, and then on the altar of the Cross. And lifted up He continues to be in the hands of His priests, in what Saint Thomas calls the sacramentum sacramentorum, the sacrament of all sacraments. It is from this Most Holy Sacrament that Jesus has, for a long time, been drawing you to Himself. It was this attraction and nothing else that brought you to Silverstream Priory. You could have gone anywhere in the world. It is in the impetus of this attraction that you will pronounce your vows today. It is this attraction that will keep you here in the cloister, where "your life is hidden away now with Christ in God" (Colossians 3:3).
Saint Benedict says, in Chapter 58 of the Holy Rule, that in judging whether or not a man is suited for the monastic life, we are to look for one thing: si revera Deum quaerit, "whether he is truly seeking God." Brother John Baptist, we have lived with you and you with us. And now, having come to the end of your noviciate, we have seen and we can say that you are truly seeking God. You have sought God in the splendours and obscurities of the Divine Office. You have sought Him in obedience and in humiliations. You have sought Him in the Sacred Host where He veils His Face, waiting in silence, like a humble beggar, for one to comfort Him. You have sought Him in brethren laid low by infirmity, and in them you have served Him with the most touching devotedness. You have sought Him in your work, and found Him even in the midst of your chickens, and in the woods and in the fields of this little portion of County Meath where God invites you to put down roots, becoming amator loci et fratrum, a lover of the place and of the brethren.
It is quite possible that when the history of Silverstream Priory is written, 2018 will be described as a year marked by sickness, weakness, and infirmity. Saint Benedict says in Chapter 72 of the Holy Rule: "Let them most patiently endure one another's infirmities, whether of body or of mind." A considerable part of your noviciate, dear son, has been spent in caring for your fathers and brothers. Know this and never forget it: in caring for the injured and the sick among us, you have served the Body of Christ as truly as if you were serving at the altar. Mother Mectilde tells us that, save in the Most Holy Sacrament of the Altar, Christ is nowhere more truly present in the monastery than in the cell of a sick brother. This, I think, is one of the great lessons that you will have learned, and learned well as a novice. And the words of Our Lord Himself confirm it: "I was hungry, and you gave Me to eat; I was thirsty, and you gave Me to drink . . . naked, and you covered Me: sick, and you visited Me" (Matthew 25:35–36).
Dear Brother John Baptist, I treasure one of the letters that you sent me before entering the monastery. I had written you, making it clear that life at Silverstream Priory would be hard and, in many ways, challenging. I wrote to you of the inconveniences and hardships of demolition and construction: dust, discomforts, and noise. And you wrote me in reply:
I understand your point about the new monastery and the construction occurring at the present moment, and the resulting inconveniences.  I believe that the sacrifice of my desires and inclinations would occur wherever I would plant my roots. That has been my experience in the past. And these are also the parts of life that lead to my sanctification. As I have learned before, these aspects of the life will be filled with struggles, but they will also not be without their joys, especially when they are shared in the community. I certainly have a desire to be a pioneer, in whatever way God would choose to put them to use. I have my training and experience to support, collaborate, encourage, and cooperate. I trust that putting these under the vow of obedience will support the Church in wonderful ways. . . . In praying about it, I have been and continue to feel more strongly inclined to contribute the gifts that God has given me to help enable a community to live out its communal desire for perpetual adoration of the Blessed Sacrament and working towards the salvation of souls.
And to this, at the end of your letter, you added, with the most touching candour:
I do have the desire to worship God as He wishes.
I say it again, dear son, Our Lord Himself caused you to desire what He Himself desired for you and from you. "For the Father also seeketh such to adore him" (John 4:23).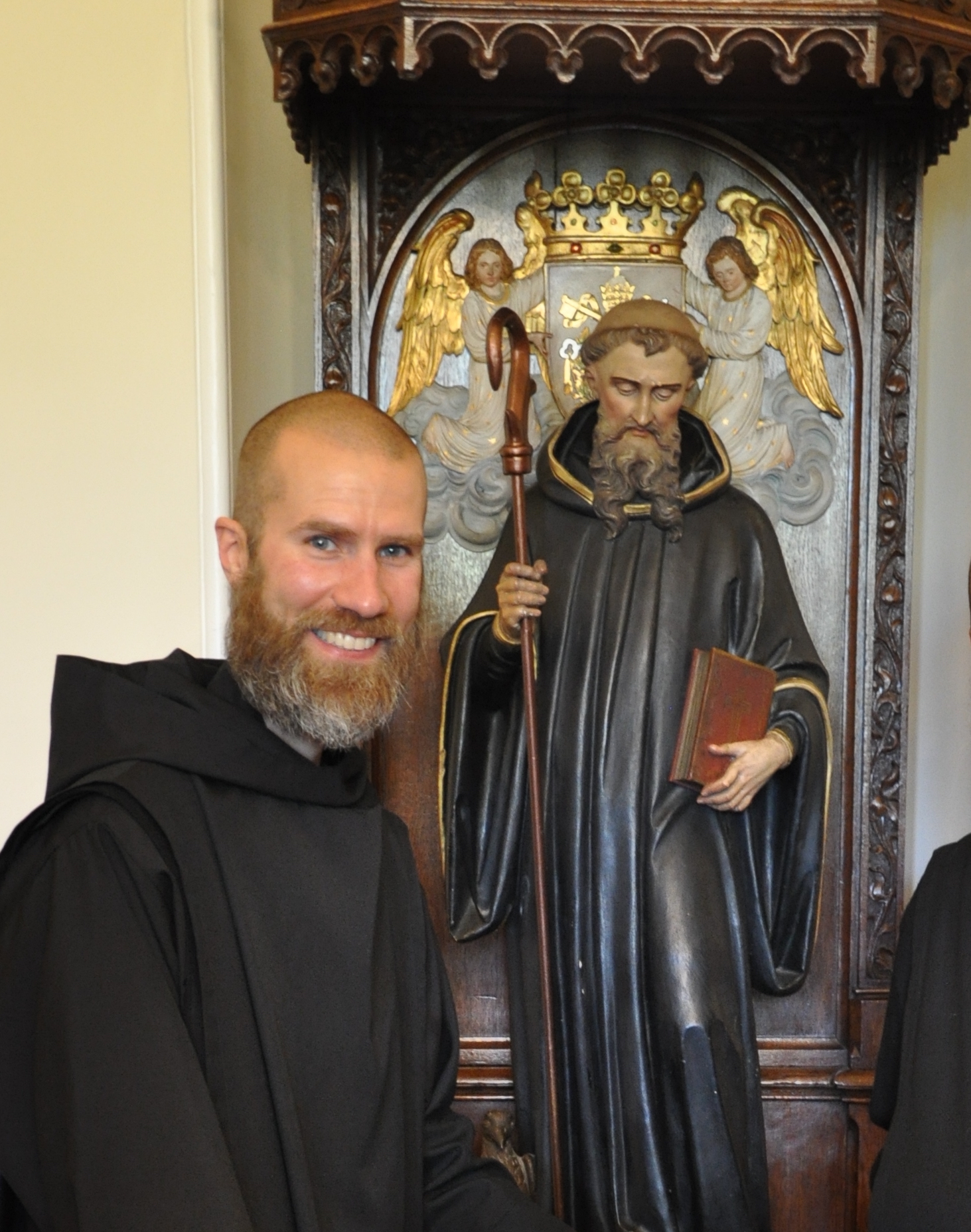 Today, Brother John Baptist, all the saints of paradise, "so great a cloud of witnesses over our head," surround you (Hebrews 12:1). Do you not hear them cheering you on? "Brother John Baptist," they say, "if you would be happy, be poor even as we were poor. Be meek as we learned to be meek. Weep even as we wept. Hunger and thirst after what only God can give, as we hungered and thirsted, and so now have our fill in heaven. Be merciful in the face of every misery; be merciful to the fathers and brothers whom God has chosen for you and placed at your side. Give your heart to God; He will wash it clean and, with the eyes of your heart, you will see Him, Whose Face is all that your heart has ever desired to see. Learn peace in the silence of the Host — there is the true pax benedictina — and many around you, both within the cloister and outside it, will grow still and know the silence of God. Fear neither revilement, nor persecution, nor the threat of evil tongues, for the love that has laid hold of you is greater than all of these, and the humble 'yes' to love that you will utter today marks you, already, as belonging to the Lamb."
Alongside of so many heavenly friends, there are dear friends of the monastery come here today from north and south, east and west. By God's special providence, two among these are two jubilarians. Mother Kathleen of Jesus and Sister Mary Bridget of Jesus are, without a doubt, remembering and renewing their own holy profession as Little Sisters of the Poor fifty years ago. You will, I think, ask them later for a word of wisdom. I should not be surprised if they repeat to you what they themselves have learned in the school of Saint Jeanne Jugan: "It is so good to be poor, to have nothing, to depend on God for everything." This is, in effect, the meaning of the Suscipe that you are about to sing:
Suscipe me, Domine. Take Thou me unto Thyself, O Lord. 
Thou seest that I am poor: Take Thou me unto Thyself, O Lord.
Thou seest that I have nothing: Take Thou me unto Thyself, O Lord.
Thou seest that I depend on Thee for everything: Take Thou me unto Thyself, O Lord.
Dear son, make your monastic profession as a little child throwing himself into his father's arms. Abandon yourself to the embrace of God. Rely with full confidence on the intercession of the Immaculate Mother of God, of our father Saint Benedict, and of all the saints whose relics lie today beneath the altar. And know, beyond any doubt, that there is joy in heaven, joy among the angels and saints, over what it is given you to do here at this hour. Your desire rises to meet the desire of God. And, behold, the desire of God descends to claim you as His own. Desiderio desideravi. "With desire I have desired to eat this pasch with you" (Luke 22:15)