Novena for the Feast of the Immaculate Conception
November 29, 2018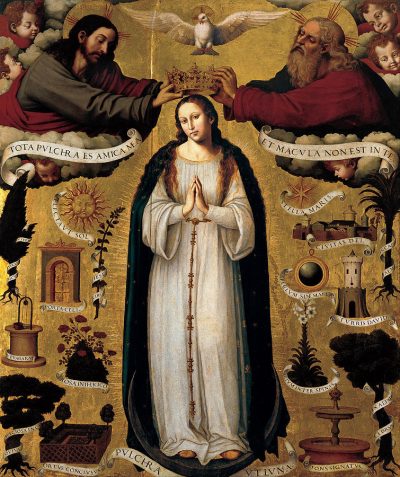 Most holy Virgin Mary, * whom the Father preserved from all evil / and from the least shadow of sin / from the first instant of thy conception, / whom the Precious Blood of Jesus rendered immaculate and all-beautiful, / even before that same Blood was formed in thy virginal womb / and poured out upon the altar of the Cross, / whom the Holy Ghost filled full with every grace / in view of the glorious motherhood of the Son of God / for which thou wast created, / thou crushest the head of the ancient serpent, / and overcomest the evil that threatens our salvation.
To thee, O Virgin of virgins / thy Son hath entrusted the liberation of souls in bondage to vice, / the healing of wounded souls, / and the sanctification of souls ravaged by sin. / Open thy immaculate hands over us, / and let the rays of thy purity fall upon us. / Through thee, O Immaculate One, light shineth in the darkest places. / Through thee, souls are washed in a torrent of graces. / Through thee, the Holy Ghost giveth succour to the weak and maketh barren souls fruitful.
Thou, O Mother of God, art the only hope of thy children scarred by sin and poisoned by its venom. / To those whom the enemy hath led astray in bitterness and in fear, / thou openest a way of sweetness and of peace. / Therefore, with a boundless filial confidence, / I consecrate myself to thy Immaculate Heart, / together with those for whom I have resolved to pray during this Novena.
[Name in silence those for whom the novena is being made.]
Show thyself the Mother of mercy and our all-powerful Queen, / for no creature resisteth thy supplication in the presence of Christ Jesus our true King. / Mediatrix of all graces, save us from the tentacles of evil. / Heal even those secret and painful wounds / that only thy motherly hand can touch / without adding to their pain.
Do for us, O Immaculate Virgin Mary, whatsoever thy maternal Heart moveth thee to do / so that now, and even unto the ages of ages, / we may live for the praise of the glory / of the Father, and of the Son, / and of the Holy Ghost. Amen.
Click here to download a PDF copy of the Novena (design by Dom Benedict)