In the School of the Saints
October 15, 2018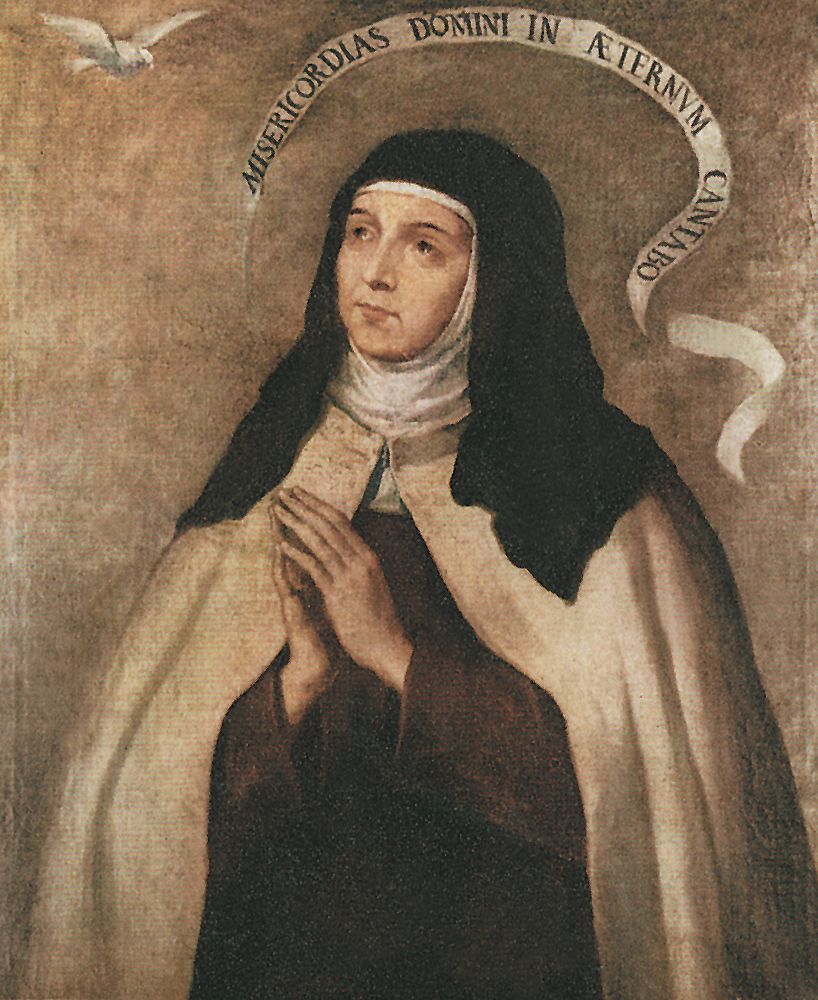 Saint Teresa: La Madre
Saint Teresa of Jesus, mystic, teacher of prayer, reformer, and Doctor of the Church, has, without any doubt, set the benchmark for measuring the influence of holy women in the life of the Church. People do not, for example, find it at all odd that La Madre, as she is widely known, should be the primary reference for men who embrace life in any of the reformed expressions of Carmel that claim her as their inspiration and teacher. I have often heard Carmelite friars speak enthusiastically of Saint Teresa as their "holy mother." So well known was Saint Teresa in the 17th century that Bossuet, "the eagle of Meaux", found no better way of describing Blessed Marie of the Incarnation, the intrepid mystic of Tours and of Québec, than to call her "the Teresa of the New World".
Dyed-in-the-Wool Benedictine
Is Saint Teresa the only woman at whose feet men are permitted to sit as disciples at the feet of a master? Is she so unique in the annals of holiness that, as far as men are concerned, a vast chasm separates her from all other mystics and doctors of her sex? My own veneration for Saint Teresa is immense. I would consider it a wondrous blessing to sit at her feet and be numbered among her spiritual progeny . . . but God had another idea for me. He called me to the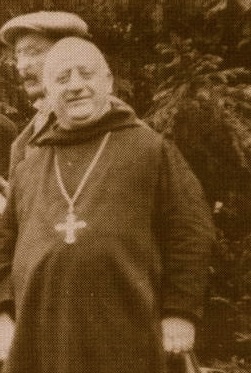 Benedictine way of life. Ever since Blessed Abbot Marmion introduced me to the Benedictine ideal of holiness, in the middle of the madness of the 60s, I have experienced, over and over again, that it suits me better than any other school of Christian life.
The Benedictine Way
There is no doubt that grace builds on nature. A natural predisposition to the full liturgical life made me take to Benedictine life with a certain ease and, sometimes, with positive delight. Who can describe the enchantment produced in a soul by an antiphon, by a psalm, a responsory, or a collect? The givenness of the liturgy is a masterpiece of divine craftsmanship. The Holy Ghost infuses every detail with a freshness and grace that is hidden from the learned and the clever, but disclosed to little souls, to the man who trudges into choir day after day, knowing, in faith, that there Christ waits for him, and that there, the prayer of Christ will fill his soul.
Enter Henri Brémond
Only when I was nineteen years old did I meet the great lady who would, in these later years of my life, become my own Teresa of Avila. Like Saint Teresa, Mectilde de Bar is a mystic, a teacher of prayer, and a reformer. She is not a Doctor of the Church, but she certainly has the makings of one. It was Henri Brémond (31 July 1865 – 17 August 1933)  who, in his monumental 11 volume Histoire litteraire du sentiment religieux en France depuis la fin des guerres de religion jusqu'a nos jours introduced me to Mother Mectilde du Saint-Sacrement. I was blessed to have a Benedictine spiritual mentor, Dom R.C., who supplied me with one volume after another of Brémond's master work. Being nineteen, and having a youthful appetite for reading, I made my way through all 11 volumes, poring over them well past my bedtime. Something about Mectilde de Bar struck a chord deep inside my own soul. Little did I suspect then that the chord would continue resounding even into the sixth decade of my life.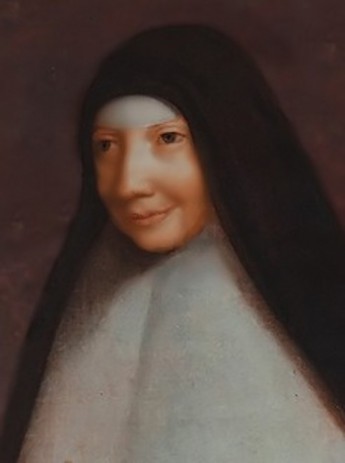 Who is Mectilde de Bar?
So who is Catherine Mectilde de Bar (1614-1698), and why would I want to sit at her feet? Why do I call her the Benedictine Teresa of Avila? Her God-seeking journey, though consistent, was torturous, and marked by danger, exile, illness, poverty, and uncertainties on all sides. If Mother Mectilde is, as I believe, of the stature of a Saint Teresa of Avila, her message must have about it a certain timeless quality: a resonance in the life of the Church in every age. I have identified ten points that, I believe, illustrate the message of Mother Mectilde for the Church today:
1. Catherine Mectilde de Bar, born at Saint–Dié in Lorraine (France) on 31 December 1614, deserves to be universally known in the Church. She is a woman of the stature of a Gertrude the Great, of a Teresa of Avila, and of a Marie de l'Incarnation (Guyart–Martin). Mother Mectilde's  life and mission are a vivid and compelling demonstration of the role of women in the Church today and in every age. Her writings, steeped in Sacred Scripture and in the liturgical tradition that formed her as a Benedictine nun, reveal a woman of profound human insights and of supernatural wisdom.
2. Mother Mectilde presents the grace of Baptism as being intrinsically ordered to actual participation in the victimhood of Christ by reception of the adorable mysteries of His Body and Blood in Holy Communion. In affirming this, she elucidates with the brightness of her own experience the Eucharistic form of the Christian life articulated by Pope Benedict XVI in Sacramentum Caritatis:
Here the eucharistic celebration appears in all its power as the source and summit of the Church's life, since it expresses at once both the origin and the fulfilment of the new and definitive worship of God, the logiké latreía. (200) Saint Paul's exhortation to the Romans in this regard is a concise description of how the Eucharist makes our whole life a spiritual worship pleasing to God: "I appeal to you therefore, my brothers, by the mercies of God, to present your bodies as a living sacrifice, holy and acceptable to God, which is your spiritual worship" (Rom 12:1). In these words the new worship appears as a total self-offering made in communion with the whole Church. The Apostle's insistence on the offering of our bodies emphasizes the concrete human reality of a worship which is anything but disincarnate. The Bishop of Hippo goes on to say that "this is the sacrifice of Christians: that we, though many, are one body in Christ. The Church celebrates this mystery in the sacrament of the altar, as the faithful know, and there she shows them clearly that in what is offered, she herself is offered." (201) Catholic doctrine, in fact, affirms that the Eucharist, as the sacrifice of Christ, is also the sacrifice of the Church, and thus of all the faithful. (202) This insistence on sacrifice – a "making sacred" – expresses all the existential depth implied in the transformation of our human reality as taken up by Christ (cf. Phil 3:12).
3. The vocational journey of Catherine Mectilde de Bar was marked by unforeseen turns, by sufferings of body and soul, by new beginnings, by constant displacements, and by an immutable stability in the One Thing Necessary. In this, Mother Mectilde speaks to the young men and women of today who must follow their vocations with an immense courage in the midst of uncertainty, movement, and rapid change. In a time when many shrink back from saying a "Yes" that binds until death, Mother Mectilde shows that happiness lies, not in the subjective indulgence of endless and tortuous discernments, but in the simplicity of a decision made in faith and in abandonment to Divine Providence.
4. The past fifty years have witnessed a massive loss of faith in the real presence of Christ in the Most Holy Eucharist and in Holy Mass as a visible though unbloody sacrifice making present the mystery of Christ, Priest and Victim, in His oblation to the Father. Mother Mectilde's lucid and fiery Eucharistic doctrine defies every attempt to empty the Mass of its essentially sacrificial character as defined by the Council of Trent.
5. The study of the life and writings of Catherine Mectilde de Bar constitute a precious locus theologicus in which it will be possible to engage certain key teachings of the Council of Trent with the authentic magisterium of subsequent critical periods in such a way as to arrive at a fruitful synthesis of liturgical continuity, Eucharistic theology, and mystical experience.
6. Mother Mectilde offers a vision of Benedictine life capable of rejuvenating monasticism — especially where it has become institutionalized and listless — with an infusion of Eucharistic vitality. Her commitment to perpetual adoration of the Most Blessed Sacrament corresponds to a contemporary yearning, especially among young people, for a personal, transforming encounter with the Face of God.
7. Catherine Mectilde de Bar's intimate and cordial relationship with the Blessed Virgin Mary is a model of life–giving Marian piety. The place she gives to Our Lady as the abbess of her monasteries suggests that every community and family can become, under Mary's royal  protection, and consecrated to her maternal Heart, the cenacle of a continuous Pentecost, a school of apostles and evangelists, and a fruitful womb bearing new life in every generation.
8. Mother Mectilde's attachment to the sacred liturgy, to the worthy celebration of the Holy Mysteries in an environment marked by beauty, by profound reverence, and by a humble decorum is an invitation to the recovery of what shaped and expressed the faith of past generations while, at the same time, recognizing every effort at growth and progress duly undertaken in organic continuity, without rupture and, above all, in charity.
In the history of the liturgy there is growth and progress, but no rupture. What earlier generations held as sacred, remains sacred and great for us too, and it cannot be all of a sudden entirely forbidden or even considered harmful. It behooves all of us to preserve the riches which have developed in the Church's faith and prayer, and to give them their proper place. (Pope Benedict XVI, Letter to the Bishops on the Occasion of the Apostolic Letter "Motu Proprio Data" Summorum Pontificum, 7 July 2007)
9. Catherine Mectilde de Bar lived in a time marked by superstition, sorcery, dalliance with the powers of darkness, blasphemy and sacrilege. Recent distressing events in churches on every continent have demonstrated that global society today has more in common with  war–torn 17th century France than one might think.  Mother Mectilde bound herself in self–sacrificing love to the perpetrators of such horrible crimes, offering herself as a victim of reparation, that is, as an offering irrevocably made over to God, with the intention of supplying for the love and adoration denied Him by those who hate Him and outrage His holiness while, at the same time, praying God to show them mercy and grace them with repentance.
10. Catherine Mectilde de Bar is an icon of the kind of spiritual motherhood needed in the Church today, not only in monastic and religious communities, but in every context where the Church is being born, and born again, of the Most Holy Eucharist. Ecclesia de Eucharistia. Mother Mectilde demonstrates that the altar itself — the place set apart for the immolation of the Divine Victim — becomes a wellspring of supernatural fecundity in the life of every soul who adhering to the Holy Sacrifice, enters into the victimhood of Christ and, with Him, adores the Father in the Holy Spirit.