Ante te est omne desiderium meum (VII:4)
September 28, 2018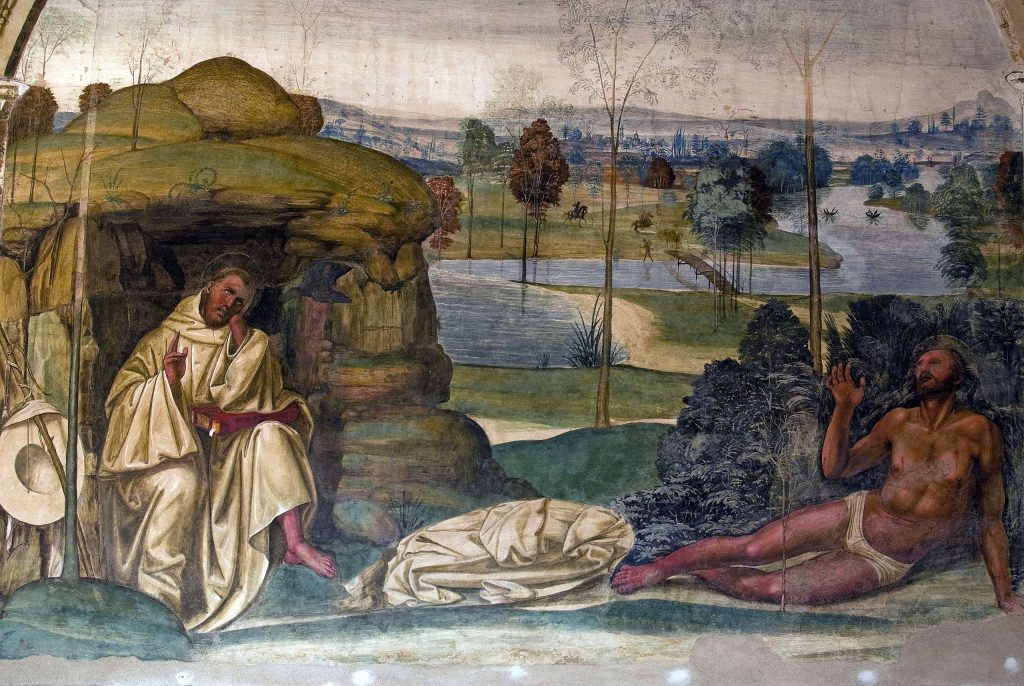 28 Jan. 29 May. 28 Sept.
We are, indeed, forbidden to do our own will by Scripture, which saith to us: turn away from thine own will (Ecclesiasticus 18:30). And so too we beg of God in prayer that His will may be done in us (Matthew 6:10). Rightly therefore are we taught not to do our own will, if we take heed to the warning of Scripture: "There are ways which to men seem right, but the ends thereof lead to the depths of hell" (Proverbs 16:25); or, again, when we tremble at what is said of the careless: "They are corrupt and have become abominable in their pleasures" (Psalm 52:2). And in regard to the desires of the flesh, we must believe that God is always present to us, as the prophet saith to the Lord: "O Lord, all my desire is before Thee" (Psalm 37:10)
Saint Benedict, referring to the word of divine authority, enjoins each of us to turn away from his will: "Go not after thy lusts, but turn away from thy own will" (Ecclesiasticus 18:30). This is the first of five passages from Sacred Scripture in today's portion of Chapter VII. The eighteenth chapter of Ecclesiasticus is a text to which Saint Benedict refers more than once; it seems to have left its mark in his soul. My sense is that it is a key Benedictine text, one that Saint Benedict would have read, repeated, and prayed. I recommend that we do the same. You will want, I think, to read it in the Vulgate, but also in other versions. Saint Benedict quotes only v. 30, "turn away from thy own will," but the whole chapter merits close attention because of its many resonances with the Holy Rule. Verses 7–14 are a meditation on the mercy of God:
What is man, and what is his grace? and what is his good, or what is his evil? The number of the days of men at the most are a hundred years: as a drop of water of the sea are they esteemed: and as a pebble of the sand, so are a few years compared to eternity. Therefore God is patient in them, and poureth forth his mercy upon them. He hath seen the presumption of their heart that it is wicked, and hath known their end that it is evil. Therefore hath he filled up his mercy in their favour, and hath shewn them the way of justice. The compassion of man is toward his neighbour: but the mercy of God is upon all flesh. He hath mercy, and teacheth, and correcteth, as a shepherd doth his flock. He hath mercy on him that receiveth the discipline of mercy, and that maketh haste in his judgments. (Ecclesiasticus 18:7–14)
Only the man who has experienced the mercy of God will have the grace to turn away from his own will. The secret dialogue of the soul when faced with any choice is this: "What if I turn away from this good thing, this sweet thing, this beautiful thing that lies before me for the taking, and then, discover that, having renounced it, there is nothing to fill the void? What if I choose God over this immediate gratification, and then find God seemingly distant, silent, and unresponsive? Is it not better to seize what I can lay my hands on here and now than to remain with empty hands waiting for something that may be a long time in coming to me?" These are classic temptations to be countered with Psalm 72 and with silence in the presence of the Host. Only after having known the mercy of God, can one begin to rely on His grace enough to renounce the ephemeral things that promise comfort, security, and gratification in favour of what is normally experienced as poverty, emptiness, and absence. This is the way of the Beatitudes. And it is the monastic way.
Blessed are the poor in spirit: for theirs is the kingdom of heaven. Blessed are the meek: for they shall possess the land. Blessed are they that mourn: for they shall be comforted. Blessed are they that hunger and thirst after justice: for they shall have their fill. Blessed are the merciful: for they shall obtain mercy. Blessed are the clean of heart: for they shall see God. (Matthew 5:3–8)
The connection to the Beatitudes is not fanciful; immediately after quoting Ecclesiasticus 18:30, Saint Benedict refers to the teaching of Our Father in the Sermon on the Mount, when he says, "And so too we beg of God in prayer that His will may be done in us (Matthew 6:10). This allusion to the Our Father casts all of Chapter VII in the light of the fatherhood of God and the grace of divine adoption. It tells us that the ground of humility is spiritual childhood and that spiritual childhood is a gift received in prayer to the Father and expressed in prayer to the Father. Without this awareness of the merciful, provident, and forgiving fatherhood of God, Chapter VII risks grave misinterpretation. Without this awareness of the merciful, provident, and forgiving fatherhood of God, one cannot arrive at the 12th degree of humility: "that love of God which, being perfect, casteth out fear."
Today's portion of the 1st degree of humility contains three other passages from Sacred Scripture. The first of these, from Proverbs 16, warns a man against trusting his own impressions and against following his own assessment of things, for "there is a way that seemeth to a man right: and the ends thereof lead to death (Proverbs 16:25). For this reason a man chooses to live under a rule and an abbot, both of which must be seen as complementary organs of tradition or, if you prefer, of the transmission of the wisdom of the saints. The appeal to the supremacy of conscience that is so fashionable today is mortally flawed apart from the humble reception of tradition by which the conscience is illumined, formed, and turned to what is immutable true.
The second reference is to Psalm 52:2: "They are corrupted, and become abominable in iniquities: there is none that doth good". The whole psalm describes the destiny of the practical atheist, that is, of the fool who says in his heart, "There is no God". Psalm 52 is, in effect, a description of the godless ethos that prevails all around us today: a practical atheism by which one lives, and chooses, and acts as if God did not exist. Monastic conversion, renewing the baptismal conversion, engages a man to live, choose, and act, always and everywhere under the gaze of God, with childlike confidence in His fatherhood.
The third and last reference in this portion of Chapter VII comes from the third of the seven Penitential Psalms: "Lord, all my desire is before thee, and my groaning is not hidden from thee" (Psalm 37:10). There are no circumstances and there is no state of soul in which a man cannot go before God and say simply this, Domine, ante te omne desiderium meum. Even when one feels battered and utterly worn down by temptations, desires, fears, and questions, one has in this verse of Psalm 37 a most perfect prayer, an act of childlike abandonment: Domine, ante te omne desiderium meum, "Lord, all my desire is before thee." This is, in fact, one of the verses of the psalter that a monk ought to learn by heart and repeat on the beads, especially in hours of desolation and inner turmoil. It is most effectively prayed before the Sacred Host. I have never known it not to quiet and soothe the soul. I do not mean by this that it is something of a therapeutic mantra; I mean, rather, that it is a pure and simple expression of theological virtue of hope, which virtue acts as a stabilizing anchor on the soul tossed about in storms of fear, doubt, and temptation..