Acceptable to God and sweet to men (V:2)
September 23, 2018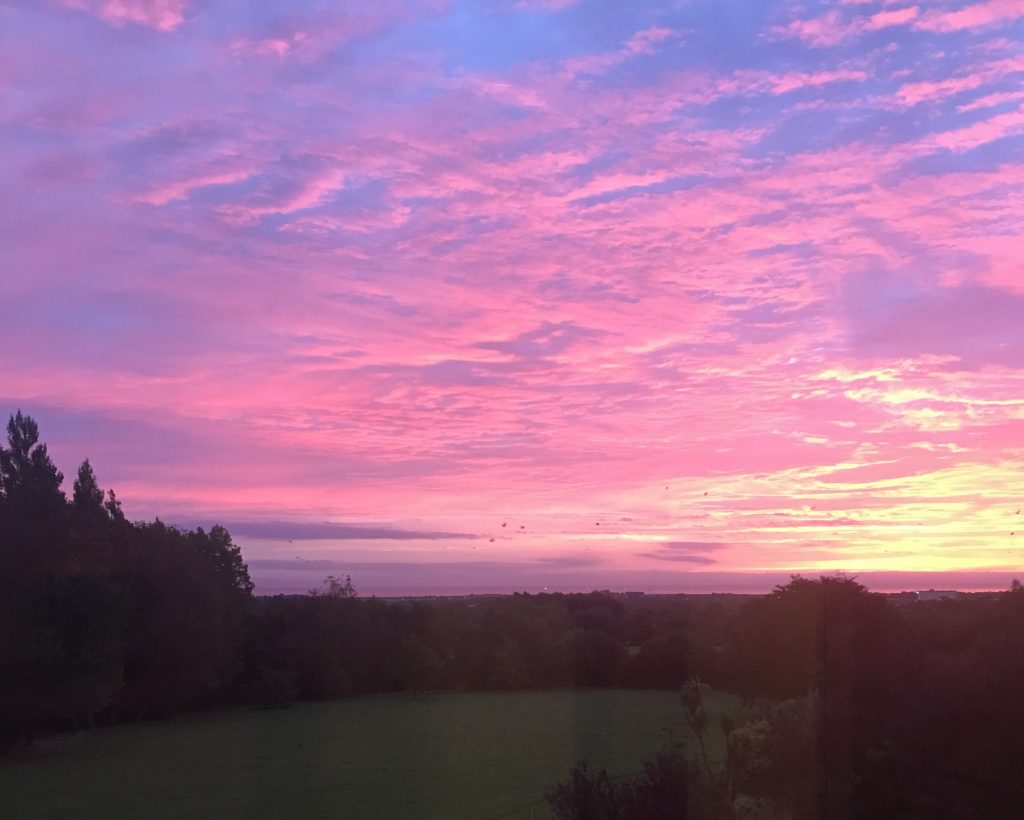 September Sunrise over Silverstream
23 Jan. 24 May. 23 Sept.
But this very obedience will then only be acceptable to God and sweet to men, if what is commanded be done not fearfully, tardily, nor coldly, nor with murmuring, nor with an answer shewing unwillingness; for the obedience which is given to superiors is given to God, since He Himself hath said: "He that heareth you, heareth Me." And it ought to be given by disciples with a good will, because "God loveth a cheerful giver." For if the disciple obey with ill-will, and murmur not only with his lips but even in his heart, although he fulfil the command, yet it will not be accepted by God, Who regardeth the heart of the murmurer. And for such an action he shall gain no reward; nay, rather, he shall incur the punishment due to murmurers, unless he amend and make satisfaction.
I explained yesterday that for us, sons of Saint Benedict, obedience is first of all a way by which we go to God. Benedictine obedience is theotropic, that is, it is wholly directed towards God. Benedictine obedience may, for example, on a given day, summon a brother to pick apples, but the object of his act of obedience is not, first of all to get the apples picked, it is to move him towards God. That the apples get picked is a good thing, but it is not the object of the act of obedience; it is rather a means by which the brother in question demonstrates and makes real his resolve to go to God. A monk must say, "Obedience is a good thing because it gives me to God and gives God to me. I obey, then, in order to be united to God."
The second grace of Benedictine obedience is that it unites a monk to Christ. No one can go to God except through Our Lord Jesus Christ.
And whither I go you know, and the way you know. Thomas saith to him: Lord, we know not whither thou goest; and how can we know the way? Jesus saith to him: I am the way, and the truth, and the life. No man cometh to the Father, but by me. (John 14:4–6)
Now it becomes clear why Saint Benedict says at the very beginning of this chapter that obedience "becometh those who hold nothing dearer to them than Christ." The brother who holds nothing dearer to him than Christ wants, before all else and above all else, to be united to Christ. In our Benedictine life, obedience is a kind of sacrament, a holy communion, by which a monk offers himself to Christ and receives Christ.
When a monk loses sight of the supernatural character of obedience, something essential goes out of him. He begins to evaluate the commands given him, the tasks entrusted to him, and the decisions of the senior set over him, in terms of pragmatic criteria. He becomes critical and restless; he falls into murmuring. In this way the salt loses its savour. The murmurer forfeits the joy of the obedience by which a monk goes to God, through Christ, in Christ, and with Christ. The monk who obeys in the spirit of faith, on the other hand, can say with every act of obedience, however small, "By this will I go to God. By this do I unite myself to Christ. By this shall I go unto the altar of God, to God who giveth joy to my youth, (cf. Psalm 42:4)."
Where obedience is viewed in a merely pragmatic way, and not as the sacrament that gives a monk through Christ to God and that gives him God through Christ, one begins to settle for a legalistic minimalism. In Benedictine life, minimalism is a life–sapping pathology. The monk who begins to calculate and to measure, to bargain in his mind and to judge according to the criteria that he judges reasonable, will quickly descend into a legalistic minimalism. This makes for a sad monk. Saint Benedict quotes the pithy core of what Saint Paul writes to the Corinthians concerning their charitable offerings:
Now this I say: He who soweth sparingly, shall also reap sparingly: and he who soweth in blessings, shall also reap blessings. Every one as he hath determined in his heart, not with sadness, or of necessity: for God loveth a cheerful giver. And God is able to make all grace abound in you; that ye always, having all sufficiency in all things, may abound to every good work.
Saint Benedict would have his sons be cheerful givers. He returns to this in Chapter XLIX, "Of the Observance of Lent", when he says:
In these days, then, let us add some thing to our wonted service; as private prayers, and abstinence from food and drink, so that every one of his own will may offer to God, with joy of the Holy Spirit, something beyond the measure appointed him.
I often read the history of monasteries because I find them instructive. One can learn much by becoming familiar with the stories of new foundations, of reforms, and even of the decline of monasteries. In such reading, one of the things that emerges most clearly is that so long as the spirit of faith is alive in a community, and so long as the life is viewed from a supernatural perspective, there is a current of joy. I think of the word of the psalmist: "The stream of the river maketh the city of God joyful: the most High hath sanctified his own tabernacle" (Psalm 45:5). What is this joy? It is the joy of men who know, as Saint Augustine says in his Rule, that they are "together on their way to God". Each step along the way is an act of obedience, and every act of obedience gives one both the joy of God and the God of joy.