Vestition of Brothers Placid and Gregory
August 24, 2018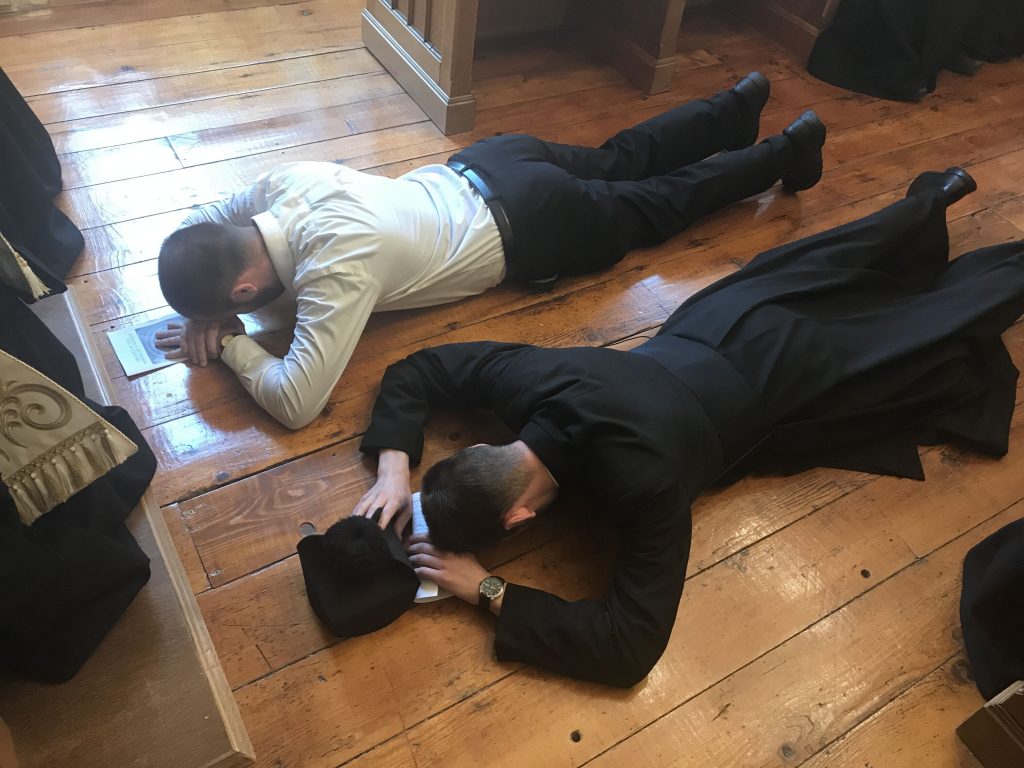 On Wednesday, 22 August 2018, Octave of the Assumption and Feast of the Immaculate Heart of Mary, Mr Desmond McKee of County Tyrone, Northern Ireland, and The Rev'd Ryan Sliwa of Springfield, Massachusetts, received the holy habit of Saint Benedict and entered upon their noviceship. Mr McKee was given the name Brother Placid, in honour of the disciple of our father Saint Benedict, and Father Sliwa was given the name Brother Gregory, in honour of Pope Saint Gregory the Great.
Vestition of Desmond McKee and the Revd Ryan Sliwa
My dear sons, Desmond and Father Ryan, your reception of the holy habit of Saint Benedict comes on the Octave Day of he Assumption of the Blessed Virgin Mary; it is the third and last of the three occasions of grace and thanksgiving that will have marked August 2018 in the history of our monastery. On August 6th, in the radiance of Our Lord's transfigured face, shining more brightly than the sun, Dom Hildebrand pronounced his simple vows for three years. One week ago, on August 15th, in the jubilation of the Assumption of the Mother of God, Dom Finnian and Dom Elijah entered again into the death and resurrection of Christ through solemn profession and received the monastic consecration, setting them apart until death for The One Thing Necessary. Today, you, Desmond and you, Father Ryan, ask to be received among us into this "school of the Lord's service" (Prologue). You have already begun to walk in "the hard and rugged paths by which we walk towards God" (Chapter 58). Over the past months, we have seen that you are truly seeking God. We have found you eager for the Work of God, prompt in obedience, and patient in humiliations.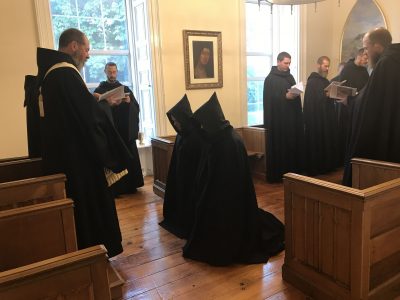 The habit you will receive today, dear sons, will be for you and for all who see you the sign that you have set your hearts on "the things that are above; where Christ is sitting at the right hand of God" (Colossians 3:1) and on that heavenly bridal chamber where the Blessed Virgin Mary is enthroned with the King of kings amidst the stars. Today is the beginning of a stripping away of "the old man with his deeds" (Colossians 3:9), for both of you will have to become "like little children" (Matthew 18:3). The words of Saint Peter are, today, addressed to you:
You are children new-born, and all your craving must be for the soul's pure milk, that will nurture you into salvation, once you have tasted, as you have surely tasted, the sweetness of the Lord. (1 Peter 2:2–3)
Desmond and Father Ryan, you will be novices during a season of construction. Let not the significance of this be lost to you. Each day you will see, all around you, things about which future generations of this monastery will only hear or read. There will be works of demolition and of construction. There will be noise, rubble, dust, and inconveniences of all sorts. Of certain buildings not a stone upon a stone will remain; and on the place thus cleared away a new edifice will be built up. For me, for all of us here, but especially for you, the demolition and construction of the months ahead will be a compelling image of all that Our Lord wills to do in you and for you. The Apostle says:
By grace you are saved through faith, and that not of yourselves, for it is the gift of God; not of works, that no man may glory. For we are his workmanship, created in Christ Jesus in good works, which God hath prepared that we should walk in them. (Ephesians 2:8–10)
As you have already learned, we try, in this school of the Lord's service, to be attentive to the liturgical providence of God, trusting that in the Opus Dei, we will hear each day "what the Spirit saith to the churches" (Apocalypse 2:7). It is not by mere chance that you enter upon your noviceship on this Octave Day of the Assumption, set aside by the Venerable Pope Pius XII in 1944, as the feast of the Immaculate Heart of Mary. The Mother of God speaks to you, dear sons:
I am the mother of fair love, and of fear, and of knowledge, and of holy hope. In me is all grace of the way and of the truth, in me is all hope of life and of virtue. Come to me, all you that yearn for me, and be filled with my fruits; for my spirit is sweeter than honey, and my inheritance better to have than honey and the honeycomb. My memory is to everlasting generations. They who eat of me will hunger still, and they who drink of me will thirst for more. He who obeys me will not be put to shame, they who serve me will never fail. (Ecclesiasticus 24:24–30)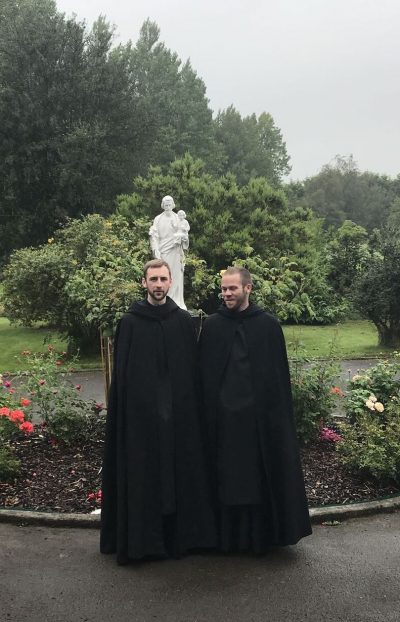 The monastic habit protects no man from the experience of weakness, desolation, fear, and humiliation. But, so often as you are brought low by these things, go humbly to the throne of grace, to the Mother of God, "to obtain mercy and find grace to help in time of need" (Hebrews 4:16). He who can find in his way to the Mother of God, even while "mourning and weeping in this vale of tears", will never be without hope.
In the days ahead, you will surely feel the blow of the hammer and the cutting edge of the chisel as you are fitted into this house of the Lord's building. It cannot be otherwise. No one among us has not been, in some way, chipped, cracked, and broken in the making of this monastery. It must be so. Saint Peter says:
Be you also as living stones built up, a spiritual house, a holy priesthood, to offer up spiritual sacrifices, acceptable to God by Jesus Christ. (1 Peter 2:5)
God willing, before the end of the year 2019, we will stand together in our new monastic church to sing the Vespers hymn of the Dedication:
Many a blow and biting sculpture
Fashioned well those stones elect,
In their places now compacted
By the heavenly Architect,
Who therewith hath willed for ever
That his palace should be decked.
Enter, then, today, upon the daunting and exhilarating work of the construction of a temple built of living stones. Lend yourselves readily and joyfully to all that will be asked of you, and as you work, and are worked upon, learn to repeat, again and again the words of the psalmist:
Unless the Lord build the house, they labour in vain that build it. (Psalm 126:1)
and the words of the Apostle:
More than ever, then, I delight to boast of the weaknesses that humiliate me, so that the strength of Christ may enshrine itself in me. (2 Corinthians 12:9)