The Whole of Christian Perfection
August 2, 2018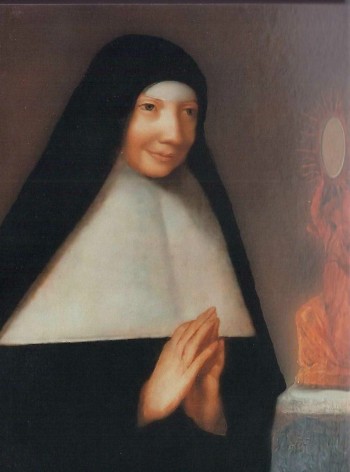 An Oblate of Silverstream has undertaken a great labour of love: the translation into English of texts of Mother Mectilde de Bar. The following text is taken from Mother Mectilde's correspondence with her friend and spiritual daughter, the Countess of Châteauvieux.
The whole of Christian perfection consists in continual attention to Jesus Christ, and a constant adherence or submission to His good pleasure. These two points contain everything, and their faithful practice will lead you to the highest degree of perfection. Blessed is the soul who observes them.
The first point consists in seeing Jesus Christ in everything; in all events and in all our dealings; in such way that this divine sight removes from us the sight of creatures, ourselves, and our interests, in order to see nothing except Jesus Christ. In a word, it is to have the presence of God continually.
The second point consists in being constantly submissive to His holy will; in being so much subject to His good pleasure that we no longer have any return, at least voluntarily, by which we can withdraw from this respectful obedience.
If you will dwell on these two points, you will clearly understand that if you desire to practice them, then you will be entirely surrounded by Jesus and utterly filled with His love.
Have Jesus Christ imprinted and carved on the center of your soul. Have him in all the faculties of your mind. May your heart be able to think of and long for nothing except Jesus Christ.  May your whole inclination be to please Him. Attach all your fortunes and your happiness to knowing and loving Jesus Christ.[1] May nothing on earth, however great it seems, prevail in you against the constant union you should have with Jesus Christ. May neither heaven, nor earth, nor hell, nor any power, ever separate you from Him.[2]
For how long will we be insensible to Jesus Christ? Will we always have eyes and ears closed to not see or hear His loving reprimands? Are we never to thirst for His pure love? Will we always be drinking from the impure waters of created things?
Let us waste no more time, let us go, my dearest daughter, go to Jesus Christ to drink the waters of His divine graces,[3] desiring to be intoxicated with them, and may we never be able to find any savor in creatures.
O Jesus all powerful and all love, work in us these two effects of mercy: attract us by your omnipotence and transform us by your love into Yourself.
O love, O love divine, may you burn in us, and that you may consume in us everything that is contrary to you and opposed to your workings.
O life that is not animated by love, how can you be called life? You are a hideous death, and most terrible.
O pure and holy love of Jesus Christ, do not allow a single moment of my life to be spent without love; make me die and throw me into hell a thousand times rather than not to love Jesus Christ.
O what a frightful hell[4] a soul suffers who is deprived of divine love! Its pain is incomprehensible, I compare it to that of the damned. Alas! What ought to be my pain, then, seeing that I have spent so many years without love! Alas! I should say: [years] that I have spent in the sins of my past life.
O abyss of mercy which sustains me, what return can I make to an infinite goodness like Yours? All that You desire of me is that I remain immersed in the center of my nothingness where, ceasing to be, I confess and proclaim in silence that You are, O my God, the One who is, and the only one worthy of being eternally. Amen.
[1] Jn 17:3.
[2] Rm 8:35-39.
[3] Jn 4:13-14, 7:37, Ap 22:17.
[4] Imitation of Christ,  Bk II, Ch 8.2.