In manibus tuis tempora mea
August 19, 2018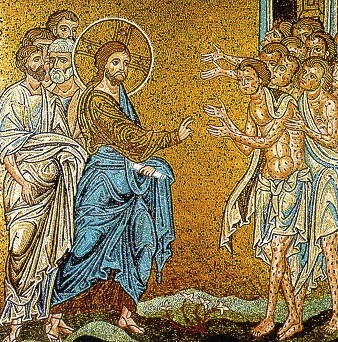 Sermon given at Silverstream Priory
Thirteenth Sunday after Pentecost
19 August 2018
Today, we entered into Holy Mass to the sound of a most piteous appeal to God:
Have regard to thy covenant, and forget not to the end the souls of thy poor: arise, O Lord, judge thy own cause, and forget not the voices of them that seek Thee.(Psalm 73:20, 19, 23, Introit of the 13th Sunday after Pentecost)
The verse of the Introit gave us the opening of the same Psalm 73. It is a question addressed to God. This is a form of prayer that each one of us makes in life's hours of uncertainty or when the things that befall us seem to make sense at all.
O God, why hast thou cast us off unto the end: why is thy wrath enkindled against the sheep of thy pasture? (Psalm 73:1)
Even in the life of the Church, there occur events that compel us to cry out to heaven, asking, "Why?" One ought never shrink from honest prayer. Honest prayer includes putting questions to God. Anyone even slightly familiar with the Psalms will have discovered that the psalmist often addresses questions to God. And not only that: in today's Introit, the psalmist makes bold to say to God, Exsurge, Domine! that is, "Rise up, Lord". The psalms are a school of honest prayer, of prayer from the heart. How I pity souls raised on a piety of saccharine sentimentality. Such souls are made to feel that in their prayer all must be, at all times, rosy. They think it somehow unsuitable to cry to God out of the confusion, sorrow, brokenness, and bleakness that mark every man's journey through this valley of tears. This sort of artificial prayer in no way corresponds to the Psalms, nor to the perfect filial prayer of Our Lord Jesus Christ, of whom we read in the Epistle to the Hebrews:
Christ, during his earthly life, offered prayer and entreaty to the God who could save him from death, not without a piercing cry, not without tears; yet with such piety as won him a hearing. Son of God though he was, he learned obedience in the school of suffering. (Hebrews 5:7–8)
The ten lepers of the Gospel — outcasts disfigured by disease, obliged to live apart, avoided and shunned by all healthy and respectable people — "stood afar off, and lifted up their voice, saying: Jesus, master, have mercy on us" (Luke 17:12–13). Of the ten men made clean, only one went back to Jesus. Saint Luke tells us that he turned back, "glorifying God with a loud voice". He was astonished at seeing himself made clean, his skin become soft and glowing with health. This man, a Samaritan, not even a proper Jew, had no hesitation about making a public spectacle of himself. He had been given back his life, his family, his dignity. Saint Luke describes the scene: the man fell on his face before the feet of Jesus, giving thanks. Jesus, speaking with a gentle irony, asks what became of the other nine lepers:
Were not ten made clean? and where are the nine? There is no one found to return and give glory to God, but this stranger. And he said to him: Arise, go thy way; for thy faith hath made thee whole. (Luke 17:17–18)
It is this leper made clean, a Samaritan, that is one not entirely orthodox in his religion, who is given us as an example today. Not only did he cry out boldly, asking Jesus for divine help; he returned to the feet of Jesus, and falling prostrate before Him, gave voice to his thanksgiving, allowing his heart to speak to the Heart of Jesus. As is often the case, the Offertory Antiphon, following the Gospel, continues the Gospel narrative, by giving us what must have been the prayer of the grateful Samaritan after his return to Jesus:
In te speravi, Domine: dixi: Tu es Deus meus, in manibus tuis tempora mea.
In Thee, O Lord, have I hoped: I said, Thou art my God, my times are in Thy hands.
This Offertory Antiphon is, to my mind, one of the most beautiful of the whole liturgical year. I see the grateful Samaritan, held in the gaze of Jesus, and saying to Him:
In Thee, O Lord, Jesu praeceptor, Jesus master, have I hoped. How right I was to hope in Thee, to cry out to Thee, to make Thee stop and look at me! I said, then, in my heart, "Thou art my God" and now, I say it again aloud for all to hear: "Thou art my God". Thou hast given me back my life, and now I give to Thee the life that Thou hast given back to me. In manibus tuis tempora mea. My times are in Thy hands.
There is in this prayer an indescribable accent of confidence, abandonment, and hope. It is a prayer for every hour of life, but especially for the hour of doubt, of fear, of not knowing: "My times are in Thy hands". It is a prayer that one does well to repeat, perhaps saying it on the beads until, at last, it lodges itself deep in the heart: In manibus tuis tempora mea. My times are in Thy hands.
The Communion Antiphon today echoes the thanksgiving of the Samaritan leper made clean, in that, it too, is addressed directly to Our Lord:
Thou, O Lord, hast given us bread from heaven, having in it all that is delicious, and the sweetness of every taste.
What better thanksgiving after Holy Communion is there than this? It is, at once, a grateful acknowledgement of the ineffable gift that is the Body of Christ, the Bread of Life, the Divine Antidote for every ill. It is a way of savouring the sweetness of the gift: the presence of Jesus before whom one can only fall down in adoration, to whom one will want to repeat over and over again: "My times are in Thy hands".