Vestition of Dr Ricardo García–Lopez
June 8, 2018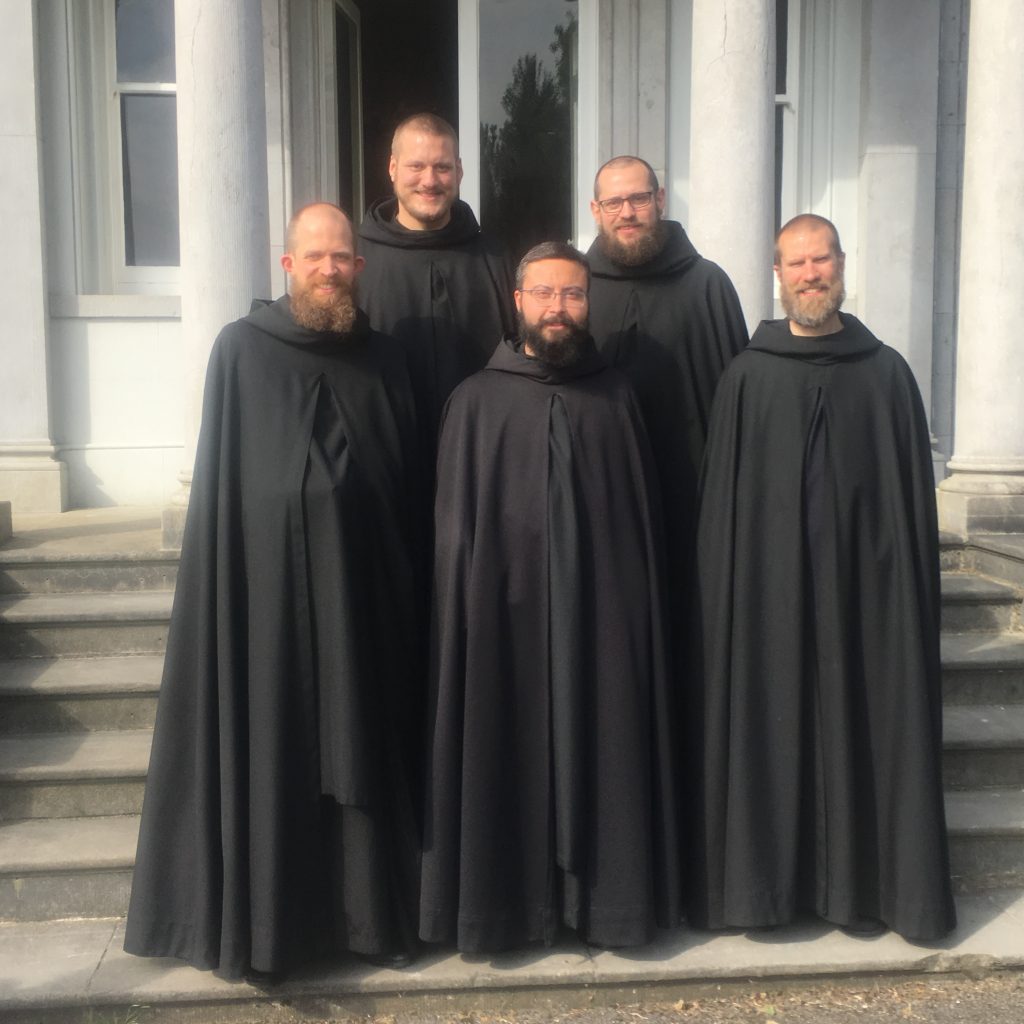 Silverstream Priory's Novices: left to right: Br Hildebrand Houser, Br Thomas Aquinas Borders, Br Lucas García–Lopez, Br Chrysostom Gryniewicz, Br John Baptist DeCant
Dr Ricardo García–Lopez
, 29, 
was clothed in the Benedictine habit at Silverstream Priory in County Meath today, on the feast of the Sacred Heart of Jesus, becoming Brother Lucas. The son of Manuel García–Perez and Catalina Lopez–García of Cadíz, Spain, Brother Lucas is the brother of Enrique and Manuel. Brother Lucas studied at The University of Seville, graduating with a degree in Pharmacy. He then attended the University of Navarra in Pamplona, Spain and the University of Michigan in Ann Arbor, Michigan, where he obtain an international Ph.D. in Cellular and Molecular Biology. The subject of Brother Lucas' doctoral dissertation was "The Role of Tox3 and Histone Deacetylase Inhibitors in Embryonal Brain Tumours".  As one of five novices at Silverstream Priory, Brother Lucas will learn to live the 6th century Rule of Saint Benedict in 21st century Ireland. A lover of music and enthusiast of Gregorian Chant, the new novice happily sings in the monastic choir, spending five to six hours a day in prayer. At other times Brother Lucas can be found working on the land, serving in the monastery kitchen, and translating texts from English to Spanish.
________________________________________________________
Homily of Father Prior at the Vestition of Brother Lucas Maria García–Lopez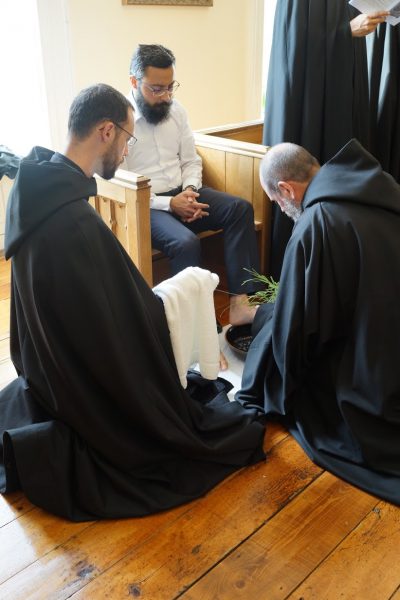 My dear son, in the story of a soul no detail is insignificant. The design of your life in all its complexity and richness bears a divine imprint. Does not God say to the man whom he has chosen for Himself:
I claimed thee for my own before ever I fashioned thee in thy mother's womb; before ever thou camest to the birth, I set thee apart for myself. (Jeremias 1:5)
Was it not the hand of God that led you from your home in Cádiz to the University of Navarra in Pamplona and, from there, to the University of Michigan in the United States of America? There, in a kind of exile, far from your beloved family, God's providence sent friends into your life, mere men to be sure, but chosen instruments in His hands. There Our Lord began to speak to your heart, drawing you to Himself in the Sacrament of His Love. In January 2017, you wrote to me:
Some weeks ago a good friend named Mr Gryniewicz made a comment on the book In Sinu Jesu. Thus, I decided to buy it and started reading it. It was not long after I began with the book, I had a strong attraction to continue reading it, yet I did not want it to end. I love the book and have a deeper desire to spend more time before the Blessed Sacrament. It is hard to take time now from my studies to do this. . . . I found Silverstream Priory by Divine Providence. I understand that the community in Ireland is in its early years and that many challenges have to be overcome. Hence, I do not know if I would be a good postulant but at least I would like to visit the Priory knowing that only God suffices.
The grace of Our Lord was at work in your heart. On Saint Patrick's Day, March 17th, 2017, you wrote again to tell me of an experience you shared with two men named Joseph and Seth:
I would like to mention that on Ash Wednesday night Joseph and I were in adoration with the Most Blessed Sacrament for the whole night and it was a wonderful and blessed time. Tonight we are also doing it and Seth is joining us. The one thing I like the most is the companionship with the Lord that In Sinu Jesu talks about. I found no words to say before the Most Blessed Sacrament, but just being there is enough. I pray that one day not too far away I will visit Silverstream Priory.
Dear Ricardo, in these letters you said two things that will be of the utmost importance in your future monastic life. You said, "Only God suffices", and you said, "Just being there is enough". Hold fast to these two things. You added, "I pray that one day not too far away I will visit Silverstream Priory". The "one day not too far away" came quickly. You did visit Silverstream Priory. You arrived among us last September and lived among us for three months bringing something of the warmth and brightness of southern Spain to this little corner of County Meath. You returned to us in January for our monastic retreat and, after your pilgrimage to the Holy Land, returned again in April finally to take your place in this "school of the Lord's service" (Prologue). You found your two friends from Michigan clothed in the habit of Saint Benedict and bearing new names; today your friend Joseph is Brother Chrysostom, and your friend Seth, Brother Thomas Aquinas. The night of adoration that you shared with Joseph and Seth on Saint Patrick's Day 2017 has borne fruit surpassing anything that you, or they, or any of us could have imagined. "For where there are two or three gathered together in my name, there am I in the midst of them" (Matthew 18:20).
Yesterday morning at Holy Mass, I repeated to you Our Lord's words in Saint Luke's account of the Last Supper: Et ait illis: Desiderio desideravi hoc pascha manducare vobiscum, antequam patiar. "And he said to them: With desire I have desired to eat this pasch with you, before I suffer" (Luke 22:15). I told you, dear Ricardo, that a monastic vocation is the encounter of two desires: the immense burning desire of the Sacred Heart of Jesus for man, not only for mankind, but for each man, for one man, for a particular man with a story all his own. The desire of God is such that when it rests upon a man, it moves him to desire in return the One who so desires him. Our Lord, even when He ignites in a man the spark of a desire capable of rising to meet the desire of His Sacred Heart, leaves that man free to consent to His desire or to refuse it.
And when he was gone forth into the way, a certain man running up and kneeling before him, asked him, Good Master, what shall I do that I may receive life everlasting? And Jesus said to him, Why callest thou me good? None is good but one, that is God. Thou knowest the commandments: Do not commit adultery, do not kill, do not steal, bear not false witness, do no fraud, honour thy father and mother. But he answering, said to him: Master, all these things I have observed from my youth. And Jesus looking on him, loved him, and said to him: One thing is wanting unto thee: go, sell whatsoever thou hast, and give to the poor, and thou shalt have treasure in heaven; and come, follow me. Who being struck sad at that saying, went away sorrowful: for he had great possessions. (Mark 10:17–22)
Our Lord looked upon you, dear son, and loved you. You returned His look with a look of your own, a look of adoration fixed upon the Host. You are setting out today on the hard and rugged paths of the monastic journey because Jesus has ignited in your heart a spark of desire capable of rising to meet the immensity of His desire for you. Rather than being struck sad at the words of Jesus, you have been struck with joy. Rather than going away sorrowful, you choose today to go forward in gladness.
Last evening at First Vespers we entered into the feast of the Sacred Heart of Jesus. The Magnificat Antiphon, taken from Saint Luke's Gospel, was nothing less than incandescent; it gave us Our Lord's own words and, mysteriously revealed to us the fornax ardens caritatis that is His Sacred Heart.
Ignem veni mittere in terram, et quid volo nisi ut accendatur?
I am come to cast fire on the earth: and what will I, but that it be kindled? (Luke 12:49)
What is a monk if not a man into whose heart Jesus has cast the fire of a great desire? What is the desire of the Heart of Jesus if not that you, dear son, should become, like Saint John the Baptist, the shining model of all monks, a lucerna ardens et lucens, a burning and shining light (John 5:35)? You have heard me tell before the wonderful story of Abba Lot and Abba Joseph:
Abba Lot went to Abba Joseph and said to him, "Abba, as far as I can I say my little office, I fast a little, I pray and meditate, I live in peace as far as I can, I purify my thoughts. What else can I do?" Then the old man stood up and stretched his hands toward heaven. His fingers became like ten lamps of fire and he said to him, "If you will, you can become all flame."
Dear Ricardo, the holy habit of Saint Benedict with which I shall clothe you in a few moments will set you apart, like the prophet Daniel, as a man of desire, vir desideriorum (Daniel 10:19). It will mark you as man into whose heart Jesus has cast a consuming fire. At the very end of the Holy Rule, Saint Benedict says: "Whoever, therefore, thou art that hasteneth to thy heavenly country, fulfil by the help of Christ this least of Rules which we have written for beginners; and then at length, under God's protection, thou shalt arrive" (Chapter LXXII). Is this not our Holy Patriarch's way of saying what Abba Joseph said to Abba Lot, "If you will, you can become all flame"?
To be sure, there will be days and hours when you will suffer a thirst that no earthly water can quench. Return on such days and in such hours to the Office of the feast of the Sacred Heart of Jesus. What will you find there if not just the right antiphon for a man in the throes of a great thirst?
Jesus stood and cried, saying, If any man thirst, let him come unto me and drink. (John 7:37)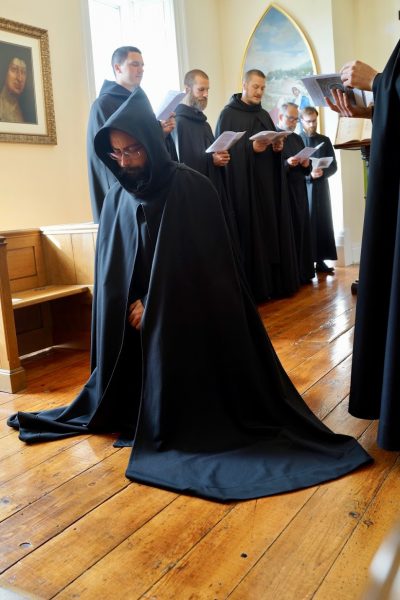 There will be days and hours when you will suffer a great weariness, when you will want nothing so much as to stop the clocks and cast off the yoke. Return on such days and in such hours to the Office of the feast of the Sacred Heart of Jesus. What will you find there if not just the right antiphon for a man crushed beneath a burden too heavy to bear?
Come unto me, all ye that travail and are heavy laden, and I will refresh you. (Matthew 11:28
There will be days and hours when you will think yourself utterly alone, forsaken, and disoriented. If there be somewhere a monk who has never known this state, I have yet to meet him. Return on such days and in such hours to the Office of the feast of the Sacred Heart of Jesus. What will you find there if not just the right antiphon for a man plunged into loneliness and beset by doubts?
My son, give me thine heart, and let thine eyes observe my ways. (Proverbs 23:26)
I speak of these things, dear son, not to frighten you on this the first day of your monastic life, but to give you comfort and assurance for the days to come. The man who trusts in the liturgical providence of God will never be without a glimmer of light in the night, a spark of fire in the cold, a cup of cold water in the heat, a signpost on the road.
And, finally, dear son, in imitation of the Beloved Disciple of Jesus, receive the Blessed Virgin Mary into all that is yours. Never depart from her. Persevere in prayer with her until, at length, her prayer passes wholly in yours, and yours into hers. Then will you be semper in templo, "always in the temple, praising and blessing God. Amen" (Luke 24:53).