Let thy heart be comforted (VII: The Fourth Degree)
June 2, 2018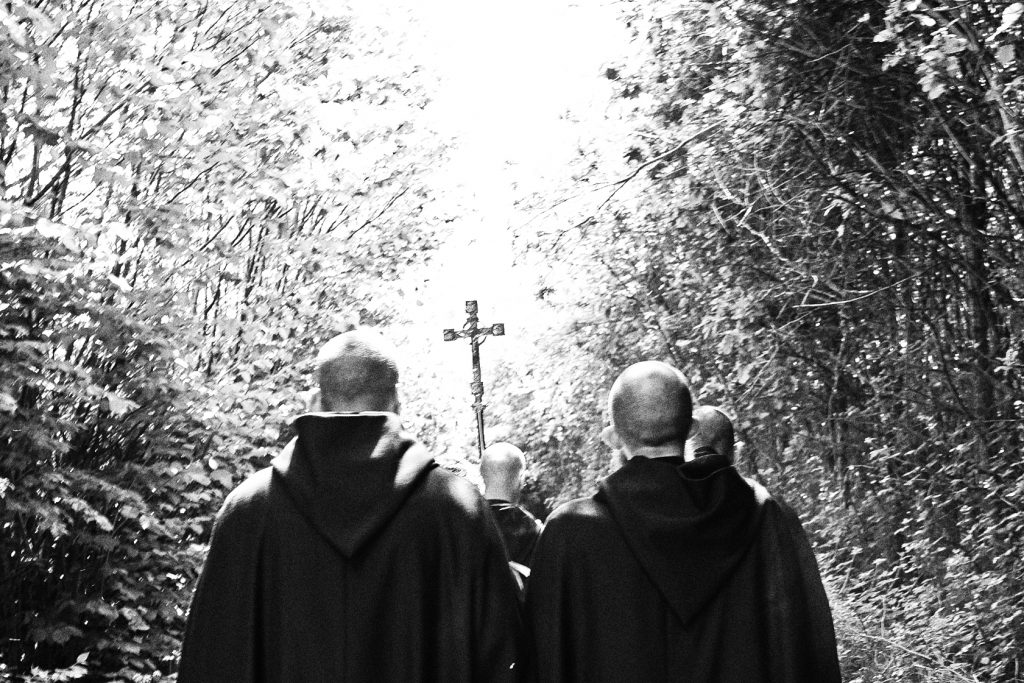 Corpus Christi Procession Through Silverstream Wood
1 Feb. 2 June. 2 Oct.
The fourth degree of humility is, that if in this very obedience hard and contrary things, nay even injuries, are done to him, he should embrace them patiently with a quiet conscience, and not grow weary or give in, as the Scripture saith: "He that shall persevere to the end shall be saved" (Matthew 24:13). And again: "Let thy heart be comforted, and wait for the Lord" (Psalm 26:14). And shewing how the faithful man ought to bear all things, however contrary, for the Lord, it saith in the person of the afflicted: "For Thee we suffer death all the day long; we are esteemed as sheep for the slaughter" (Psalm 43:22). And secure in their hope of the divine reward, they go on with joy, saying: "But in all these things we overcome, through Him Who hath loved us" (Romans 8:37). And so in another place Scripture saith: "Thou hast proved us, O God; Thou hast tried us as silver is tried by fire; Thou hast led us into the snare, and hast laid tribulation on our backs" (Psalm 65:9–10). And in order to shew that we ought to be under a superior, it goes on to say: "Thou hast placed men over our heads" (Psalm 65:10). Moreover, fulfilling the precept of the Lord by patience in adversities and injuries, they who are struck on one cheek offer the other: to him who taketh away their coat they leave also their cloak; and being forced to walk one mile, they go two. With Paul the Apostle, they bear with false brethren, and bless those that curse them.
A monk must not expect to be spared hard and contrary things. A man becomes humble by suffering humiliations; he becomes obedient by carrying out all that is commanded him. Saint Benedict speaks also of injuries. What are these injuries if not the damage done to one's pride? Before middle age, and sometimes even for a long while past it, a man can still entertain a rather glittering image of himself. All our glittering images of self must be shattered in order for the true self, "the new man, who according to God is created in justice and holiness of truth" (Ephesians 4:24) to emerge from the wreckage of the old man.  Saint Paul says, in Monsignor Knox's translation:
If true knowledge is to be found in Jesus, you will have learned in his school that you must be quit, now, of the old self whose way of life you remember, the self that wasted its aim on false dreams. There must be a renewal in the inner life of your minds; you must be clothed in the new self, which is created in God's image, justified and sanctified through the truth. (Ephesians 4:21–24)
Life in the monastery sometimes deals great walloping blows to the glittering image one persists in having of oneself. More often, however, the old man is rubbed to death with the various sandpapers of the common life, the invariable round of the daily observances, and the annoying little idiosyncracies of the brethren. Saint Benedict tells us that when we are walloped, or sandpapered, we should embrace these injuries patiently with a quiet conscience, and not grow weary or give in. And then, by way of fatherly encouragement, Saint Benedict adds the word of Our Lord: "He that shall persevere to the end shall be saved" (Matthew 24:13). Speaking as a father to his son, Saint Benedict goes on to say: "Let thy heart be comforted, and wait for the Lord" (Psalm 26:14). Humility comes to the man who is content to wait for the Lord.
Enquirers are eager to become postulants. Postulants cannot wait to receive the holy habit. Novices look forward to profession. All of this is as it should be, and still, the man who has not learned to let his heart be comforted and to wait for the Lord is not yet a monk. There comes a time in every monk's life when he says, at least to himself: "All my best efforts at changing myself, at quieting my thoughts, at correcting my faults, and at persevering in good have come to nought". Such a monk is not unlike the prophet Elijah under the juniper tree, who said: "It is enough for me, Lord, take away my soul: for I am no better than my fathers" (3 Kings 19:4). Far from being a moment of despair, this can be the occasion of a great leap of hope. As the dear old Canon Croset told me many years ago, standing in the rain in front of the grotto at Lourdes, "Little brother, one must die to all one's hopes before being able to hope only in God".
Saint Benedict goes to the sublime 8th Chapter of the Epistle to the Romans to nourish our hope in God alone. The verse chosen by Saint Benedict must be read in its context; it is a hymn to the triumph of the love of God in a man's heart and in his life:
Who will pass sentence against us, when Jesus Christ, who died, nay, has risen again, and sits at the right hand of God, is pleading for us? Who will separate us from the love of Christ? Will affliction, or distress, or persecution, or hunger, or nakedness, or peril, or the sword? For thy sake, says the scripture, we face death at every moment, reckoned no better than sheep marked down for slaughter. Yet in all this we are conquerors, through him who has granted us his love. Of this I am fully persuaded; neither death nor life, no angels or principalities or powers, neither what is present nor what is to come, no force whatever, neither the height above us nor the depth beneath us, nor any other created thing, will be able to separate us from the love of God, which comes to us in Christ Jesus our Lord. (Romans 8:34–39)
In all of this, the Blessed Virgin Mary plays an indispensable role. We know that Our Lady, in her humility and in her obedience to the plan of God, was no stranger to "hard and contrary things, nay even injuries". She and Saint Joseph were turned away "because there was no room for them in the inn" (Luke 2:7).  There was the anxiety and uncertainty of the flight into Egypt; the return to Nazareth; the loss of Jesus at the age of twelve; the sorrows of Jesus' public life; His bitter Passion; His death upon the Cross; the piercing of His side; and His burial. All of these are mysteries that secrete their particular grace into the soul of one who prays the Rosary. The man who takes up the beads when faced with "hard and contrary things, nay even injuries" is doing the best thing possible. He is allowing the Blessed Virgin to comfort his heart and, while telling his beads, is, as the psalmist enjoins, "waiting for the Lord". It is a good thing to wait for the Lord while quietly praying the Rosary. An excessive formalisation of the Rosary takes away something of its special charm and efficacy. It is enough to place oneself in Our Lady's presence and to begin to tell one's beads, confident that, at the end, this simple prolonged contact with her maternal Heart will have quieted one's soul and preserved one from growing weary, and from giving in to fear, weakness, sensuality, sadness, envy, vainglory, hopelessness, and how many other reprehensible inclinations.
The grace of "patience in adversities and injuries", of which Saint Benedict speaks at the end of the 4th degree, comes more easily to the man familiar with the dolours of the Mother of God from having prayed her Rosary. A man cannot tarry close to the Blessed Virgin Mary for any length of time and remain unaffected by her meekness, her silence, and her unfailing charity. Ask, then, for the intercession of the Mother of God in practicing the 4th degree of humility. Such a petition, the Blessed Virgin Mary will not refuse.