Veni, pater pauperum (IV:2)
May 20, 2018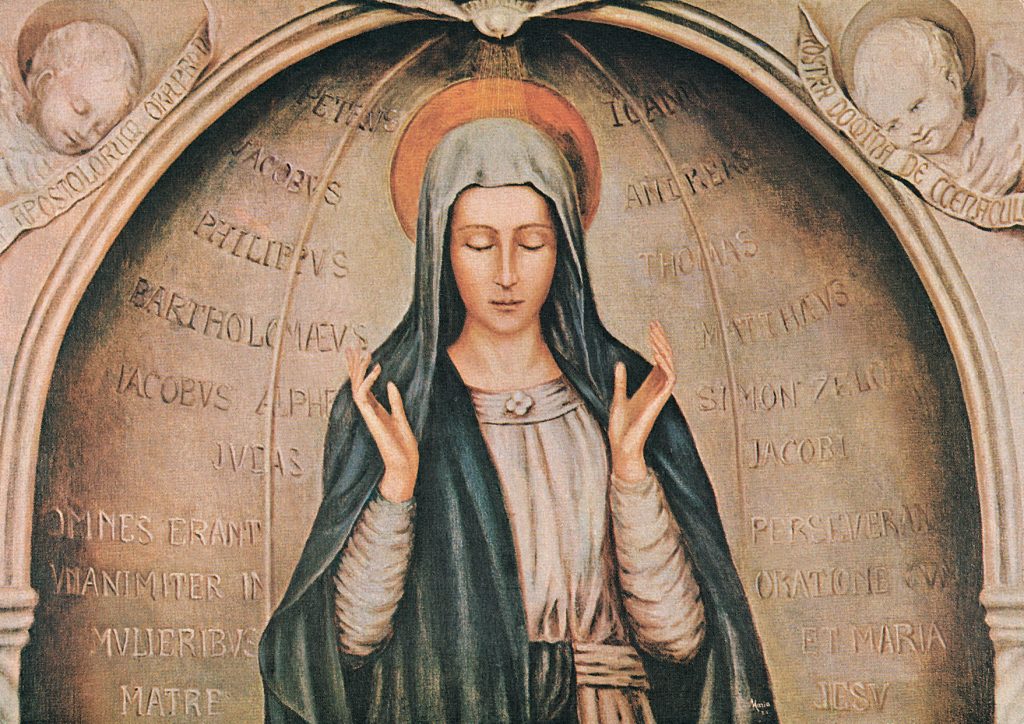 19 Jan. 20 May. 19 Sept.
22. Not to give way to anger.
23.  Not to harbour a desire of revenge.
24. Not to foster guile in one's heart.
25. Not to make a feigned peace.
26. Not to forsake charity.
27. Not to swear, lest perchance one forswear oneself.
28. To utter truth from heart and mouth.
29. Not to render evil for evil.
30. To do no wrong to anyone yea, to bear patiently wrong done to oneself.
31. To love one's enemies.
32. Not to render cursing for cursing, but rather blessing.
33. To bear persecution for justice's sake.
34. Not to be proud.
35. Not given to wine.
36. Not a glutton.
37. Not drowsy.
38. Not slothful.
39. Not a murmurer.
40. Not a detractor.
41. To put one's hope in God.
42. To attribute any good that one sees in oneself to God, and not to oneself.
43. But to recognise and always impute to oneself the evil that one doth.
I thank Father Subprior for replacing me this past week in Chapter. His teaching introduced you, once again, to Chapter IV, The Instruments of Good Works. All seventy–two Instruments are evidence of the presence and operations of the Holy Ghost in the life of a monk. Apart from the first two — to love the Lord God with all one's heart, all one's soul, and all one's strength, then one's neighbour as oneself — and the very last — never to despair of God's mercy — it may not be given to any one of us to excel in plying all seventy–two Instruments continuously and at the same time.
All things have their season, and in their times all things pass under heaven. A time to be born and a time to die. A time to plant, and a time to pluck up that which is planted. A time to kill, and a time to heal. A time to destroy, and a time to build. A time to weep, and a time to laugh. A time to mourn, and a time to dance. A time to scatter stones, and a time to gather. A time to embrace, and a time to be far from embraces. A time to get, and a time to lose. A time to keep, and a time to cast away. A time to rend, and a time to sew. A time to keep silence, and a time to speak. (Ecclesiastes 3:1–7)
So often as the Holy Ghost breaks into the life of a monk, He sets in motion one or another of the Instruments of Good Works in such wise that the whole community grows in harmony, with the labour of one brother preparing, or accompanying, or completing that of another. When Saint Benedict says that the workshop where we are to labour at all these things is "the cloister of the monastery, and stability in the community", he is, in effect, telling us that the spiritual craft engages the whole community day and night. Each member labours using the instrument given him.
But all these things one and the same Spirit worketh, dividing to every one according as he will. For as the body is one, and hath many members; and all the members of the body, whereas they are many, yet are one body, so also is Christ. For in one Spirit were we all baptized into one body, whether Jews or Gentiles, whether bond or free; and in one Spirit we have all been made to drink. For the body also is not one member, but many. (1 Corinthians 12:11–14)
So often as a brother takes up any one of the Instruments of Good Works, he labours for all. Every evil thought dashed against the rock who is Christ (50), and every tear and sigh to God (58) avails the whole body. We need one another; this is why we are cenobites, learning, as Saint Benedict says in Chapter I, "by the help and experience of many". Every time a brother prefers the love of Christ to a lesser love (21), or shows that he loves chastity (63), or prays for his enemies in the love of Christ (70) he is strengthening charity in the whole body and supporting the brother oppressed by temptation or doing battle with his thoughts.
And if one member suffer any thing, all the members suffer with it; or if one member glory, all the members rejoice with it. Now you are the body of Christ, and members of member. (1 Corinthians 12:26–27)
On this Pentecost morning, I should like to say something about the 41st Instrument: Spem suam Deo committere, "To put one's hope in God". Wheresoever the Holy Ghost is present, there will be hope. The Holy Ghost inspires hope. There will be seasons and hours in the life of every monk when he is tempted against hope. I have often noticed that when the devil drags, or pushes, or entices a man into some coarse and particularly humiliating sin, he is, in fact, seeking to reduce that man to such a state of discouragement, or disgust, or weariness that he can more easily be brought to sin against hope. Hell is a hopeless place, and the devil wants nothing more than to make this life an anticipation of hell by deceiving a man into believing that he is hopeless. Whenever such despairing thoughts enter your mind, send them quickly back to hell whence they came.
The Holy Ghost, in contrast, infuses hope into situations that we, left to ourselves, are quick to declare hopeless. Hope comes from heaven and leads to heaven. It is a great pity that Pope Benedict XVI's Encyclical Spe Salvi held the attention of the Church for so short a time. Its message of hope strikes me as becoming more timely with each passing day. Using very simple words, Pope Benedict says:
A first essential setting for learning hope is prayer. When no one listens to me any more, God still listens to me. When I can no longer talk to anyone or call upon anyone, I can always talk to God. When there is no longer anyone to help me deal with a need or expectation that goes beyond the human capacity for hope, he can help me. (Spe Salvi, 32)
Does a man stop praying because he has lost hope? Or does he lose hope because he has stopped praying? From everything I have observed, I must say that a man loses hope because he stops praying. Then, having lost hope, he uses that most distressing and painful of states to explain to himself why he can no longer pray, setting in motion a downward spiral into despair. The man brought low by suffering, or failure, or loss, or even by his own sin, remains capable of saying the one–word prayer that the liturgy of Pentecost puts on our lips again and again: Veni, Come!
Veni, Sancte Spiritus,
et emitte caelitus
lucis tuae radium.

Veni, pater pauperum,
veni, dator munerum,
veni, lumen cordium.

Come, thou Holy Spirit, come,
and from thy celestial home
shed a ray of light divine!

Come, thou Father of the poor!
Come, thou Source of all our store!
Come, within our bosoms shine.
The man who, moved by grace, even in the depths of dejection or when crippled by anxiety, utters this simplest and most powerful one–word prayer, "Come!", opens himself to hope. And the Apostle says:
And hope confoundeth not: because the charity of God is poured forth in our hearts, by the Holy Ghost, who is given to us. (Romans 5:5)
Every infusion of hope is an operation of the Holy Ghost through the Blessed Virgin Mary. So true is this that in the Salve Regina we call Our Lady, spes nostra, our hope. In whatever situation the Holy Ghost breathes hope into a soul, the Blessed Virgin Mary is also present: she is present by the effect of her maternal intercession; present by her interventions; and present by the graces that, ceaselessly, she dispenses to poor sinners. The liturgy places these words on the lips of the Blessed Virgin Mary:
I am the mother of fair love, and of fear, and of knowledge, and of holy hope. (Ecclesiasticus 24:24)
The dejected, fearful, despondent man who appeals to the Blessed Virgin Mary, the Mother of Holy Hope, will find her at his side: advocata nostra, "our advocate". Have you not noticed that Our Lady and the Holy Ghost are often called by the same names: Advocate, Cause of our joy, and Comfort of the afflicted? Where Mary goes the Holy Ghost goes also. So often as Mary's name is pronounced, the Holy Ghost hears it as a summons addressed to Him. The rosary is a prayer especially suited to souls tempted against hope. The rosary is a prayer of holy obstinacy; the repetition of the Aves opens the soul to an infusion of hope in a way that no other prayer does. This, at least, is my own experience. The simple act of telling one's beads is an effective use of the 41st Instrument of Good Works: Spem suam Deo committere, "To put one's hope in God".
Some of you know that I have been reading all this past week the biography of Dom Gérard, the founder of the abbey of Le Barroux. Among the many passages of the book that struck me, there are two that are, I think, directly related to a monk's practice of the 41st Instrument. Dom Gérard used to say to his novices: "When something is not going well in your spiritual life, look to see where you stand with regard to your devotion to Mary". I would say to you, "When you begin to feel hopeless, look to see where you stand with regard to your devotion to Mary".  As soon as a man opens his heart to Mary, she enters in, and with her enters the Holy Ghost with a great infusion of hope. When Dom Gérard was himself a Benedictine novice at Tournay, he wrote to his brother:
We have an altogether simple method for giving ourselves over to contemplation. I recite two or three rosaries a day and sometimes more. I had never understood the beauty and richness of Marian contemplation. It is the summing up of what is most beautiful in all that God has done.
The rosary uncomplicates contemplation. The rosary puts contemplation within the reach of ordinary, poor sinners, and contemplation is but the heightened exercise of the three theological virtues: faith, hope, and charity. I can promise you this: that if you are faithful to telling your beads, you will never fall deep into despair. If ever — from which I pray Our Lady to preserve you — you are tempted to despair, pick up the beads and start telling them, even if, at first, your Aves feel forced and mechanical. Stay at it. There is a reason why the rosary counts 150 Aves. It is the poor man's psalter and a powerful exorcism of the spirit of hopelessness. The rosary will be your lifeline. Put your hope in God, one bead at a time. You will be surprised by the hope that will rise in your heart, a hope that does not disappoint.