To fall frequently to prayer (IV:3)
May 21, 2018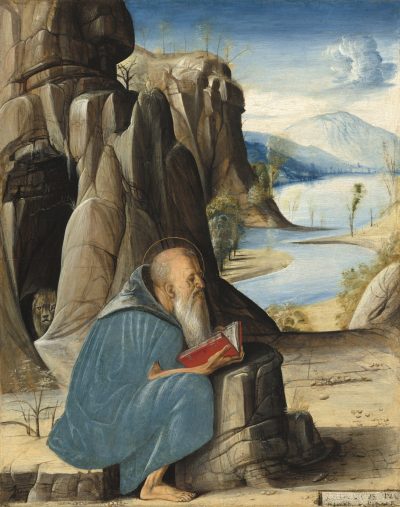 20 Jan. 21 May. 20 Sept.
44. To fear the Day of Judgment.
45. To be in dread of hell.
46. To desire with a special longing everlasting life.
47. To keep death daily before one's eyes.
48. To keep guard at all times over the actions of one's life.
49. To know for certain that God sees one everywhere.
50. To dash down on the (Rock) Christ one's evil thoughts, the instant that they come into the heart.
51. And to lay them open to one's spiritual father.
52. To keep one's mouth from evil and wicked words.
53. Not to love much speaking.
54. Not to speak vain words or such as move to laughter.
55. Not to love much or excessive laughter.
56. To listen willingly to holy reading.
57. To apply oneself frequently to prayer.
58. Daily to confess one's past sins with tears and sighs to God, and to amend them for the time to come.
59. Not to fulfil the desires of the flesh: to hate one's own will.
60. To obey in all things the commands of the Abbot, even though he himself (which God forbid) should act otherwise: being mindful of that precept of the Lord: "What they say, do ye; but what they do, do ye not."
61. Not to wish to be called holy before one is so: but first to be holy, that one may be truly so called.
On this first day of the glorious Octave of Pentecost, I should like to dwell with you on the 56th and 57th Instruments of Good Works, given that both of them imply the action of the Holy Ghost in a special way:
56. Lectiones sanctas libenter audire.
To listen willingly to holy reading.
57. Orationi frequenter incumbere.
To fall frequently to prayer.
To listen willingly — libenter, the word means gladly or readily — to holy readings. Saint Benedict does not speak of reading; he speaks rather of listening. One can, of course, listen to another read; one can also, and in a certain sense, one must listen to oneself read. The man whose eyes skim the page diagonally is not listening to what he is speed–reading. Saint Benedict uses the word audire, to listen, in reference to the public readings of the monastic day: in church, in the refectory, and at the close of the day, just before Compline. He refers also, I think, to the reading of individual monks; such reading would have been at least articulated by moving the lips. The ancients could not conceive of reading in a completely inaudible way. Reading always implied listening. In holy reading one inclines the ear of the heart to God, saying with the psalmist:
Audiam quid loquatur in me Dominus Deus, quoniam loquetur pacem in plebem suam, et super sanctos suos, et in eos qui convertuntur ad cor.
I will hear what the Lord God will speak in me: for he will speak peace unto his people: And unto his saints: and unto them that are converted to the heart. (Psalm 84:9)
The emphasis on listening brings us back to the opening of the Prologue of the Holy Rule and to the image of Our Our Lady, the Virgo Audiens.
Obsculta, o fili, praecepta magistri, et inclina aurem cordis tui.
Hearken, O my son, to the precepts of thy Master, and incline the ear of thine heart. (Prologue)
The brother who is listening to what he reads, or who listens well to what is being read by another, allows the Holy Ghost to inscribe the word on the tablet of his heart or, if you will, he so receives the impression of the word and keeps it, that it can, at any moment, serve to ignite the flame of prayer within him. Reading is an impression of the word; prayer is the expression of it. At the Annunciation, the Blessed Virgin Mary consented to the impression of the Word: "Be it done to me according to thy word" (Luke 1:38). At the Visitation, she gave expression to the Word when she said:"My soul doth magnify the Lord, and my spirit hath rejoiced in God my Saviour" (Luke 1:46–47) .
A monk never stops listening to the Word of God, never stops listening for the Word of God. A monk listens for the Word of God in the way a mother listens for the cry of her small child, or in the way a lover listens for the sound of the footsteps of the one he loves. He says with the bride of the Canticle:
Vox dilecti mei; ecce iste venit, saliens in montibus, transiliens colles.
The voice of my beloved, behold he cometh leaping upon the mountains, skipping over the hills. (Canticle 2:8)
Men coming to the monastery out of today's digital culture may find the sort of reading that is listening difficult. I do worry that men may one day knock at our door with little or no experience of reading anything apart from what appears before them on a computer screen. An integral part of monastic conversion today is learning how to read and how to listen, attentively, gratuitously, and chastely. The brother who listens attentively, that is, with an undivided heart, imitates Mary of Bethany "who sitting also at the Lord's feet, heard his word" (Luke 10:39). The brother who listens gratuitously does so libenter, that is, freely and with a glad heart, not because he is obligated to do so or out of constraint.
What do I mean by reading chastely? When a man approaches a text as a consumer, to extract something from it that will empower him, or give him pleasure, or make him rich, that man is not reading chastely. A Benedictine monk must learn to read chastely; he will approach the text open before him with reverence, with wonder, with a readiness to welcome humbly and gratefully whatever is offered him. Words are sacramental; they conceal and reveal The Word. When a monk reads or listens to holy words, under the overshadowing of the Holy Ghost, they allow him to taste the sweetness of God, or to be burned by the fire of God, or pierced by the love of God.
Ask the Blessed Virgin Mary for the grace of the 56th Instrument of Good Works: to listen gladly to holy reading. Learn to read in the company of Our Lady. Interrupt your reading now and again with an Ave Maria. And when you have finished the time allotted to holy reading, entrust all that you have read to Mary, remembering what we read in the Gospel concerning her Immaculate Heart:
Maria autem conservabat omnia verba hæc, conferens in corde suo.
But Mary kept all these words, pondering them in her heart. (Luke 2:19)
Et mater ejus conservabat omnia verba hæc in corde suo.
And his mother kept all these words in her heart. (Luke 2:51)
The 57th Instrument of Good Works is: Orationi frequenter incumbere, which I like to translate as,"To fall frequently to prayer". The notion of falling to prayer suggests that prayer is the "default setting" of a monk's heart. It implies that the son of Saint Benedict is so drawn to God that whenever is mind is sufficiently free from other things, it comes to rest in the heart, where God is secretly present and where prayer is ceaseless. There are, to be sure, many ways of arriving at the ceaseless prayer of the heart. I have spoken to you often of Cassian's Conferences IX and X on prayer. I have shared with you my own experience of coming, by God's gift alone and not by any merit of mine, to an almost continuous repetition of the little invocation, "O Jesus, King of Love".
Allow me now to say something about the prayer that, at least for me, has always unblocked my inability to pray. The inability to pray is at the root of every other difficulty in the monastic life. Just think of it: a man leaves the world; tears himself away from the people and places he loves; renounces most of the things that gave him pleasure or, at least, provided him with relief from the pressures of life; and enters the monastery. Now, why does a man enter the monastery — especially one like our own with enclosure, silence, a demanding choral Office, and adoration of the Blessed Sacrament — if not to pray? What happens when a monk, in spite of his best efforts, finds himself incapable of praying? Do not be so naive as to think that this never happens; and do not be so presumptuous as to think that it will never happen to you. Let's just say that it does happen. God permits such things, obliging us to hold tightly to Our Lord's word to the Apostles concerning Lazarus: "This sickness is not unto death, but for the glory of God: that the Son of God may be glorified by it." (John 11:4). A sickness it is, and not one that garners one much sympathy because it is invisible. When the symptoms become acute enough to be noticed, the malady is already far advanced. It is a terrible thing when a brother says, "Here I am, a monk, and an enclosed monk at that, a man whose whole life is defined by prayer, and I cannot pray". Such a brother is right to identify with the prophet Elijah in the desert:
And when he was there, and sat under a juniper tree, he requested for his soul that he might die, and said: It is enough for me, Lord, take away my soul: for I am no better than my fathers. (3 Kings 19:4)
I have known monks who found themselves in this very state, men who gave up everything to embrace a way of life in which they hoped to pray as they breathed, and who, after some time, found that they could no longer pray at all. The Divine Office becomes an intolerable burden; adoration of the Most Blessed Sacrament becomes an exhausting fight against debilitating onslaughts of negative thoughts; and lectio divina becomes a struggle against sleep or disquieting distractions, or both. A brother in this state is likely to conclude: "If a monk is, essentially, a man who prays, then I am no monk at all. What am I doing here? Was this all a cruel trick? Did God lead me me here to sabotage me?" The whole situation puts one in mind of the words of the children of Israel to Moses:
Would to God we had died by the hand of the Lord in the land of Egypt, when we sat over the flesh pots, and ate bread to the full. Why have you brought us into this desert, that you might destroy all the multitude with famine? (Exodus 16:3)
Is there any remedy for the brother so afflicted There is, and it is found in the outstretched hand of the Blessed Virgin Mary. It is the rosary, the poor man's Divine Office, and the prayer most often recommended by the Mother of God to little children, to the poor, to the tempted, and to the sick. The astonishing thing about the rosary is that it can be long enough to allow a man to sink deeply into the presence of God, and short enough — a single decade, for example — to allow a man to find a foothold and catch his breath. I have known men, even monks, for whom prayer had become impossible, who, in obedience to a spiritual father, begrudgingly took up the rosary as a last–ditch attempt to save, not just their monastic vocation, but even their very faith, and who found within a short time that whatever obstacle lay between them and God, between them and prayer, had been removed.
I have known men whose life with God had broken down completely, men on the very edge of despair, who began to tell their beads as best they could, and who, within days and sometimes within hours, began to sense relief. Never was it known that anyone who fled to Mary, stammering an Ave, has been sent away empty, or been refused the alms that she distributes on behalf of her Divine Son. I have known men in the grip of anger who became meek as lambs after beginning to pray the rosary; I have known men, beleaguered by temptations to intellectual and spiritual pride, who became humble after taking up the beads. I have known men tortured by demons of sexual impurity and driven half–mad by the itch of lust who, after undertaking to say the rosary regularly, found that they began to love chastity, just as Saint Benedict enjoins, even to the point of finding joy in the practice of perfect continence.
If you desire the grace of Saint Benedict's 57th Instrument of Good Works, "To fall frequently to prayer", begin by saying the rosary as best you can, as often as you can, and as much as you can. I promise you that the Blessed Virgin Mary will respond to your Aves with a divinely disproportionate generosity. Everything in your life will go better. Things that, formerly, you found rebarbative or impossible will become attractive and easy. Mary's Psalter is a pledge of supernatural relief. The monk who takes up his beads and perseveres in telling them, whatever his infirmities of body or of mind, will not be disappointed in his hope. The rosary is the way to fall frequently to prayer.