Et studeat plus amari quam timeri (LXIV:2)
April 25, 2018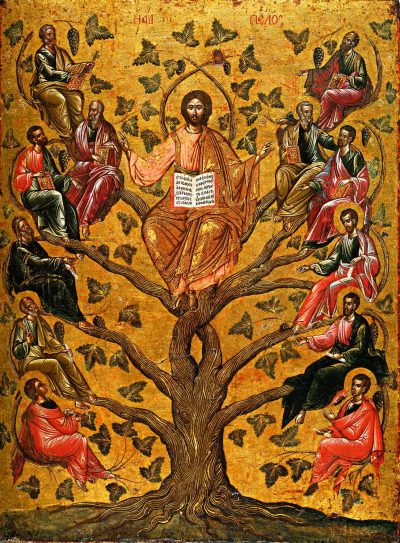 CHAPTER LXIV. Of the Appointment of the Abbot
Continued from 20 Apr.
Let him study rather to be loved than feared. Let him not be violent nor over anxious, not exacting nor obstinate, not jealous nor prone to suspicion, or else he will never be at rest. In all his commands, whether concerning spiritual or temporal matters, let him be prudent and considerate. In the works which he imposeth, let him be discreet and moderate, bearing in mind the discretion of holy Jacob, when he said "If I cause my flocks to be overdriven, they will all perish in one day." Taking, then, the testimonies, borne by these and the like words, to discretion, the mother of virtues, let him so temper all things, that the strong may have something to strive after, and the weak nothing at which to take alarm. And, especially, let him observe this present Rule in all things; so that, having faithfully fulfilled his stewardship, he may hear from the Lord what that good servant heard, who gave wheat to his fellow-servants in due season: "Amen, I say unto you, over all his goods shall he place him."
Et studeat plus amari quam timeri. The abbot is to strive to make himself more loved than feared. It is love, that informs every relationship in the monastic family, for the monastery is the household of God.
Dearly beloved, let us love one another, for charity is of God. And every one that loveth, is born of God, and knoweth God. He that loveth not, knoweth not God: for God is charity. (1 John 4:7–8)
Saint Benedict wants his monks to love their abbot; he returns to this in Chapter LXXII: Abbatem suum sincera et humili caritate diligant, "Let them love their Abbot with sincere and humble affection". It is a great misfortune when the abbot is cast in the role of the military commander, or the headmaster, or the CEO. The abbot is, first of all, a father, and as such, he must do whatever he can to make himself more loved than feared. He does this not by falling into an ambiguous sentimentality, but by showing his sons, in every way possible, that he stands with them, that he is present to them, and that he prays for them.
Each man enters the monastery with his own family history, marked, in one way or another, by the complexity of the relationship with his father. A man's relationship with his father is the foundational experience of his identity. It is, in a sense, the rock upon which a man builds his own life. Most men, I think, spend at least half of their lives working out and working through this fundamental relationship. A man finds himself through his father.
Every man enters the monastery with unfinished business, but nothing so affects a man as a deficit of paternal presence, affirmation, and discipline. The death of a father, or the prolonged or regular absence of a father for work or travel, can leave a man with a underlying fear of being abandoned. The child who feels neglected or abandoned by his father may grow up to become a man haunted by the fear of being abandoned, or insecure, or beset with an insatiable need for affirmation and approval. A man does not leave the unfinished business of growing up at the door of the cloister; he brings it into the monastery with him. One understands why some men are ambivalent about the paternal character of the abbot's authority. Some brothers crave a strong fatherly presence; others strain against it; and still others find it reassuring, challenging and stabilising.
There is a Jewish story about a group of lads studying the Torah in a village school in Belarus in the last century. The rabbi wanted his young disciples to reflect deeply on the question of Joseph to his brothers in Genesis 44:19: "Have you a father or a brother?" When the lads were unable to give the right answer, the teacher explained that Joseph's question meant this:
Are you, rooted in your father? Do you look upon him the way the branches, or the blossoms, look upon the roots of the tree? Do you look upon your father as the feeder, as the foundation of your existence? Do you look upon him as the provider and sustainer of your existence? Or are you a band of rootless shepherds who forget their origin, and travel and wander from place to place, from pasture to pasture?
I find it striking that the rabbi took up the very image used by Our Lord:
I AM the true vine; and my Father is the husbandman. Every branch in me, that beareth not fruit, he will take away: and every one that beareth fruit, he will purge it, that it may bring forth more fruit. Now you are clean by reason of the word, which I have spoken to you. Abide in me, and I in you. As the branch cannot bear fruit of itself, unless it abide in the vine, so neither can you, unless you abide in me. I am the vine; you the branches: he that abideth in me, and I in him, the same beareth much fruit: for without me you can do nothing. If any one abide not in me, he shall be cast forth as a branch, and shall wither, and they shall gather him up, and cast him into the fire, and he burneth. If you abide in me, and my words abide in you, you shall ask whatever you will, and it shall be done unto you. In this is my Father glorified; that you bring forth very much fruit, and become my disciples. (John 15:1–8)
Then, addressing his students directly, the old rabbi asked:
Are you modest and humble? Do you admit that the old father represents an old tradition? Do you believe that the father is capable of telling you something new, something exciting? Something challenging? Something you did not know before? Or are you insolent, arrogant, and vain, and deny your dependence upon your father, upon your source?
There will always be monks who, for one reason or  another, were kept from growing up beneath a father's affirming gaze. For these, the fatherhood of the abbot may awaken faith in the fatherhood of God, and so open to them a path of restoration. The abbot, who is believed to hold the place of Christ in the monastery (Chapter II), is a father in the image of Christ, the New Adam, who was a father in the midst of His apostles. The apostles discovered the fatherhood of God in the countenance of Jesus. They heard it in His teachings. They sensed it in drawing close to His Heart. They saw it in the signs of mercy and of power that He worked in His Father's Name.
Every monk is called to fatherhood through the experience of sonship. One learns to be a father by being a son. Even while exercising spiritual fatherhood over his monks, the abbot remains a little child, a son beloved of the Father, full of confidence in His providence and ready, at every moment, to embrace His Will as it unfolds. The patterns of relationship in the monastery are at once paternal, filial, and fraternal. The monastery fully developed in charity is not one in which the monks are only brothers one to another; it is one in which each monk, welcomed and affirmed as a son by the abbot, grows into the grace of his own fatherhood. Thus does Saint Benedict says in Chapter LXIII:
Let the younger brethren, then, reverence their elders, and the elder love the younger. In calling each other by name, let none address another by his simple name; but let the elders call the younger brethren Brothers, and the younger call their elders Nonni (that is Reverend Fathers), by which is implied the reverence due to a father.
As a monk matures into fatherhood, he becomes for those who younger in the monastic family, a strong, affirming, and consoling presence, a father capable calling others to a more abundant life, and of collaborating in the fatherhood of the abbot. This Saint Benedict shows in Chapter XXVII, where he provides for the care of an excommunicated brother:
Let the Abbot shew all care and solicitude towards the offending brethren, for "they that are whole need not a physician, but they that are sick." To which end he ought, as a wise physician, to use every means in his power, sending some brethren of mature years and wisdom, who may, as it were secretly, console the wavering brother, and induce him to make humble satisfaction. Let them comfort him, that he be not overwhelmed by excess of sorrow; but as the Apostle saith, "Let charity be strengthened towards him," and let all pray for him.