What Are the Instruments of Good Works (IV:IV)
January 21, 2018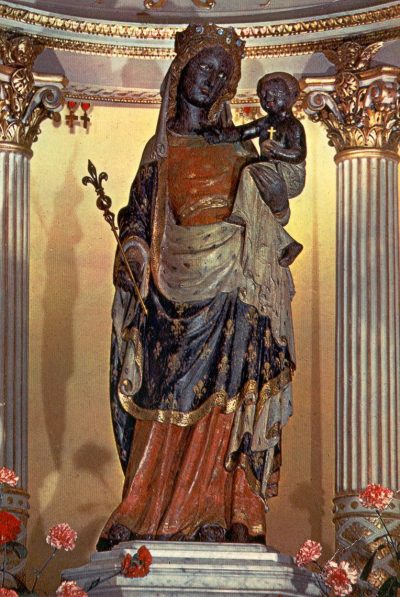 21 Jan. 22 May. 21 Sept.
62. Daily to fulfil by one's deeds the commandments of God.
63. To love chastity.
64. To hate no man.
65. Not to give way to jealousy and envy.
66. Not to love strife.
67. To fly from vainglory.
68. To reverence the Seniors.
69. To love the juniors.
70. To pray for one's enemies in the love of Christ.
71. To make peace with an adversary before the setting of the sun.
72. And never to despair of God's mercy.

Behold, these are the tools of the spiritual craft, which, if they be constantly employed day and night, and duly given back on the day of judgment, will gain for us from the Lord that reward which He Himself hath promised – "which eye hath not seen, nor ear heard; nor hath it entered into the heart of man to conceive what God hath prepared for them that love Him." And the workshop where we are to labour at all these things is the cloister of the monastery, and stability in the community.
• Chapter IV ends with ten commandments of God for life together in charity and in peace. Saint Benedict would have each of his monks fulfill by his deeds this closing series of commandments. Saint Benedict, who was no stranger to the temptations of the flesh, begins with the love of chastity. The man who loves chastity will, even if he must pass through the crucible of many temptations and humiliating reversals, enter into the joy of chastity. "Love chastity", says Saint Benedict, knowing full well that the man who loves chastity will be a happy man, and that is good and pleasant to live in community with men who are happy. Vice, be it unchastity or any other vice, has never made a man happy. On the contrary, the signature of vice is unhappiness, sadness, and perpetual dissatisfaction. Saint Benedict enjoins his monks to love chastity because he wants them to be happy men, men capable of singing with the Psalmist: "Behold how good and how pleasant it is for brethren to dwell together in unity" (Psalm 132:1).
• Hatred is toxic. Saint Benedict says, "Hate no man". Satan seeks, by every means at his disposal, to sow the seeds of enmity among brethren. Hatred does not declare itself as such straightaway. It begins as a petty annoyance, as an insuperable antipathy. And it grows. It grows in the dark. And one day, there is hatred in one's heart. One must react vigorously to the very first movements of antipathy, however subtle they may be, lest they grow into the kind of thing that foments discord, detraction, backbiting, and division.
• Saint Benedict recognises the dangers presented by jealousy and envy. Jealousy rears its ugly head when one feels that who one is, or what one has — one's special gifts, one's place in the community, the place one holds in the affection of another — is threatened by another. Envy occurs when one wants what another has: material things, physical or intellectual attributes, talents, and friendships. One in the grip of jealousy or envy begins to look upon one's brother with a jaundiced eye. Jealousy and envy can so blur one's vision that one's entire perception of reality becomes distorted. Thoughts of jealousy and envy must be, as Saint Benedict says, dashed down on the Rock, that is Christ, the instant that they come into the heart, and laid open to one's spiritual father. This latter point can be difficult and humiliating. No one likes to admit feelings of jealousy and envy. All the same, exposing them to the light is their undoing.
• Saint Benedict says that his monks are not to love strife. You may have known individuals who love strife: such individuals thrive on conflict. They need to have an enemy at all times. They are not content unless they are discontent, and not at peace unless they are at odds with someone. The lover of strife thinks, "If I cannot get close to the one I hate, I can, at least, hate the one to whom I close". We see this kind of thing played out in families and in the workplace. In the monastery, where emotions are easily magnified by the observances of silence and enclosure, the love of strife is particularly dangerous and can threaten the peace of the whole community.
• Saint Benedict would have his monks fly from vain–glory. Vain–glory is, some would say, an old–fashioned sort of word; few people today have any notion of what the word means. Vainglory comes from the Greek κενοδοξία, literally empty glory. It is a capital vice; that is, a vice that gives birth to other vices. The man in the grip of vainglory wants to be seen as excellent, superior, surpassing others in virtue, knowledge, ability, or physical attributes. Saint Thomas (Summa II:2, q. 132) says that the end of vainglory is the manifestation of one's own excellence; he identifies the daughters of vainglory as follows: boasting, love of novelties, hypocrisy, obstinacy, discord, contention, and disobedience.
• Reverence for the seniors and love for the juniors is an expression of charity and the assurance of peace in a community. When seniors are set against juniors and juniors against seniors, as sometimes happens in monasteries, the community falls into sterility, vocations dry up, decadence enters in, and mortal decline accelerates. In our community, as we grow in number, we must do everything to put into practice these two instruments of good works. If each brother reverences the fathers senior to him and loves the brothers junior to him, our monastery will flourish, vocations will abound, observance will be good, and our life will be fruitful in accord with Our Lord's word, "In this is my Father glorified; that you bring forth very much fruit" (John 15:8).
• To pray for one's enemies in the love of Christ and to make peace with an adversary before the setting of the sun are two indispensable instruments. Praying for one's enemies can bring about miracles of grace. The prayer of forgiveness and reparation that we distribute has changed lives and brought peace to hearts long troubled by the refusal to forgive. Making peace with one's adversary (or with one perceived as an adversary) fosters humility, builds up charity, strengthens unity, and produces gladness. Holding on to enmity causes one to swell up with pride, increases antipathies, foments division, and lodges sadness in the cloister.
• And so we come to the 73rd and last instrument of good works: "And never to despair of God's mercy". Be alert to the tactics of the devil. He is forever trying to push souls, or drag them, or get them to throw themselves, into the pit of despair. He does this principally by whispering: "Look at yourself. You are a failure, a bad monk, a vice–ridden wretch and there is no hope for you, no grace, no mercy. Just accept this state of things and get on with your miserable existence. You might as well live a desperate little life because you are, in any case, going to die in despair". As soon as you begin to hear such despicable diabolical insinuations, run— do not walk — run to the Mother of God and cast yourself at her feet. Blurt out to her all that you are feeling; hold nothing back; tell her the whole sorry tale. (Not for nothing do we have in our monastery a statue of Our Lady of Good Deliverance; it was at the feet of this statue that Saint Francis de Sales, in the throes of a crippling temptation to despair, stammered a Memorare, and found himself freed from despair and filled with trust in the love of God.) And, then, go to your spiritual father and ask him to help you send all such despicable diabolical insinuations back to hell whence they came in the first place. Even if a monk has failed to implement the 72 first instruments of good works, he can still lay hold of the 73rd, and by means of it, draw down the great strong arms of the mercy of God, who desires nothing more than to lift him out of his misery and press him against His Heart.
Saint Benedict says that "the workshop where we are to labour at all these things is the cloister of the monastery and stability in the community". A monastery is, in a very real way, a "sheltered workshop". We are, all of us, fragile men, souls at risk, travelers wearied and bruised along the way. Saint Aelred says that the "singular and supreme glory" of his abbey, Rievaulx, was that it taught "tolerance of the infirm and compassion with others in their necessities". Among the most subtle and destructive temptations that can befall a monk are those against enclosure and stability. The monk who entertains the idea of leaving the sheltered workshop of the cloister, should he carry out his design, risks leaving behind him all 73 instruments of good works, including the last one. There are too many tragic stories of monks who, having been deceived by devil and seduced into leaving the monastery, found themselves washed up amidst the flotsam and jetsome of this world's moral wreckage. It is an old story, as old as the drama of the first pages of Genesis and of the temptations of Our Lord Himself. Saint Benedict unmasks this last temptation and assures us that for the man who perseveres, there will be, at the end, and even in little glimpses and forestastes along the way, "things no eye has seen, no ear has heard, no human heart conceived, the welcome God has prepared for those who love him" (2 Corinthians 2:9).