Epiphany Novena Asking for Priest Adorers
January 5, 2018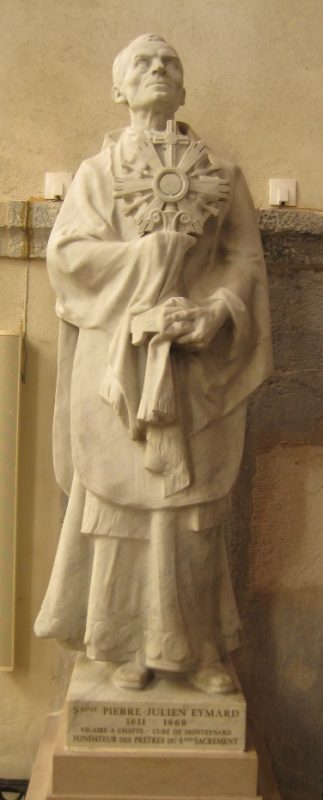 One–hundred–sixty–one years ago, on the feast of the Epiphany, January 6, 1857, Saint Peter Julian Eymard inaugurated the solemn exposition of the Most Blessed Sacrament by which his Society of the Blessed Sacrament came to life. The movement of Thursdays of Adoration and Reparation for Priests, begun eleven years ago, on October 29, 2007, inspired the following novena. The desire of the Heart of Jesus is that there should be priest adorers and reparators: priests who will adore for those who do not adore, priests who will make reparation for those who do not. Our Lord asks souls to remain in adoration before His Eucharistic Face, offering all the priests of the Church to His Open Heart present in the Sacrament of His Love.
January 6 — 14
Antiphon: And when they were come into the house, they found the Child with Mary His Mother, and fell down and adored Him.
V. Arise, shine, O Jerusalem, for thy light is come.
R. And the glory of the Lord is risen upon thee.
Let us pray.
O God, who by the leading of a star, didst manifest Thine Only-Begotten Son to the Gentiles, mercifully grant that we, having been led unto Him by the light of faith, may, with grateful hearts, ceaselessly adore Him present in the Most Holy Sacrament of the Altar, Who is our Mighty King, our Great High Priest, and our Immaculate Victim, and Who liveth and reigneth with Thee, in the unity of the Holy Spirit, one God, world without end. Amen.
Antiphon: The Priests shall be holy; for the offerings of the Lord made by fire, and the bread of their God, they do offer, therefore they shall be holy.
V. Pray for us, Saint Peter Julian.
R. That we may be made worthy of the promises of Christ.
Let us pray.
O God, Who through the preaching and example of Saint Peter Julian Eymard, didst renew the priesthood of Thy Church in holiness and inflame many souls with zeal for the adoration of the Most Holy Sacrament of the Altar; we beseech Thee, through his intercession, to gather priests of one mind and one heart, from the rising of the sun to the setting thereof, to keep watch in adoration before the Eucharistic Face of Thine Only-Begotten Son, Our Lord Jesus Christ and to abide before His Open Heart, in reparation for those who forsake Him, hidden in the tabernacles of the world, and in thanksgiving for the mercies that ever stream from the Sacred Mysteries of His Body and Blood. Who liveth and reigneth with Thee in the unity of the Holy Spirit, one God, world without end. Amen.