Chapter II: Our Pædagogue, the all-benignant Word
January 11, 2018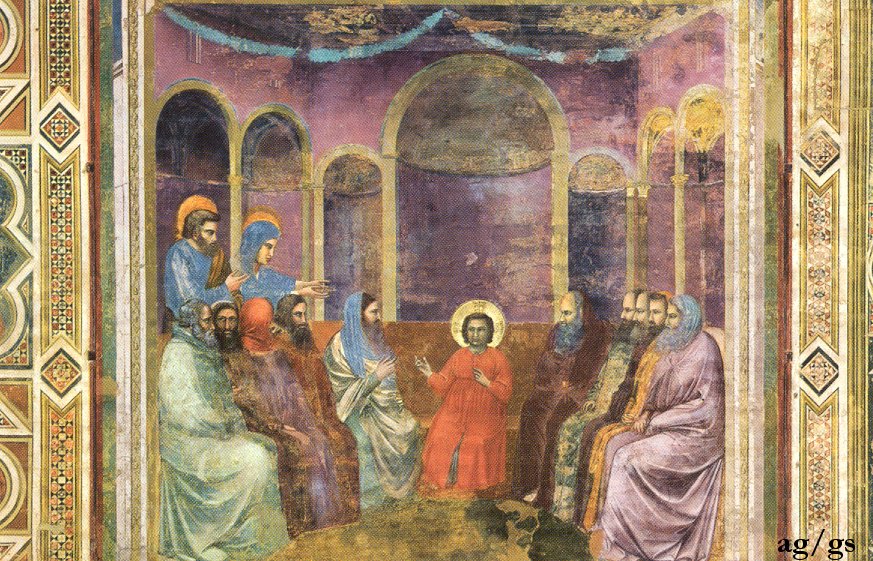 11 Jan. 12 May. 11 Sept.
Therefore, when anyone receiveth the name of Abbot, he ought to govern his disciples by a two-fold teaching: that is, he should shew forth all goodness and holiness by his deeds rather than his words: declaring to the intelligent among his disciples the commandments of the Lord by words: but to the hard-hearted and the simple minded setting forth the divine precepts by the example of his deeds. And let him shew by his own actions that those things ought not to be done which he has taught his disciples to be against the law of God; lest, while preaching to others, he should himself become a castaway, and God should say to him in his sin: "Why dost thou declare My justice, and take My covenant in thy mouth? Thou hast hated discipline, and hast cast My words behind thee." And again: "Thou who sawest the mote in thy brother's eye, didst thou not see the beam in thine own?"
Saint Benedict returns today to the importance of the name of abbot. While he only uses the designation maior (superior) once at the beginning of this chapter, he repeats the name abbot seven times. From this, it is clear that Saint Benedict wants to impress on all that the superior is, above all else, a father in Christ. The abbot is to be fatherly in all that he says and does, and so reflect the fatherhood of God. This he will do in proportion to his union with Christ. You will recall Our Lord's exchange with the Pharisees:
They said therefore to him: Where is thy Father? Jesus answered: Neither me do you know, nor my Father: if you did know me, perhaps you would know my Father also. (John 8:19).
The abbot, united to Christ in His filial relationship to the Father, will learn to make the words of Our Lord his own:
I do nothing of myself, but as the Father hath taught me, these things I speak: And he that sent me, is with me, and he hath not left me alone: for I do always the things that please him. (John 8:28–29)
In reading and re–reading the correspondence of Blessed Columba Marmion, I have come to appreciate the immense fatherly warmth, and tenderness, and strength that characterised his relations with his sons, the monks of Maredsous. Even when Abbot Marmion had to deal somewhat severely with recalcitrant and self–willed monks, he did so in the most fatherly way, always making "all goodness and holiness" his determining principle.
The same approach does not suit all. Clement of Alexandria has this beautiful passage in which he shows how Christ heals before He teaches, for a soul laid low by infirmity is in no position to assimilate knowledge.
There is a wide difference between health and knowledge; for the latter is produced by learning, the former by healing. One, who is ill, will not therefore learn any branch of instruction till he is quite well. For neither to learners nor to the sick is each injunction invariably expressed similarly; but to the former in such a way as to lead to knowledge, and to the latter to health. As, then, for those of us who are diseased in body a physician is required, so also those who are diseased in soul require a pædagogue to cure our maladies; and then a teacher, to train and guide the soul to all requisite knowledge when it is made able to admit the revelation of the Word. Eagerly desiring, then, to perfect us by a gradation conducive to salvation, suited for efficacious discipline, a beautiful arrangement is observed by the all–benignant Word, who first exhorts, then trains, and finally teaches. (Clement of Alexandria, The Pædagogue, Chapter 1)
Our father Saint Benedict suggests that not all monks are capable of receiving the abbot's teaching in the form of discourses and even Chapter talks! Saint Benedict knows that in every monastery there will be "hard-hearted and simple minded" brethren. This does not mean that such brethren are devoid of good will and intelligence. Saint Benedict knows that some men learn best by doing and watching others do, while other men learn by listening to expositions of doctrine and by study. The abbot, mindful of what Clement of Alexandria says, must accommodate both types of men with the appropriate pedagogy, in imitation of Christ, the Divine Pædagogue. He will teach the first type by giving the example of right monastic living, and by living alongside his monks to encourage them, comfort them, and cheer them when they are tempted to sadness. He will teach the second type by his Chapter talks and sermons, by choosing books for the refectory that edify and enlighten, and by guiding each brother's personal reading.
In all his teaching the abbot seeks to direct his sons to the Word. The work of the abbot is to introduce souls to the Word. The abbot's task is to send souls to the feet of the Word who waits for them in the Sacrament of His Love, so that Christ may say of them what He said of Mary of Bethany: "These have chosen the best part, which shall not be taken away from them" (cf. Luke 10:42).