What kind of Man the Cellarer of the Monastery is to be (I)
November 7, 2017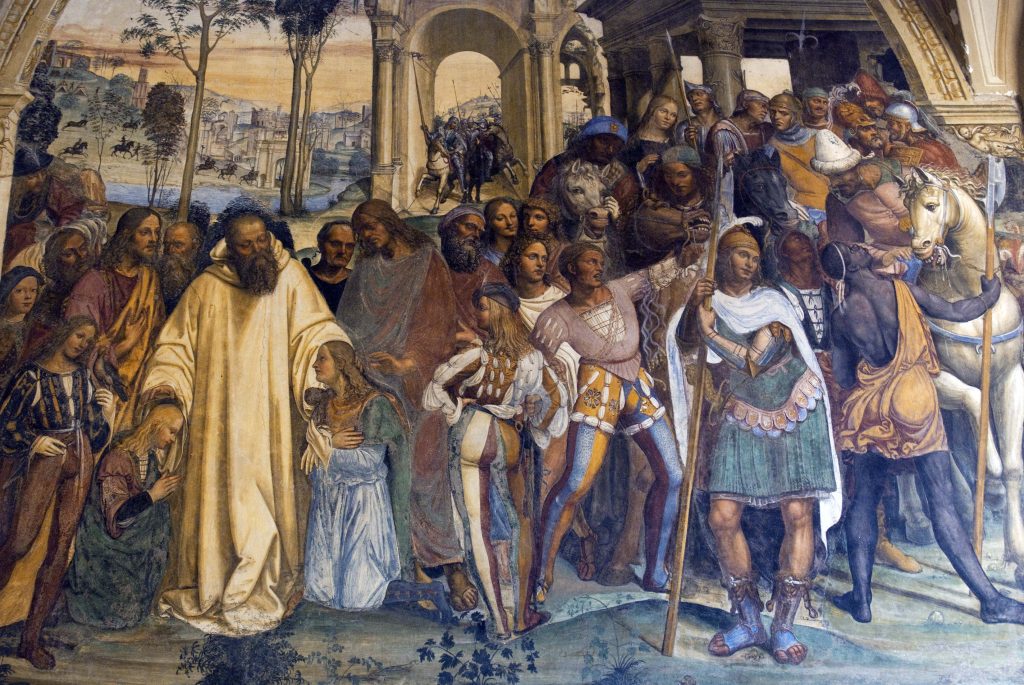 CHAPTER XXXI. What kind of Man the Cellarer of the Monastery is to be
8 Mar. 8 July. 7 Nov.
Let there be chosen out of the community, as Cellarer of the Monastery, a man wise and of mature character, temperate, not a great eater, not haughty, nor headstrong, nor arrogant, not slothful, nor wasteful, but a God-fearing man, who may be like a father to the whole community. Let him have the care of everything, but do nothing without leave of the Abbot. Let him take heed to what is commanded him, and not sadden his brethren. If a brother ask him for anything unreasonably, let him not treat him with contempt and so grieve him, but reasonably and with all humility refuse what he asks for amiss. Let him be watchful over his own soul, remembering always that saying of the Apostle, that "he that hath ministered well, purchaseth to himself a good degree." Let him have especial care of the sick, of the children, of guests and of the poor, knowing without doubt that he will have to render an account of all these on the Day of Judgment. Let him look upon all the vessels and goods of the Monastery as though they were the consecrated vessels of the altar. Let him not think that he may neglect anything: let him not be given to covetousness, nor wasteful, nor a squanderer of the goods of the Monastery; but do all things in proper measure, and according to the bidding of his Abbot.
Qui omni congregationi sit sicut pater. "Let him be like a father to the whole community." Yesterday, in the light of Chapter XXX we reflected on the boys of the monastery, that is, on the need to recognise, educate, and correct our own want of maturity and areas of arrested development. Today, Saint Benedict, in speaking of the qualities of the cellarer, says that he is to be like a father to the whole community. In the space of two days, we go from boyhood to fatherhood. This is the lifetime journey of every monk. In setting forth the qualities required of the Father Cellarer, Saint Benedict draws upon the Apostle's portrait of a bishop in the First Epistle to Timothy and in the Epistle to Titus:
It is well said, When a man aspires to a bishopric, it is no mean employment that he covets. The man who is to be a bishop, then, must be one with whom no fault can be found; faithful to one wife, sober, discreet, modest, well behaved, hospitable, experienced in teaching, no lover of wine or of brawling, courteous, neither quarrelsome nor grasping. He must be one who is a good head to his own family, and keeps his children in order by winning their full respect; if a man has not learned how to manage his own household, will he know how to govern God's church? He must not be a new convert, or he may be carried away by vanity, and incur Satan's doom. He must bear a good character, too, in the world's eyes; or he may fall into disrepute, and become a prey to the False Accuser. (1 Timothy 3:1–7)
A bishop, after all, since he is the steward of God's house, must needs be beyond reproach. He must not be an obstinate or quarrelsome man, one who drinks deep, or comes to blows, or is grasping over money. He must be hospitable, kindly, discreet, upright, unworldly and continent. He must hold firmly to the truths which have tradition for their warrant; able, therefore, to encourage sound doctrine, and to shew the wayward their error. (Titus 1:7–9)
The Father Cellarer is chosen from among the brethren who give evidence of these qualities. Saint Benedict expects that all his sons will develop fatherly qualities. The complete monk is a complete man. Men are called to fatherhood. The orientation to fatherhood is so deeply inscribed in every man that the man who does not, in some way, realise his potential for fatherhood, remains incomplete and unfulfilled. Saint Paul himself, calling the Corinthians his "dearly beloved children," affirms that the Holy Ghost has endowed him with an apostolic fatherhood in Christ:
Yes, you may have ten thousand schoolmasters in Christ, but not more than one father; it was I that begot you in Jesus Christ, when I preached the gospel to you. (1 Corinthians 4:15)
Monastic fatherhood, like conjugal fatherhood, calls a man to be generous, stable, steady, and faithful. The older I become, the more clearly do I recognise and value the qualities required of a father. To his spouse, he is friend and lover. To his offspring, he is listener, mentor, provider, defender, teacher, comforter, and lawgiver. Fatherhood demands that a man put his spouse, family, home and country before himself. What is this if not an expression of what Saint Benedict says in Chapter LXXII?
Let monks, therefore, exert this zeal with most fervent love; that is, "in honour preferring one another." Let them most patiently endure one another's infirmities, whether of body or of mind. Let them vie with one another in obedience. Let no one follow what he thinketh good for himself, but rather what seemeth good for another. Let them cherish fraternal charity with chaste love, fear God, love their Abbot with sincere and humble affection, and prefer nothing whatever to Christ.
 For some years now there has been among male religious, and even among monks, a trend away from using the title "Father" in favour of the title "Brother" or, in some instances, no title at all. Social engineers and cultural revolutionaries have long recognised that one can change societies and cultures by changing key words of the public discourse. When one controls the vocabulary of a people, one controls its thought; and when one controls the thinking of a people, one controls its choices. The suppression of the designation "Father" in monasteries may be the result of a change of thinking on the part of a few; it sets in motion, all the same, a sequence of changes that, in the end, reshape one's whole understanding of the monastic vocation. Saint Benedict addresses the issue clearly in Chapter LXIII:
Let the younger brethren, then, reverence their elders, and the elder love the younger. In calling each other by name, let none address another by his simple name; but let the elders call the younger brethren Brothers, and the younger call their elders Nonni, [that is Reverend Fathers].
For Saint Benedict, the young monk goes forward in life from a predominantly horizontal and fraternal mode of relating to others to a way of relating that, over time, becomes more vertical and fatherly. The monk becomes a father without ceasing to be a brother, but the monk who does not grow into a healthy expression of fatherhood will remain immature in his vocation and, in some way, an incomplete man. The expression of a monk's fatherhood is concretised and refined by his profession of obedience, stability, and conversion of manners. "Let all therefore, follow the Rule in all things as their guide, and let no man rashly depart from it. Let no one in the monastery follow the will of his own heart: nor let any one presume insolently to contend with his Abbot, either within or without the monastery" (Chapter III).
There was, beginning in 1968, the year of massive dissent from Humanae Vitae, a trend away from seeing religious, both men and women, as fathers and mothers. It was the articulation in public religious discourse of the separation of the unitive and generative dimensions of love in the consecrated life. The fashion was, as I recall, very much back to the slogans of the French Revolution: "Kill the Father" and "Fraternity, Equality, and Liberty". What I have seen in the past fifty years is that where the generative dimension of religious life (fatherhood/motherhood) is suppressed, the unitive (spousal) dimension also disappears. The unitive relationship (for the monk, with Christ) opens into generativity, that is, spiritual fruitfulness:
Abide in me, and I in you. As the branch cannot bear fruit of itself, unless it abide in the vine, so neither can you, unless you abide in me. I am the vine; you the branches: he that abideth in me, and I in him, the same beareth much fruit: for without me you can do nothing. If any one abide not in me, he shall be cast forth as a branch, and shall wither, and they shall gather him up, and cast him into the fire, and he burneth. If you abide in me, and my words abide in you, you shall ask whatever you will, and it shall be done unto you. In this is my Father glorified; that you bring forth very much fruit, and become my disciples. (John 15:4–8)
One sees the prophetic insight of Pope Paul VI: contraception impedes generativity, and the loss of generativity destroys the unitive bond. While we must love and serve one another as brothers, we will never mature into the men God would have us be if we eschew the gift and the mystery of fatherhood. By suppressing the word, the reality is obscured, and then the gift and the mystery itself fall into oblivion. The practice of contraception—a refusal of fatherhood and motherhood—leads inexorably to a weakening of commitment, to instability, serial relationships, and divorce. In other words, the refusal of the generative leads to the loss of the unitive, and this not only in marriage, but also in the consecrated life. For religious, the crisis manifests itself in a kind of free–fall into the Americanism condemned by Leo XIII in Testem Benevolentiae (1899). The pragmatic horizontalism of a febrile engagement in "ministries" slowly and almost imperceptibly reduces the vertical dimension of the apostolate until, in the end, there are no more fathers and mothers, only "leaders" trapped in the closed circle of a sterile discourse. Spiritual contraception. In such a situation, the individual's spousal union with Christ is weakened, setting in motion an unending search for techniques and experiences to the fill the aching void.
The time will surely come, when men will grow tired of sound doctrine, always itching to hear something fresh; and so they will provide themselves with a continuous succession of new teachers, as the whim takes them, turning a deaf ear to the truth, bestowing their attention on fables instead. (2 Timothy 4:3–4)