One's misery: a throne for Jesus Christ
April 6, 2017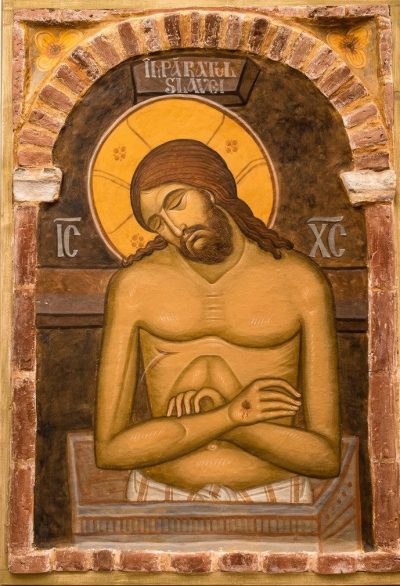 Mother Mectilde de Bar, writing to a religious of Toul on 5 July 1677, has this to say:
We must have patience with the depth of vice that is in us, and make it the subject of our humiliation, but we must, in no way, follow the disordered movements that it produces. It is this that would be sin, and not the awareness of the depth of wickedness that is in us. One must bear with this without being perturbed [by it] because it serves as a throne for Jesus Christ, and He delights in a soul that accepts and feels its own corruption in this way.
Our want of virtus is a deficit, yes, but a deficit waiting to be filled by the deployment in it of the all–sufficient grace of Christ. Our want of virtus can, Mother Mectilde says, "serve as a throne for Jesus Christ". Humility consists, first of all, in this: the humble and fearless acknowledgement of one's own weakness, fickleness, and inconstancy. Having accepted one's own misery, one can, calmly and confident, leave it before Our Lord, trusting that He will do in the humble man all that, of himself and by himself, a man cannot do. This principle is as true at the level of building up the monastic community as it is in the life of the individual monk. I take comfort in what Mother Mectilde wrote in 1665 in her last letter to her friend, Jean de Bernières, a holy layman:
At bottom, I still have a distance [from everything] and I find only God alone as my one support. In Him I find the only thing I need. It seems to me also that I have absolutely no ambition to build a showcase monastery; on the contrary, I would want a very little place, a place in which one is not seen nor known by anyone. There are enough brilliant houses in Paris in which God is honoured in magnificence; I desire that this house should honour Him in silence and in nothingness, without, however, diminishing anything of what might contribute to the worship and honour of the Blessed Sacrament, that is, for the church and the altar of the Lord.
So it is in the soul. If your interior is filled with a thousand things that worry you, that afflict you, that trouble you and paralyse your spirit, apply yourself to the presence of God. Surrender yourself to Him. Look at Him, and think only of Him. Recall His goodness and His mercies. Occupy yourself with His greatnesses and His infinite perfections.  Lose yourself in His adorable, divine immensity, and you will come to realise that all that was troubling you has been dispelled. And you will feel your soul in a surprising calmness and peace.